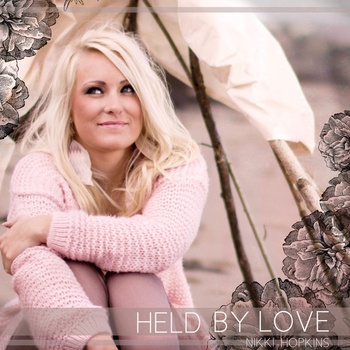 Artist: Nikki Hopkins
Title: Held By Love
Label: independent
Release Date: 5/14/13
Reviewer: Jonathan Andre
Tracklisting:
Forever Faithful
Nothing I Can Do
For All You've Done for Me
Without You
Made For You
Held By Love
'…the opportunities I've had so far I would define more as favour than success. It's still early days for me and things are really just starting to unfold, God has opened many doors for me so far and I want to just keep going in the direction He leads. My every success, past, present and future comes from Him…' New U.K. artist Nikki Hopkins has a powerful and poignant story to tell, and her first EP release Held By Love is able to reflect her past experiences and her newfound love for Christ through her trials and tribulations. An army medic in Iraq before her marriage broke down and she travelled with her two daughters back to her home of Darlington, U.K.; her recent signing to Resound Media UK (the same label as popular pop/Christian artist Philippa Hanna) has certainly come with great anticipation, as she continues to fuel the passion inside of her for music that was birthed when God gave her a passion to sing at her home church, which grew from there. Though she hasn't had the most easy upbringings and beginnings in life, her hardship is certainly seen through each of these 6 songs, where she unveils her heart and hope to be reliant on Christ in all circumstances. This is a great album if you are a fan of British worship music along the lines of Philippa Hanna, Nikki Fletcher and Vicky Beeching; or if you love to explore and check out independent artists (like I have been doing recently). With an acoustic and keyboard prominent vibe throughout the album, we are invited into a glimpse of Nikki's world through her open, emotional and heartfelt songs that give us timely reminders of our worth to Christ Jesus. As she states that '…for me music is the ultimate way to express what is in your heart, music is a powerful and universal language and my hope is that people will be inspired, encouraged and uplifted in some way by the songs I write…', I am encouraged and excited to already be a fan of this young singer. From the light acoustic 'Forever Faithful' that declares God's grace through every situation, to the piano prominent album closer 'Held By Love' that shows us that even when everything falls, God holds us in His love and will always be with us no matter what; this is an album to reflect upon, and is certain to be one of my personal favourites of May 2013!
'Forever Faithful' is the first song on the EP, and one of my personal favourites from Nikki. Released as the first radio single and first music video earlier during the year, Nikki presents to us a promise that '…You remain the same, Your love will never change, and even though I fail, this grace, it never will…as goodness follows me, Your mercy's all I see…' Something to always remember and cling to when times are tough and life is hard, the hope and emotion presented in this song creates a theme throughout the whole EP that even though we can face difficult times, the Lord our God also faces them with us, comforting and lifting us up even in the moments when we think no one is there in our troubles except ourselves. While not the most flamboyant song musically, with only light acoustics and a strong presence of piano emphasised through the 3 and a half minute track, the poignancy carried along with it can certainly be felt. A prayer to God that we will be forever faithful to Him because of His own devotion to us, 'Forever Faithful' leads us into 5 more tracks that also emphasise our need for Christ throughout our daily walk with Him. 'Held By Love', the last track on the EP, is just as poignant as the first, and sort-of bookends the album with a similar theme to 'Forever Faithful'. A heartfelt acknowledgement that '…I know You're holding me, I see that I am Yours and that's when I know, I am held by Your love…', Nikki places on a 'Natalie Grant' hat to provide some powerhouse vocals, with her sounding just like Natalie in some parts of the song. As we are able to immerse ourselves in this album closer and remind us and others that it is in the arms of our Father's love that we can feel safe, secure, hopeful, excited and anticipated for the future; our worries will dissipate and become less of a focus when we realise the fact, as I'm sure this song will indeed help us as we collectively and individually praise God for holding us during out darkest moments. Well done Nikki for both 'Held By Love' and 'Forever Faithful', my two most favourite songs on the album and great songs to start and end the EP with.
Throughout the rest of the album, Nikki offers up pieces of hope through heartfelt song as each melody ignites a feeling of hope as we realise that without Christ, our lives will be even more chaotic than what we even experience now. Starting off the song with an acoustic guitar and a country-style melody; we are reminded that there is nothing that we can do to earn God's favour in 'Nothing I Can Do'. The heartfelt words of '…is there anything I could do?…maybe if I tried real hard to do Your work, would I make you proud?…' all remind us of the moments in our own lives when we realise that nothing we can do will measure up to what God requires of us, and that the grace Christ offers covers all our inadequacies and failed hopes and dreams. 'Made For You' invites us into a reggae-like acoustic swaying song that lets us reassess our priorities as we realign our lives to mirror the things of Christ rather than our own selfish desires. Confronting yet comforting at the same time, Nikki's soothing vocals highlight the song that brings forward Nikki's vocal power through her heartfelt declaratory promises that we were made for God, to be loved and treasured by our Father in heaven. Nikki also reminds us through worshipful song that it is our gratitude and thanks to God that ought to be the least we can do in response to God's sacrifice for us ('For All You've Done For Me'), while also showing us a humble moment of honour and respect as we see Nikki declare that she is nothing without Christ within her ('Without You'). With acoustic keyboard prominence the key to this EP musically, we are invited to be taken on a lyrical journey through hope and despair, struggles and comfort, all the while keeping focus on God as the provider. Well done Nikki for all these songs, primarily 'Nothing I Can Do' and 'For All You've Done For Me', along with the book-ended songs that solidify this album as one of my favourite EP's of the year, alongside Vertical Church Band's Vertical EP!
Overall: While Nikki Hopkins may not be in anyone's CCM artist vocabulary, I'm sure this EP will change all of that, with these songs certain to find the hearts of listeners around the world through churches and homes alike. As she is reminded that through the recording process, '…it's been a learning curve for me, which hasn't always been easy as I've really had to battle with self-doubt during the whole process…'; this album reminds us to give our doubts and worries to God through 6 carefully choreographed tracks full of honesty and vulnerability. With an ability to calm the spirit and provide a sense of hope and wonder to anyone who listens to it, this is a perfect album for anyone who loves British music, or similar contemporary artists like Natalie Grant, Nichole Nordeman or Francesca Battistelli. With label-mate Philippa Hanna releasing Through the Woods on July 2nd 2013, Nikki's album and signing to Resound Media UK is bound to give her great rapport both now and into the future. An album to either listen to in the background or to even reflect upon during quiet time, Held By Love is a great ministry tool to those struggling with identity issues in Christ. Well done Nikki for one of the standout EP's of the year so far, and one of my favourite albums by British artists, alongside Worship Central's Let It Be Known and hopefully the forthcoming Philippa Hanna album due out in the latter half of 2013!
RIYL: Philippa Hanna, Natalie Grant, Francesca Battistelli, Worship Central
Buy the Album: iTunes/Amazon mp3/Bandcamp