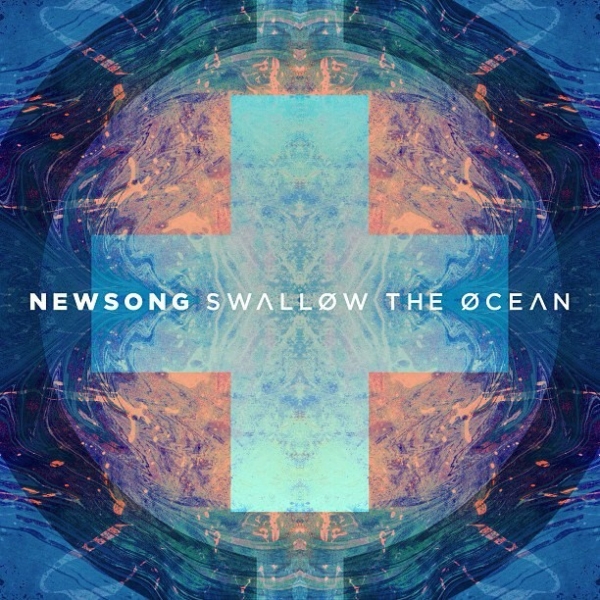 Artist: Newsong
Title: Swallow The Ocean
Label: HHM Music
Release Date: 2/26/13
Reviewer: Jonathan Andre
Tracklisting:
All We Need
Choose to Love
Swallow the Ocean (Coming Alive)
Never Be Another
In Jesus' Name
Who Loved You First
Every Victory
Our Reward
As It Is in Heaven
Could it Be
In Christ Alone
Creator (Deluxe)
Only Children (Deluxe)
Furious (Deluxe)
Since forming the band in 1981, Newsong have been celebrated and loved by many listeners around the world as they continue to create heartfelt songs with a hopeful message. From the world-renowned Christmas song 'The Christmas Shoes' to the emotional and encouraging 'When God Made You' (featuring Dove Award vocalist Natalie Grant); founders and current lead vocalists Russ Lee and Billy Goodwin have been able to carry the band through many band member changes and reinventions as they continue to be a strong presence in Christian music today. With many accolades and continual praise given to this multi-award winning band throughout their three decades of making uplifting music, Newsong's pop-contemporary sound have given them a well-rounded respect for those who have enjoyed their music in the past- and continue to do so with their hit singles 'One True God', 'Love is the Medicine' and more recently, the title track from their upcoming 2013 album Swallow the Ocean. With the central theme of the album being about how we can't express God's love enough and that if we had an ocean big enough to tell of Christ's affection towards us, it will never be enough; Newsong's 22nd studio album is a certain purchase if you enjoy listening to an album full of potential radio hits, in a similar vein to artists like Jeremy Camp, Sanctus Real and Sidewalk Prophets. With the album produced by Seth Mosley (Newsboys, Mark Schultz), this WinterJam hosting band has given listeners an album full of encouragement and hope, and while some lyrical moments feel a little cheesy and some musical arrangements borrowed from various songs in the past (by them and other artists too), their intent is clear as Russ Lee reminds themselves and us that '…music is just a vehicle to throw out lifelines, share truth, shine light and bring hope…we can't believe we get to use music as a tool to share that…' 
'Swallow the Ocean' is the first single on the album, and while not necessarily the most musically impacting compared to other songs like 'Choose to Love' or 'All We Need', we are reminded the vast immensity of Christ's love and adoration for us in this metaphoric song, depicting the greatness of Christ's love as more than the size of the world's oceans put together. Lead singer Matt Butler provides a great soothing vocal and a passionate enthusiasm as he cries out '…I'm coming alive in You, I'm coming undone with You…' Once we fully grasp the enormity of Christ's goodness and loving nature (even going to the cross and resurrecting for each of us), we can bask in His mercy and enjoy being the children of God, with 'Swallow the Ocean' a great source of inspiration and surety through all the radio friendly electric guitars and harmonious background vocals from the rest of the band. Also releasing a music video in late January 2013 depicting a persona travelling to the beach and immersing themselves in the refreshing ocean water, it is only when we travel deeper into God's presence that we can trust wholeheartedly the fact that '…You make all things new…' and really believe the statement, rather than the message being diverted from the head to the heart. Such a great reminder of how '…if we were to fill the entire ocean with ink, and if we were to take pens and try to write the love of God across the sky, we would drain the entire ocean dry and still not even come close to touching the surface of God's greatness and the bigness of His love…', Newsong has given us another great radio hit that even has a potential of appearing on WOW Hits 2014, which would be their second appearance after 'Defining Moment' for WOW Hits 2003. Well done Newsong for one of my favourite songs on Swallow the Ocean.
Out of the remaining tracks, the three lead vocalists (Russ Lee, Matt Butler, Billy Goodwin) share the songs as we hear each of these men pour their hearts into songs that on one day or another, could've been the first single of the album, or even potentially the second or third (while only possibly two or three songs are considered singles for an album, Swallow the Ocean has a greater choice with all songs on the album having equal chance of receiving the second single choice after 'Swallow the Ocean'). With Russ Lee singing the greatest number of songs, from 'Choose to Love' and 'Never Be Another', to 'Every Victory', 'Could It Be' and 'As it Is in Heaven'; Newsong are able to deliver such emotion and enthusiastic passion as one of the most respected singers from the band's career delivers some of his most poignant and motivating songs ever, and some of my favourite since 'Still the Cross' and 'I Smile' during the early 2000s. Starting off with a piano riff and an echoing reverb, 'Choose to Love' delivers the listeners an option- whether we love without reservation and hesitation or we guard up our hearts and lives with invisible barriers, afraid of letting anyone close to us that has the potential to open old wounds that we ourselves may be hesitant in looking at ourselves. Given a great musical undertone featuring a strong keyboard presence and a powerful Russ Lee vocal that asks the question '…what if we stood with our hearts wide open ready to start again, what if we let God's grace take over and learn to forgive and forget…'; we are drawn into other powerful melodies from Russ throughout the album with a variety of themes, from declaring to the world that there is no other idol or god that can take the place of Christ ('Never Be Another'), and longing for the things of heaven to come to earth in great fruition ('As it Is in Heaven'), to giving thanks to God knowing that everything received from Him is with the knowledge of every victory that has come through Christ and His sacrifice for us ('Every Victory'). Russ also delivers an acoustic reflective track in 'Could It Be', and while not necessarily the most musically upbeat or buoyant melody, we are given a great sincere track about honouring those who are less fortunate than us, as well as asking the question about whether the least of these are the greatest in the eyes of the Lord as humility and compassion are called upon through this confronting, unsettling (yet at the same time convicting and convincing) song of enthusiasm. The laid-back musical undertone works very well with the song, and the light acoustics certainly bring out the message in one of my favourite songs on Swallow the Ocean. Well done Russ for these melodies full of heart, honesty and hope.
Billy Goodwin and Matt Butler also contribute to the album, singing 6 songs between them (inclusive of the title track), and while most of my favourite songs on this album are delivered by Russ, both Matt and Billy attempt to give us some heartfelt messages of relevant poignancy as we reflect on the truth of the immensity of Christ's love for His creation; with the memorableness and ingenuity of these songs different from person to person. Famous for singing the hit song 'The Christmas Shoes', Billy delivers a nice acoustic-like rendition of the modern hymn classic 'In Christ Alone', as well the made-for-radio 'In Jesus Name', with Billy declaring a prayer to God, longing for Him to '…open blinded eyes to see in Jesus' name…' While I give credit for Billy's enthusiasm and passionate heart, these two tracks, while good in their very own right, seem to pale and fade amidst the other songs on the album. 'In Christ Alone' is a very famous song borne in the early 2000s, and while I can't seem to fault this version of the song, with so many renditions of the melody floating around the CCM industry (covered by artists like Newsboys, An Epic No Less, Avalon, Natalie Grant, Owl City and Phillips Craig and Dean), Newsong's version doesn't seem to add much that the other artists haven't done already. 'In Jesus Name' also feels a little stale as I try to listen to the build-up that will make me exclaim the song's longevity in Newsong's career, but with many single-like material on the album, the feeling that's supposed to come when hearing a potential single sadly doesn't arrive.
Matt Butler, with the exception of 'Swallow the Ocean' and the album opener 'All We Need' (a rock anthem full of electric guitars where it's bold musical direction saves the song full of lyrical cliché's that declare God's faithfulness and favour and assuring others that '…Jesus is all we need…'), seems to deliver melodies that when sung seem profound and uplifting in their own right, but can almost be forgettable and often lyrically simplistic when you compare many of his songs to other powerful hits- from 'Reckless' (Jeremy Camp), 'Heaven Waits For Me' (Jenny Simmons) and 'Forgiveness' (Matthew West), to 'God's Great Dance Floor' (Chris Tomlin) and 'Build Your Kingdom Here' (Rend Collective Experiment). Not sounding too degrading or even attacking their hard work in producing the album, but even with highlights from Russ Lee, it's hard to distinguish the record from others delivered by the CCM brand. Likening the current band status to other contemporaries like MIKESCHAIR and Sidewalk Prophets (I know back in Newsong's hayday, their musical and lyrical ingenuity were so much better than the artist comparisons today), I can't help but see so much lyrical similarities between Matt Butler's 'Who Loved You First' and Mikeschair's 'You Loved Me First'. 'Furious' is a cover on the Deluxe Edition and originally written by Bethel worship leader Jeremy Riddle, and while Newsong make a great attempt at a cover rendition, the song sounds too similar to the original as it lacks a creative spark that has spurred other artists to make great covers- namely Lincoln Brewster's great rendition of 'Everlasting God'. Both 'Creator' and 'Only Children' are also great music when listened to on it's own as each speak about meaningful topics like creation and coming to Jesus with the spirit of children respectively, but as they are placed in this collection of 14 songs, they seem to lose some of their encouraging spark as they are lost in an album full of seemingly similarly powerful yet equally unmemorable tracks. Sadly, this is an album only for Newsong enthusiasts, and while this is a great album to reflect and relax to, I'm not sure if I would pay money to purchase this album when there are other comparable CCM albums released, from Sanctus Real's Run and Chris Tomlin's Burning Lights, to Jason Castro's Only a Mountain and Plumb's Need You Now.
Overall: Newsong and their music brand have been around since the early 1980s, and while band members have come and gone, their intent for making powerful music still remains. Nevertheless, their latest project seems to be a mix of hopeful and powerful compared with trying hard to write something that has been said multiple times before and filling the album with songs that on their own stand out, but together feel like it's a blend of song after song without much remembering of the melodies or even lyrics as one listens to the album from track 1 to 11. While I have given this album 3/5 (Russ Lee's efforts have saved this album from an embarrassing 2/5), this album is a must for Newsong enthusiasts (those who have loved their CCM radio progression) but sadly not for anyone else. Releasing on the same day as Plumb's Need You Now and Salvador's Make Some Noise, I can see both these two albums winning out the day as I declare this album as one of the most unintentionally 'safe' albums of 2013 so far. With only some heartfelt melodies like the title track and 'Choose to Love' reminding listeners of the Newsong band they once were, a great amount of intent, passion and enthusiastic singing is not going to make up for a lacklustre effort from a band who's releases deserve much more creativity and poignancy than they have been given over the last few years. Hopefully this album does it's bit to reach lost souls, but from a musical standpoint, let's hope their next album release (whenever that may be) is miles better than this release.
RIYL: Casting Crowns, Sidewalk Prophets, mikeschair, FFH
Buy the Album: iTunes/Amazon mp3