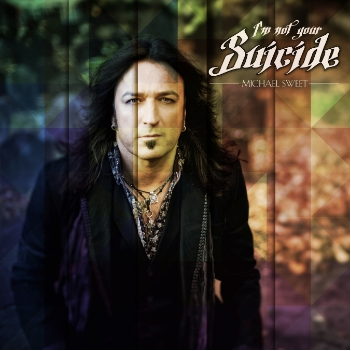 Artist: Michael Sweet
Album: I'm Not Your Suicide
Label: Big3 Records
Release Date: 05.06.14
Reviewer: Lee Brown
Track Listing: 
Taking on the World Tonight (Feat. Tony Harnell)

All That's Left (For Me to Prove)
The Cause
This Time (Feat. Kevin Max)
I'm Not Your Suicide
Coming Home
Miles Away
Strong
How to Live (Feat. Robert Sweet and Timothy Gaines)
Heart of Gold
Anybody Else (Feat. Chris Jericho and Doug Aldrich)
Unsuspecting
Heart of Gold (Feat. Electra Mustaine)
Not even six months have passed since Michael Sweet last graced the world with new songs to jam to. As the lead singer and frontman for legendary long-running Christian hair-metal band Stryper, Sweet and company stormed the charts with last year's well-recieved No More Hell To Pay. The album made an instant mark on the Top 40 Billboard charts, landing at #2 on the Top Christian Albums, #3 on Top Hard Rock, and #6 on Top Rock albums.
While Sweet was making press rounds for that album, we were able to chat with him about his career and future plans. Even though he was just about to see release of another highly successful Stryper album, Sweet took a few minutes to share with our readership about his upcoming Autobiographical book Honestly and the accompanying solo album I'm Not Your Suicide, which are scheduled to release side by side. As Sweet himself notes: "The album is the story of the book and the book is the story of the album…It makes a powerful statement to have them both come out at the same time, especially since both have played such an important role in the full circle journey I've taken as of late."
Here is where I must make my first note. Although the album is pitched as an extension of the book, and vice-versa, this review is only of the album itself. I was not provided with an advance copy of Honestly from which to incorporate synergy from. From what is being told to the press, the book is an all access look at Sweet's career from birth, to the opening moment of Stryper fame, to their conclusion as a band, to his time in Boston, the re-birth of Stryper, his first wife's struggle with and death to cancer, remarriage, and, of course, his Christian faith throughout all of these twists and turns. Not having the book portion of the equation, affords me only to share a little about the musical side of this one-two punch. I'm Not Your Suicide follows Sweet's other accomplished solo efforts, most directly 2000's Truth (though it technically follows 2007's Touched), and (as mentioned) lands just after his recent hit Styper album.
As with any solo project, where Styper has something of a set sound that the band must be wary of straying too far from, Sweet's solo work allows him to incorporate a variety of sounds and guest appearances. Both show up in spades. Although much of the album could fit nicely into any Stryper piece, several songs detour into sounds and ranges that would not be fitting in the Yellow and Black canon. Sweet himself comments about this, saying, "I think sometimes my different musical influences come out in Stryper, but to a much larger degree, they come out in my solo career. We've established a certain style and sound people expect to hear and that's what we want to play and give. Putting a steel guitar or a country vibe onto a Stryper record probably wouldn't fit, but my solo albums give me an opportunity to do just that."
In terms of guest appearances and collaborations, I'm Not Your Suicide features a veritable "Who's Who" of rock and roll names. From WWE and Fozzy's "Y2J" Chris Jericho to Blair Daly (Lynyrd Skynyrd, Sixx:A.M., Rascal Flatts) to Electra Mustaine (daughter of Megadeath's Dave Mustaine) and all the way to dc Talk/Audio Adrenaline's own Kevin Max, every song seems to have it's own cadence provided by some of the best in the industry. On the whole, this provides an exciting "what's next" feel to the album, although some of the appearances (notably Chris Jericho's) seem under utilized.
All in all, I'm Not Your Suicide turns out to be exactly what fans of Sweet would come to expect mixed with a heavy dose of guest talent. Fans of Sweet's previous solo albums and/or his work in Stryper will want to give this a day one download. That being said, I didn't come away from the album with as strong a feeling as I did with No More Hell to Pay. Where I was solidly impressed with what the Yellow and Black Attack were able to pull off just months ago, I was left with mixed feelings towards this release. While the album is solid through and through with high technical prowess and amazing guest talent, several of the songs left me flat. For example, while I admire the high technical ability it took to so skillfully pull off a couple "rock and country" songs, the very nature of country music does not appeal to me.
This is a personal statement more than it is a reflection of the album, however, such variance may leave those who are not as committed to Sweet's work skipping around the album, or, in our iTunes society, picking and choosing what they dive into a little more than with No More Hell To Pay. 
Album Breakdown: The album begins strongly with "Taking on the World Tonight," which is one of the better tracks on the album. Featuring an appearance by Tony Harnell, this is a fairly standard 80's rock/hair-metal song with strong, but typical high falsettos from Sweet. An anthemic track by nature, the song opens with an air-raid siren and proudly proclaims "I'm taking on the world tonight." Musically, there are some sweet (no pun) guitar movements with a wickedly fast solo.
"All That's Left (For Me to Prove)" follows with some pointed, though a bit cheesy, lyrics that speak to the power of our words. "Everybody owns a gun, and everybody shoots someone. The words we speak are weapons of mass destruction." The chorus of "I won't give up on me and you" certainly tie back into Sweet's moving life story, though without having the book to compare, I would only guess which moments this might refer to. Even without having read the book, this could be taken as a generally relatable message that covers the differences in men and women (or between friends) and how those sometimes come out in heated words. Stylistically, this is another 80's rock/metal track with another strong guitar riff and a fairly memorable solo near the end.
"The Cause" carries a strong U2 vibe to it, in my opinion. However, this vibe is of course tempered through a Stryper shaped lens. In fact, I would say that fans of classic Stryper will be all over this track as it features some of the more memorable high falsetto choruses on the album. In typical U2 fashion, the track speaks of living life for a cause that is truly bigger than life itself. It never really gives a name to any specific cause, that I heard anyway, so the track could be used for any number of rally, charity, or… causes. Knowing Sweet's deep faith, however, it does affirm that we have an immortal soul and the words can easily be related back to the faith itself as "the cause" being spoken to.
"This Time" is a memorable track if only because it feels so much like Stryper meets dcTalk that, were it released in the 90's it would have been a dream come true for many (and, likely, still is). It is ironic to me that when I interviewed Sweet about covering the track "Jesus is Just Alright" on No More Hell To Pay, he downplayed any allusions to the dcT version. Here, however, we have a potent blending of KMax's distinct sounds to a set of Stryper riffs. The message comes across in the lyrics, "This time I won't let it slip away, this time my faith will lead the way."
"This Time" is one of my favorite tracks on the album and the way Kevin Max's vocals play across the background of the track certainly only fan the flames of my desire to have "Toby, Mike, and Kevin" get back together and conclude this long "Interlude." Kevin's solo on the track is distinctly his. Though he plays to the other member of Audio Adrenaline's style in his current role, this feels much more like classic KMax in approach. Once again, there is an empowering message and the song is nicely memorable. "When I rise up in the morning, faith will lead the way."
The title track, "I'm Not Your Suicide" follows. Sweet has stated that the track rose out of his "frequent encounters with childhood bullying and even criticism later in life as Styper was caught between seemingly divergent worlds of mainstream heavy metal and the Christian faith." Thusly, the song speaks of a time of healing from pain and scars, "but forgive and forget only goes so far." The track has a memorable sound, though the main chorus of "I was sanctified, I used to feel justified, only to be crucified by you," while nicely rhyming, doesn't connect as strongly to the message presented as I feel it could. Most will not understand what sanctification and justification have to do with being crucified by another, or these words themselves will be foreign in nature. It is, at least however, easy to pick up on the overall empowerment message of overcoming binding chains that another can place on you if you let them.
When I first heard "Coming Home," my initial reaction was shock that I was just so suddenly in the midst of a country western album. The song seems to hit all the beats of classical country sounds, right down to including talk about missing your woman and "thinking about tomorrow when I'll be holding you." The song does provide a nice change of pace to the previously very "Stryper-vibed" album, and Sweet proves here that he is more than capable of excelling, even when switching genres. That said, not being a fan of country music, after having admired the skill of executing this track, I was ready to leave it behind.
"Miles Away" follows the theme and overall style of its predecessor (though is more rock/hair in nature, again). The message most reminded me of Spoken's "4th Street," in that it focuses on the distance between two loving people. Of course, it also speaks to the metaphorical side of the distance felt when another person is "miles away" emotionally, as well. The track features another nice guitar solo and pointed lyrics. Lyrics like "I'm beating from deep within" give the idea of Jesus speaking from within us, but us being miles away.
"Strong" stands out as the most empowerment focused track on the album. Coming forward with a simple message to rise above, Sweet says, "You are strong in every way. Don't say it's over now… your strength isn't gone.. there's hope beyond this…" "Strong" is a good song, though it doesn't really distinguish itself from the rest of the album or similar empowerment songs in similar genres. Musically we are presented with some southern rock mixed with 80's guitar riffs, but the track doesn't quite go back into the country vibe presented before. Knowing some of Michael's story, this track likely speaks to his departed wife's battle with cancer, which does add some emotional depth to each lyrics.
"How to Live," which features the rest of Stryper's roster, is a perfect follow up to "Strong" as it shows the effect of having to be strong for another and the toll it takes. The track brings a piano intro with somber vocalizations that set the tone nicely. Lyrics like, "You showed me how to live… inspired me to give…reach beyond the sky…" remind me of C. S. Lewis' own battle in losing his wife, Joy, in A Grief Observed, and it is touching given the backstory. The tempo and tone fit the somber theme well. "I don't want to live without you…" and other such grieving chants take the listener through the grieving process with Sweet, ending in acceptance of what has happened.
"Heart of Gold," a cover of the original done by Neil Young, makes two appearances on the album. The first comes across as Sweet's 80's rock/metal style moving towards bluegrass and country. In this, the song is a bit retro-chic and a bit dated all at once. The chorus/lyrics, for example, are pure 80's rock. Lyrically the song conveys the idea of searching for a good person (a heart of gold), but admits that "I'm getting old," and therefore signifies an empty search. This certainly speaks to several places in Sweet's long career. All in all, I was left a little flat by this track, though I was also not a fan of the original.
The track I was most excited for in hearing about this album was certainly "Anybody Else." Having been a fan of Chris Jericho and knowing he claims the Christian faith, I was excited to see what he and Sweet would come up with. Unfortunately, although there is a nice "Fozzy Rock" intro that provides some of the heavier moments on the album, Jericho is vocally underutilized. Lyrically, Sweet follows the "I'm getting old" theme of "Heart of Gold" and speaks about his 30-plus years in the industry and how he has made his motives clear throughout. "Say what you want, leave what you don't. You're no savant, or you would know that I won't." In spite of the under utilization of Jericho in the song, in my opinion, this is still my favorite track on the album. It is aggressive rock throughout with a strong message of standing up for what you believe in and not backing down. Though it is certainly different in tone, it is kin to Demon Hunter's recent hit "Gasoline," even to the extent that it challenges others to join in with the final proclamation of "anybody else?" All that said, I would say Jericho's best collaboration to me is still his cover of "Genie in a Bottle" with fellow 90's breakout ECW/WCW wrestler, Raven.
The album technically concludes its path with "Unsuspecting." This track kicks off with a classic Sweet falsetto scream and buckles into some straight-laced rock. "Unsuspecting" uses some of the highest register singing on the album to talk about putting trust in God. That said, the song itself is neither very direct in this, nor is it especially memorable as a true closing track. Which brings us back to "Heart of Gold" for a second time.
Though this would technically be a "bonus track," this second appearance of the song is a much more engaging version with Electra Mustaine's heavily country vocals playing nicely against Sweet's rock. Though I have already mentioned that I am not a fan of country, I found this version much more enjoyable than the first go-round. All in all, I would have preferred this be the only version of the song included, but mostly because I didn't care for it in the first place and was therefore not excited to experience it a second time. Were this the only version of the song on the album, I think I would have found it much more enjoyable as this, to me, was the clear winner between the two.
Musicianship: As with anything Michael Sweet does, this album has a high musical quality to it. After 30+ years honing in on his craft, excellence can be expected at every turn. Even when switching sounds, Sweet proves adept at handling and incorporating steel guitar, blue-grass, and even straight country western into the fold seamlessly.
Lyrical/Spiritual Content: Sweet's deep faith is well known and is certainly the backbone of this (as any of his) record. That being said, the focus of this work is his life's story and therefore spiritual themes work as undercurrents throughout. Tracks like "Anybody Else" and "This Time" (my two favorites) tackle faith issues directly, while others are reflections upon personal events. All in all, the lyrics are mostly solid, with just a few cheesy/cliche moments to be found (and some of these are not even Sweet's writing, as they come in the cover song).
Lasting Value: Here is where I feel the album suffers a bit. While Sweet's die-hard fans will certainly keep coming back to this album, I really only found a handful of tracks that I know will keep haunting me in the long term. Specifically, the two mentioned above and the first track are the most likely to draw me back. That being said, others will likely find great joy in the country tracks and slower ballads like "Strong."
Overall: Stryper frontman Michael Sweet continues his highly successful solo career with I'm Not Your Suicide. However, this work is different. I'm Not Your Suicide is only half of the equation as it ties directly with his concurrently released autobiography, Honestly. As the musical portion of that one-two punch, this album has high musical quality that fans of Sweet's previous works will enjoy, though casual listeners may be tempted to dismiss. Sounds range from classic Stryper to classic country (yep) and a slew of memorable guest starts appear. My personal favorite tracks are decidedly "Anyone Else" (featuring WWE's Chris Jericho) and "This Time" featuring a VERY dcTalk sounding Kevin Max.
RILY: Stryper, Whitesnake, Bon Jovi, Electra Mustaine, Fozzy, dcTalk