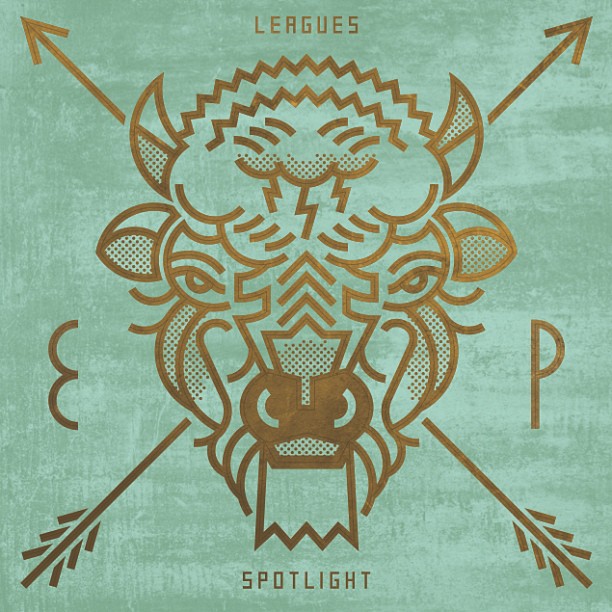 Artist: Leagues
Title: Spotlight EP
Label: Bufalotone Records (Independent)
Release Date: 09/24/13
Reviewer: Ian Zandi
Tracklisting:
Spotlight

Walking On Water
She Kissed Me
Spotlight (Troubled Waters Flibbity Flu Remix)
Spotlights are a funny thing. They cause you to block out everything else and just focus on a specific subject. I'd like to refer to them as "darkness filters". You could definitely say that a spotlight has definitely been broadcast on the upcoming band Leagues this year. The band consists of Thad Cockrell (a former country singer), Tyler Burkum (Formerly of Audio A), and Jeremy Litito (formerly of Jars of Clay). 2013 has been a huge breakout year for Leagues as they have popped out a debut album (see Carter Fraser's review here), had some airplay, and toured with the likes of Jars of Clay and Mat Kearney. When confronted about their faith, Cockrell has made the following statement,
"I can't deny who God is to me. At some point, it's just what I am," he says, explaining that he's lost fans for his religious convictions and alienated some Christians with songs that aren't always about God. "I think the worst thing I could do is to pander to either side. You have to become comfortable in your own skin with what [religion] looks like to you. That's going to piss people off on both sides."
Riding the wave of success, Leagues has recently put out a Spotlight EP. The material on this EP is only semi-new as "Spotlight" and "She Kissed Me" were previously released for free via Noisetrade. You will find, however, that "Walking On Water" and the "Spotlight" remix are 2 new tracks that were unreleased prior to this EP. Since the album is of such small length, I think it would be appropriate to do a track-by-track review of the Spotlight EP.
"Spotlight"- The title track of this release.
It contains very rich and crisp production (from Paul Moak) that goes beyond your typical indie single. Lyrically, it sheds some light on a deeper love than romantic love (which is such a cliché topic).
"Romantic love is a fickle friend/You wanna know what love is about/Give it when you feel nothing"
Unfortunately when we arrive at the chorus, the vocals perk up and exclaim "I'm never gunna give you up, I'm never gunna give you up!". This would be just fine and dandy if it weren't for the fact that I feel like I am getting Rickroll'd.
"Walking On Water"- The 2nd song by Leagues about walking.
This tune involves the desire to abide in conversation with another. It is obviously tied to the story of Peter walking on water towards Jesus. In contrast, they both require faith, concentration, and communication on some level. Musically, it is just below the quality of Spotlight.
"She Kissed Me"- The bonus track of You Belong Here
As far as I can tell, the song relates with You Belong Here's theme of togetherness (and some of that cliché romantic love that I referred to above). It is very difficult to understand the lyrics of this song because the instrumentals drown out the vocals. Either way, this song is forgettable.
"Spotlight Troubled Waters Flibbity Flu Remix" – The remix with the best name ever
First it starts out with a thud-clap beat, pausing, and then it lets loose the guitars that make this song so distinct to begin with. This song is better than the original in the fact that it omits the Rickrolling "Never gonna give you up". Instead, it focuses on the lyric "I see all the troubled waters"  and repeats it. A lot. I suppose that is what remixes do though. I am usually not a fan of remixed tracks but this is a decent revision.
Overall: Much like the game Battleship, this release randomly fires hits and misses. The title track and it's remix are worth an investment but the other tracks are only for the most devoted Leagues fans. You Belong Here is one of this year's best independent releases. Sadly, this EP pales in comparison. Leagues needs to shine that spotlight of theirs to fine-tune the extra songs.
 RIYL: Mutemath, Copeland, Young The Giant, Paper Route, Kin, Arcade Fire