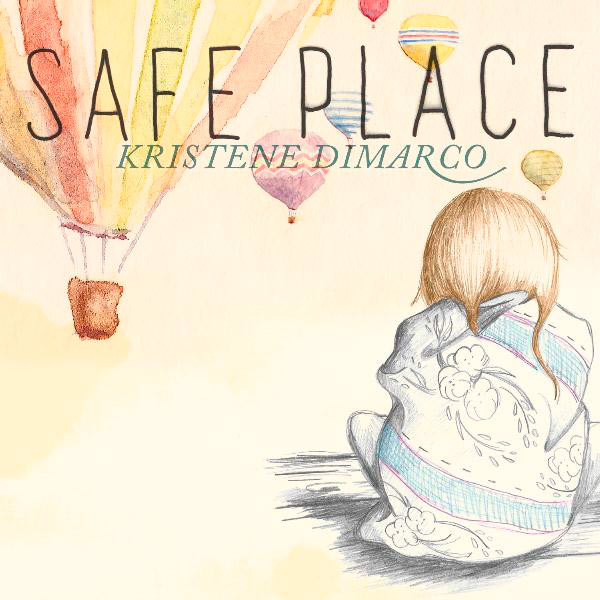 Artist: Kristene DiMarco
Title: Safe Place
Label: Jesus Culture Music
Release Date: 4/10/12
Reviewer: Jonathan Andre
Tracklisting:
Say Goodbye
Paint Me a Picture
Awaken
Believer
Holly Dear
Limitless
This is How I Know
A Long Time Ago
Safe Place
A Lonely Carpenter
Deanna's Song
Hope
Though not a familiar name in CCM or even worship music; Kristene DiMarco has been a worship leader in Bethel Church for years; on their live albums as well as the recent Jesus Culture live double CD in 2011. Releasing her first album under her maiden name 'Kristene Mueller' 4 years ago; Kristene has released her sophomore album, Safe Place in early April 2012. With vocal similarities to J.J. Heller, Sara Groves and Audrey Assad; Kristene has packed plenty of worship within her 12 melodic moments as we hear an acoustical pop musical atmosphere overlayed by cleverly written lyrics. With a collection of genres at the helm, from radio-pop, acoustic and worship, to folk and many other genres in-between, Kristene's album is a breath of fresh air, introducing her unique worshipful style as she sings about a hope beyond this world.
'Say Goodbye' is the first track, and certainly sets the listener in a cheery mood, with a piano undertone and a 'ba ba ba' backing vocal as Kristene sings to the listener from God's point of view. Reminding us that everything that we need is in Christ and that we have to say goodbye to the old habits and beliefs that we once had if we truly believe that God is our source of strength; Kristene utilises some quirky musical elements as she appeals to lovers of folk, especially Sara Groves. With a light electric guitar presence, soft percussion and a piano riff, Kristene sings out '…say goodbye for what you need is found in the heart of Me…'. Similar thematically to Casting Crowns' 'The Well'; we are given a gentle reminder that God is our everything. Different than most CCM projects out there, 'Say Goodbye' sets the tone for the rest of the album: acoustically light, folk, vocal driven; perfect for contemplation as we delve deeper into the Father's heart; showing us things that we may have missed all along. Well done Kristene for such a thought-provoking first song!
'Paint Me A Picture', 'Limitless' and the title track showcase some of the most lyrically enjoyable (yet confronting at the same time!) on the album as Kristene delves into the crevices of the human psyche as we understand how to live life in a world that is in desperate need of it. 'Paint Me a Picture' starts with a soft piano as Kristene yearns of a new 'picture', one that is reinvigorating, refreshing, not like the '…recycled dreams…' she still has. Relating to how God gives us a new fresh approach about how to look at our lives, we must all ask God for His point of view, as we peel back our layers to release our creativity that only God gives. The soothing bridge amongst the lone electric guitar, '…oh my soul, fix your eyes on His face…' brings us back to Jesus, and how our focus on Him will reignite our lives as we see the world through His eyes, understanding our role in the story of God. 'Limitless' is hope wrapped in a song, with Kristene asserting over the guitars, light percussion and the bass undertone; '…I believe that You're limitless, I know that You're boundless, Lord…' A glimpse into her yearning for God to come take over her life and give her a love like Jesus; we are encouraged by Kristene to not give up the hope that '…rescue is on His way…' With a soft piano hook that mesmerises even the uninterested of listeners; 'Limitless' portrays some of the best lyrical work on the album! 'Safe Place' alludes to how we sometimes want to see the things that God only does, and learn quickly from our mistakes. But as Kristene sings with only the acoustic guitar as a musical accompaniment, '…what a safe place You've made for me…'; we understand that God is God, and we need to trust in the moments when all we want are the answers. He provides us the safe place we longingly crave, the comfort from the storm. This simple melody is deeply profound; and as Kristene soothingly encourages us '…dear Lord, come like a warm waterfall wash over our wounds…'; we find healing in the midst of hurt and heartbreak!
'Believer' and 'This is How I Know' are both subdued, yet equally uplifting as I discover gems within each of these 12 musically healing moments. 'Believer' is a reassurance song with a strong drum beat and a gentle piano running though the running time of 4:04. As Kristene assures God (or another person) that they are the best believer in her, '…when I feel like I'm all used up, when I'm tired of dreaming, You're more than enough…You're the best believer in me…', we understand that we have a lot of advocates for us in this life, God certainly, but also our family and friends. Through a reverbing keyboard melody and vocal harmonies, we are met with the revelation that a little encouragement can go a long way for a person, and as we encounter people through our lives, we must make it a necessity to build them up! 'This is How I Know' starts with a guitar plucking introduction as I start to listen to the gospel story; Kristene showing us that '…this is how I know true love, that God did not withhold His very own Son…' Light percussion (including shakers!) are added to this fun-filled melody as I start to tap-dance to this truth-filled dance-move making track; understanding that God '…wanted me to feel [love]…to see it…to believe it, to touch it and to breathe it…' Hats off to Kristene for the lyrically deep creation!
Both 'Awaken' and 'Holly Dear' run in a similar vein; with themes like encouraging someone to never stop dreaming as God is always there to give guidance and inspiration ('Holly Dear'); as well as God longing to awaken our souls, as He pursues His children by pouring out His love ('Awaken'). These two tracks are strongly piano filled, with light acoustics a primary focus. Soaking in these lyrical moments is always the highlight on this album; lyrically rich and not overly complicated, as Kristene imparts her wisdom '…I am a garden enclosed, the inside He fully knows, when He breathes [and blows]…that's when my love starts to flow…' ('Awaken'); '…Dear little dreamer…if the whole world forsakes you, my heart is wide open for you…' ('Holly Dear'). 'A Long Time Ago' speaks about those in despair and discouragement, and how the only constant is the God that deeply cares for them. Using a simple electric guitar undertone with light percussion and a strong vocal harmony; this is one of Kristene's best. The album then ends with 'Hope', a piano and strings only track as Kristene vulnerably cries out, proclaiming a song of adoration and praise, proclaiming the great things that the Lord does '…the storm ceasing…the dawn breaking…the last tear falling…my rescue coming…' What a fantastic way to end an album full of richness, as I soak in the therapeutic songs and the Lord's words speaking through them!
Overall: Kristene DiMarco has created a wonderfully crafted album that has touched the hearts of many listeners, me included. With a wide range of musical styles colliding in this 12 track journey; this album is a must for lovers of contemplative music, with similar interests to either Jesus Culture or Christy Nockels. Acoustically driven, soothing, encouraging and even confronting; Safe Place is a certain standout in April along with Christy Nockels' Into the Glorious and Moriah Peters' I Choose Jesus. Well done Kristene for such an awe-inspiring record!
RIYL: Christy Nockels, Jesus Culture, Sara Groves, Audrey Assad
Buy the Album: iTunes/Amazon mp3