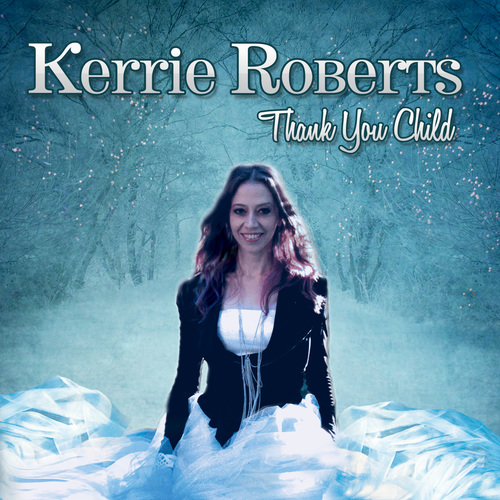 Artist: Kerrie Roberts
Title: Thank You Child
Label: Hootey 2 Music
Release Date: 11/5/13
Reviewer: Jonathan Andre
Tracklisting:
Jingle Bells
What Child is This
Thank You Child
Silent Night (Moments Like These)
Go Tell It on the Mountain
Kerrie Roberts has been one of my favourite female artists of all time. Along with Meredith Andrews, Francesca Battistelli, Natalie Grant and Britt Nicole (to round up my 5 favourite female artists ever), Kerrie has continued to deliver song after song full of powerful vocals and emotional performances of both an upbeat and reflective nature. From 'No Matter What', 'Rescue Me', 'Beautiful to Me' and 'In Your Sight', to 'Finally Home' and 'What Are You Afraid Of?'; Kerrie continues to show the listeners of her music (myself included) why she's one of this decade's most underrated artists. Born in Florida, Kerrie's mainstream hit 'Rescue Me', on her 2011 EP Once Upon a Time (also promoted as the official song of ABC family fantasy drama Once Upon a Time through many ad placements up until its first season's debut in October 2011) continues to bridge the gap between Christian and mainstream music, and while this song is most possibly the most famous song from her (considering how many fans there are of the ABC fantasy/family show, myself included); 'Rescue Me' will certainly create some interest not only in the song but hopefully in Kerrie herself, extending to both her albums in 2010 and 2013. Now releasing her first Christmas collection of songs independently (after she parted ways with Provident Label Group early this year), Kerrie is able to place her own twist on several Christmas tracks, as well as delivering a powerful originally recorded song as well. With the music primarily influenced by both jazz and ballads, Kerrie has produced one of the best Christmas themed albums/EPs of the year so far, with this EP guaranteed to be a joy to listen to, regardless of your musical taste or preference!
With 3 Christ-centred songs, 1 holiday themed song and a newly recorded one to give us a great range of Christmas melodies to sing in time for this year's December 25th holiday; Kerrie starts off the EP with 'Jingle Bells'. With the piano being in the forefront as the song alludes to the embracing of the holidays and the time of year, 'Jingle Bells' is possibly one of the most famous non-Christ centred Christmas melodies to be played, both on Christian radio and mainstream radio alike. While the song itself doesn't give us any sense of meaning when it's placed alongside other melodies like 'Go Tell it on the Mountain' or 'What Child is This'; Kerrie's rendition of the song is still great, with her voice and piano certain highlights of this track with a 60s themed musical atmosphere. Even if 'Jingle Bells' only does one thing (introducing listeners to Kerrie as an artist and hopefully encouraging them to listen further to her music), Kerrie's enthusiasm isn't to be discounted even though the song may not necessarily seem like everyone's favourite style of Christmas track (I must admit, I prefer uplifting and inspiring songs for the holiday season instead of melodies like 'Jingle Bells' or 'Let it Snow'). Nevertheless, Kerrie has done a great job, and 'Jingle Bells' segues nicely into 'What Child is This', one of my favourite Christmas songs of all time, and one of the most recognisable ones, considering that the melody is similar to the classical piece, 'Greensleaves'. Slowing down the verses and speeding up the song in the choruses is a great technique to bring in listeners, reminding us in the process of using these different and unique techniques, that it is indeed '…Christ the King, whom shepherds guard and angels sing…' With strings and Kerrie's enthusiastic voice, I myself am certain to place this rendition of the carol as one of my favourite renditions overall, alongside Christmas carol covers of the song by BarlowGirl and Third Day. Well done Kerrie for these great renditions of both 'Jingle Bells' and 'What Child is This', both delivering thoughtful and fun-filled messages whilst also reminding us of Kerrie's musical and vocal prowess as a singer/songwriter.
Throughout the rest of the EP, Kerrie continues to keep the piano as the main instrument as she takes a divergence compared to her dance influenced 2nd album, Time For the Show. 'Silent Night (Moments Like These)' is a unique and interesting take on the beloved Christmas hymn, enjoyed by lovers of both the CCM and mainstream industry alike. A song to remind us all of how '…Christ the Saviour is born…', it is Kerrie's added stanzas that lifts up this melody to be one of my favourite renditions ever of the song. As she divulges that '…there's a song that I love to sing, every Christmas time…', we are able to take a glimpse into the home of the Roberts, and how '…there's nothing like family and Christmas time, nothing like the gift we have in Jesus Christ, there's nothing like the memories and hope the future brings, and nothing like the moment when we sing…' With her singing the original parts layered upon the familiar stanzas to give the song a different yet hopefully appealing effect; Kerrie continues to bring us uniqueness and different styles in both 'Go Tell It On The Mountain' and 'Thank You Child'. With electric guitars and a strong drum beat to provide music that reminds me of something like newworldson or Jimmy Needham, Kerrie tries her hand at mowtown in a track that oozes enthusiasm, yet seemingly lacks the cohesiveness as the other tracks on the EP (it's not Kerrie's fault, the songs just seem to flow better if it is of the ballad nature rather than the mowtown genre). Despite this, Kerrie's passion is unrivalled, with this song also giving us the encouragement needed to '…go tell it on the mountain, that Jesus Christ is born…' With a light electric guitar and piano instrumental bridge to bring me back to some of the music done in the 1960s; 'Go Tell It on the Mountain' is a great way to finish off an EP that also started with music that wasn't a ballad.
Yet it was Kerrie's originally written 'Thank You Child' that anchors the album and sets her writing and singing apart in the CCM genre. Kerrie unveils the influence behind the melody, and how the song was written for a close friend of hers, '…telling the story of waiting, longing, surrender, and joy…', the song also gives us a glimpse into what Mary the mother of Jesus must've felt when she was giving birth to and being a mother to Jesus during the time around his birth. A lullaby-like praise melody that invites us all to thank God for His coming to Earth and His sacrifice, we can hopefully declare alongside Kerrie the words of '…thank You Child, You're the one who gave me life…' Acknowledging that life itself comes from Christ is something profound to even admit and acknowledge, and as the song unravels with the piano as the sole instrument in the 3 minutes 17 seconds song; Kerrie's 3rd track out of 5 is one of the best songs of hers ever recorded since 'Saviour To Me (Sing Glory)'. What it makes up for in lack of length, it exceed with emotion and comfort. A great title track, and one that's going to join the list of favourite originally written Christmas songs, Kerrie's rise to acclaim continues to go from strength to strength. Well done Kerrie for such a powerful and compelling song and album!
Overall: Kerrie Roberts is fast becoming my favourite new artist to release albums from 2010 onwards, alongside others like for King and Country, Love and the Outcome and Dara Maclean. Even though she now releases albums independently (like many artists who have gone from label-backed to independent, from Abandon, Above the Golden State and Audrey Assad, to Carman and Jessa Anderson); Kerrie's passion in singing style and enthusiastic presence is still as strong as ever. A certain purchase if you love her previous albums, or if you really enjoy Christmas music, fans of Britt Nicole, Brandon Heath or Jonny Diaz will love this new offering from Kerrie. With a nice balance between traditional, holiday and newly written Christmas tracks, Kerrie's ability as a ballad singer, alongside that of a great singer songwriter is highlighted, not just in this EP, but throughout her career. Despite the EP being one of the ones that flew under the radar up until the release of 'Jingle Bells' as a download on her website, Kerrie continues to surprise and encourage in all that she does. Well done Kerrie for such an emotional, compelling and encouraging Christmas EP.
RIYL: Britt Nicole, Brandon Heath, Jonny Diaz, Natalie Grant
Buy the Album: iTunes/Amazon mp3