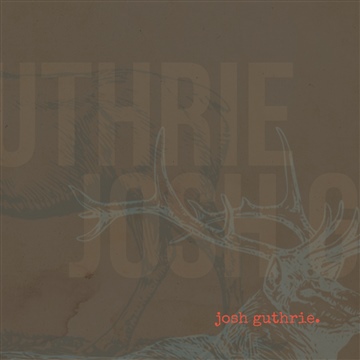 Artist: Josh Guthrie
Title: Josh Guthrie
Label: independent
Release Date: 12/31/13
Reviewer: Jonathan Andre
Tracklisting:
The Noise
This is For You
We are Free
Saviour, Crucified
Sleeper
From southwest Missouri, worship leader Josh Guthrie, while I haven't heard of him or his music prior to listening to this EP, has indeed co-written and delivered one of my favourite worship songs over the past few years. 'Saviour Crucified' was on Warr Acres's debut album on DREAM Records, and as I have heard that song played on my iTunes player over and over throughout these last few years, I have been impressed with the power and emotion the song carries. Now knowing that Warr Acres co-wrote this song with Josh has made myself become more proactive into trying to explore new artists, either from noisetrade, bandcamp or reverbnation. Josh Guthrie is one of these artists that I stumbled upon a few weeks ago, and after listening to his acoustic rendition of a Warr Acres classic, my eagerness to continue to listen to the rest of the four tracks led me to do just that- and I was not disappointed. Despite Josh not necessarily being as famous as worship artists like Chris Tomlin, Rend Collective or Phil Wickham, his heart for ministry is still the same, and this comes through in his melodies, especially 'Saviour Crucified'. Released last year in December to noisetrade, Josh's acoustic/worship nature makes him a great listen if you enjoy similar worship artists, like Phil Wickham, Rend Collective or All Sons and Daughters. From the famous Warr Acres song to the EP starter 'The Noise'; Josh's testament of God's faithfulness runs through each track. One of the EP's from last year that has caught me by surprise (in a good way), Josh's enthusiasm for God's kingdom and his powerful acoustic guitar skill as led myself to place this album as one of the standout indie worship offerings of the last half of 2013!
'Saviour, Crucified' starts off with powerful vocals and acoustic guitars as Josh delivers one of the most heartfelt and powerful responses of worship, and possibly a better rendition than Warr Acres's version (even though the Warr Acres recorded track is the most known out of the two) because of the stripped-down acoustic nature. With just keyboards, acoustic guitars and Josh's voice, the powerful emotion brought through comes to life as we hear the encouraging lyrics of how '…my Saviour, crucified, He conquered the grave and rose to life, at the cross, You changed my world, now I give it to You, I'm Yours…' A song about humility, honouring the Lord because of His sacrifice, and giving praise and thankfulness to Him that in spite of our sin and ourselves, Jesus still died in our place; this co-penned song between Josh and singer of Warr Acres Chris Crow, is arguably one of the most enjoyable and equally profound song, both on this EP as well as the 2011 DREAM Records label debut of Warr Acres. 'The Noise' on the other hand is a powerful rousing anthem of praise and is a great start to the EP. With looping percussion, Josh sets the scene for us with his proclamations that '…I believe, I speak the whole truth on my lips, so the world may know the One who loves, I declare Your worth and I'm holding nothing back, as I lift my hands to You…' It is in this place where we want nothing more than to praise and lift our hands to God where God can move and truly speak, as we know that nothing is between us and God that can be distracting. Titling the song 'The Noise' can serve as two purposes, with us being the noise as we proclaim our praises to God, but also trying to declutter our lives and getting rid of the noise that stands in the way between us and God to begin with. With electric guitars and a distinctive drum beat, Josh longs for us to '…join in the noise, He deserves it all…' And while in the bridge Josh uses the famous 'ohhh ohhh' which can seem a little generic and lacking creativity lyrically, the song as a whole is a great reminder of our own part to play in the story of praising God, with our actions, words, time and all that we have. Well done Josh for both 'The Noise' and 'Saviour Crucified', two of my favourite songs on this self-titled debut EP!
'This is For You' is a heartfelt prayer to God for everything that He has done for us, and while the theme is virtually similar to both 'The Noise' and 'Saviour Crucified', 'This is For You' offers up an anthem that similarly draws on musical influences like Phil Wickham 'Holy Light' or Desperation Band's 'All To Him'. Starting off the song with minimal instruments and then breaking into a crescendo as the song progresses works for just about every song, 'This is For You' included. As we are reminded that '…You are, You are, the king of glory, we raise our hands, abandon who we are…we sing to You our King…', this is a song that'll hopefully move from the CD at home into the church as 2014 progresses. 'Sleeper' is an acoustic melody-altered version of the southern gospel hymn 'Wake Up, Oh Sleeper', with added verses and an additional tag, and as Josh reminds us to be awake and hungry for God during a time when we can easily be distracted and busy, we are able to realise, understand and look forward to the time when we will be awake for God's splendour and glory when He returns. With vocal similarities, especially in this track, to David Crowder and Steve Fee, Josh Guthrie ends the EP collection with 'We Are Free', another powerful anthem that reminds us of our freedom in Christ. The heartfelt words of how we ought to '…let our lives be evidence of grace, let Your holy spirit fill this place…' is something that will hopefully continue to ring true in our hearts as we use our lives as a vessel for God's grace, holiness, peace and hope to flood through towards people we meet on a daily basis. Such emotion and encouragement, 'We are Free' is comfort and love personified into a song. Well done Josh for such a powerful and hopeful melody, and hopefully one that'll be a radio single in the future!
Overall: Josh Guthrie, famous for 'Saviour Crucified', is an artist that, when you've heard the songs I have, will agree with me that the other 4 remaining tracks on the EP, will grow and impact just as much as 'Saviour Crucified', maybe even out-impact the only song I knew prior to me listening to Josh, in days, weeks, months and years to come. An artist to listen to if you love alternate acoustic worship, like All Sons and Daughters, Phil Wickham or David Crowder, Josh's humble poetic nature in his tracks is enough to warrant at least a listen for one of Christian worship music's best kept secret of 2013. Well done Josh for such a poignant 5 song EP, can't wait til when the full-length album releases (whenever that is)!
RIYL: David Crowder Band, Phil Wickham, Rend Collective Experiment, All Sons and Daughters
Buy the Album: iTunes/Amazon mp3/noisetrade