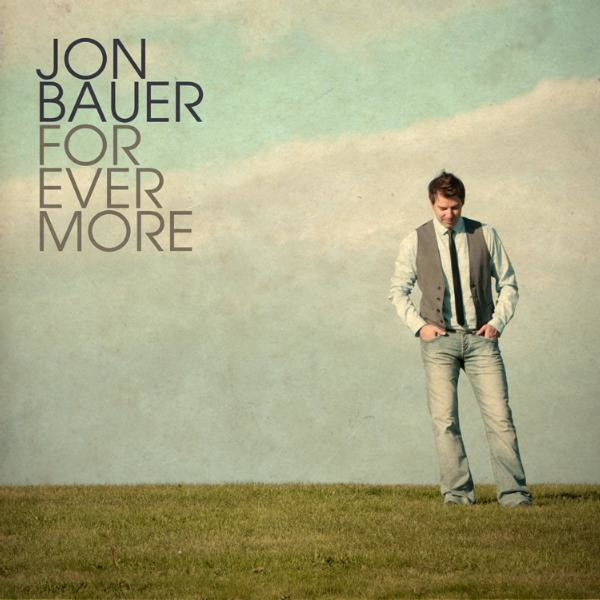 Artist: Jon Bauer
Title: Forevermore
Label: Crossway Records
Release Date: 1/3/12
Reviewer: Jonathan Andre
Tracklisting:
Our God
Light of Another World
Come and Save Us
Beautiful Name
Chasing After Me (feat. Laurell)
A Prayer Away
Fall Over Me
Forevermore
Life of Worship
Hosanna
Canadian Jon Bauer has been in the Canadian Christian market for many years, the recipient of many coveted awards like Male Vocalist of the Year at the Canadian GMA Awards in 2011. Making his U.S. debut with his 5th studio album, Forevermore, Jon has been able to create '…10 selections with 8 written or co-penned by Jon…' Produced by one of Christian music's sought-after producers, Rusty Varenkamp (Tenth Avenue North, Addison Road), Jon's passionate songwriting and heartfelt melodies have made this album comparable to many others by modern worshippers, like Chris Tomlin and David Crowder. With worship the theme first and foremost from Jon, the listener is taken to a place of surrender as we give praise to our God, presented with songs that are easily teachable for the church as listeners individually and collectively both join to commune with our Father in heaven!
Initially thinking the first track 'Our God' is a cover of Chris Tomlin's beloved song, Jon is able to forge his own identity for this anthem. Starting with an impressive gang vocal along with a guitar riff that explodes into a massive guitar beat, Jon sings out about who God is, that '…You tell the story of a life, You calm the storm of all of our fear inside…' Never straying from the worship that is his motive for the album holistically, Jon is able to create another radio hit that, in my opinion, also stands tall with Chris Tomlin's same-name song! Focusing on Him and what He can do, rather than showing our frailties and weaknesses, we are reminded of God's sovereign power and mighty strength, coming '…to lead the way, and we will think to follow the God of grace, You're the author of our faith…' What an awesome song of worship and a reminder as we understand that God is above everything, giving us reason to sing '…there is no one like our God…'
Listening through the album, I was able to immerse myself in the many aspects of Jon's worshipful sound as he introduces infectiously enjoyable melodies into both a corporate setting as well as for individual worship. 'Light of Another World' showcases the inner turmoil that everyone faces at some point in our lives, whether or not to surrender everything that we have at Jesus' feet, or keep some things to ourselves. Full of electric guitars, strong percussion, and a vocal reminding me of South African singer Brenton Brown, Jon reminds us that '…You whisper me, You want me to see, we were made for another world…and now I reach out for the lost for the greatness of Your kingdom…', giving us full courage that as we lay down the things that we dearly want to hold onto, we are able to live freely as we convincingly share to others about God's love and mercy, and His impact upon the circumstances of our lives. Both 'Chasing After Me' and 'Come and Save Us' relay to the listeners about who God is and how He is continuously pursuing us daily, longing for us to continue to be in relationship as we consciously make an effort each day to place Jesus at the centre of our lives. 'Come and Save Us' is a guitar-filled prayer as Jon acknowledges God's qualities and characteristics, out of which comes a plea for Him to come save us where we're at. 'Chasing After Me' is a more subdued acoustic song that gives hope for the lost as we are given a picture of God chasing us, showering His never-ending love even when we don't deserve it! Featuring the vocalist Laurell in the track brightens up a song that is otherwise beautifully crafted, as we contemplate on God's goodness and how '…Your love is chasing after me…and I don't know what I've been running from…' 'A Prayer Away' then continues the thematic elements of 'Chasing After Me', giving us a much needed reminder that even though God chases after us (and always does through the signs and words spoken through other people); He is still only a prayer away whenever we need to talk. A comforting thought that we can run to Him at any time knowing that there is no condemnation through Christ; this is a wonderful message, and played through an implementation of light acoustics and a strong melody makes the song even better!
'Forevermore' lets listeners hear how Jon imitates highly respected worship leader Paul Baloche (vocally!) and as I listen through the song, I can see the slight resemblance as he shows the listeners God's faithfulness and how '…to the one who formed the earth from nothingness, be blessing and honour, glory and power forevermore…' we are given a timely encouragement that God sits on His throne and reigns. It is because of His authority that we can call on Him for anything that in on our hearts, even when we sometimes feel like God may not hear our cries when we pour them out to Him. Through a choir near the end, we are swept up in the emotion of proclamations as we understand the reality of God's supremacy over the world, and His intimate love for all His creation. 'Fall Over Me' is a short 3:03 tune full of acoustical moments that speak of our intense need for God's presence to come in our lives, knowing that without His '…grace to fall over me…', we wouldn't be able to call ourselves the sons and daughters of God. A simple humble prayer for the Lord to impart His grace and favour upon His children, 'Fall Over Me' is a track that shouldn't be passed over for it's length as we acknowledge our continual requirement for God's lavish love as we try to navigate our every day lives. Lastly on the album is Paul Baloche's famous song, 'Hosanna'. With a guitar intro that leads into familiar lyrics as Jon shows that '…praise is rising, eyes are turning to You…', we are swept into a worshipful moment, understanding that it is indeed God that '…saves us, worthy of all our praises…' What a fantastic cover to end an album full of worshipful offerings as Jon asserts himself amongst other worship artists like Chris Tomlin and Paul Baloche!
Overall: Jon Bauer's U.S. debut album Forevermore is bound to be noticed by someone in the U.S. Christian market, with Jon's strong sense of vulnerability and song-writing skills certain to be an advantage as he writes his songs. Reminding me of a Canadian version of South African worship leader Brenton Brown, Forevermore is an album for anyone who loves a good worship album, with heartfelt melodies and easy-to-learn lyrics. Though only produced independently, Forevermore doesn't feel like an independent record as I am able to soak in the themes throughout the album, that our God reigns above everything, yet still longs to be actively involved in our personal lives. Well done Jon for such a thematically strong album full of lyrical richness and hopeful encouragement!
RIYL: Chris Tomlin, Desperation Band, Casting Crowns, Brenton Brown
Buy the Album: iTunes/Amazon mp3