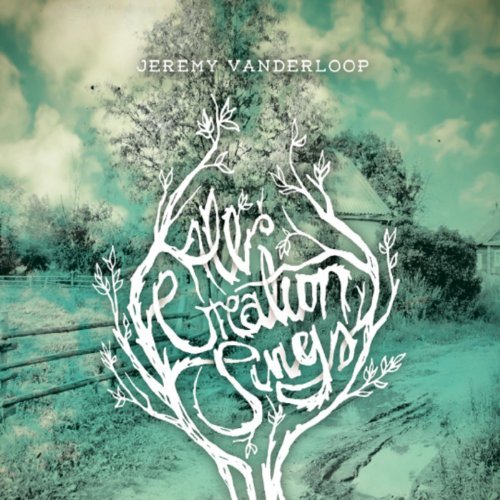 Artist: Jeremy Vanderloop
Title: All Creation Sings
Label: Mosiac Artistry Group
Release Date: 10/2/12
Reviewer: Jonathan Andre
Tracklisting:
Illuminate the Sky
Life is a Canvas
Let our Lives Sing
Beautiful
His Prize
The Struggle
Redemption's Way
Poured Out
Enduring Love
Heaven's Drawing Me
Deep Calls Out
Sing With Creation
Starting music as a full-time job and ministry at the age of 20 during August 2008, Jeremy Vanderloop's heart for worship is all but infectious as I listen to these 12 songs that shape the album All Creation Sings. Mixing '…Indie, rock, folk and pop, not to mention the lyrics bathed in the Gospel of Jesus…', Jeremy has been able to remind listeners of God's loving heart for His children, writing poetic melodies full of lively passion and metaphorical imagery so as to capture some of the awe, mystery, love and reverence that as listeners, we portray to Christ through our daily lives. Starting off in 2010 as a duo with his friend CJ playing cello on his tours, as well as releasing one album and an EP over his three years within the music business, Jeremy's third production focuses on the worshipful aspect of music, and how as humans, we each worship something everyday. As Jeremy continually reminds us to place Christ at the centre of our lives, his effort to '…love the unlovable, reach the unreachable, and touch the untouchable…'through this album is most certainly heard, with a myriad of musical styles and lyrical themes, from the anthemic 'Illuminate the Sky' to the acoustic-driven 'Beautiful'. With his vocals reminding me at times like David Leonard from All Sons and Daughters, Jeremy's heartfelt prayers of declaration, a reassurance that '…in the deepest, darkest pit of life, You come down and shine Your light…' ('Enduring Love'), are certainly a must-purchase for those who love reflective modern worship with a guitar-driven edge.
'Enduring Love' is the first radio single from the album, and from the first guitar strum, Jeremy gives us a clear reminder of Christ's enduring love, that continuously flows from His heart towards ours. With a strong country-like presence reminding me of Bear Rineheart from needtobreathe and David Leonard from All Sons and Daughters, this guitar-driven song of praise gives us a reason to declare that '…enduring love is flowing, with grace so deep it's showing…Your Spirit's all-consuming, Your glory is so soothing, coz it's light, sweet light…', as listeners delve more into the deep truths of God's loving nature and continual grace and mercy that keeps on flowing to us, regardless of our own circumstances. The guitar solo during the middle of the song is one of my favourite moments of the melody. The song then segues into 'Heaven's Drawing Me', one of the most reflective and poignant songs on the record. With a tag declaring that '…heaven's drawing me…' along with just electric guitar plucking and light percussion; Jeremy offers up the solace, that Christ is continually longing for us to return to Himself, wooing and drawing us into His presence. With this song reminding creation that God's going to keep drawing us into His presence, either through signs or those around us, this crescendoing song that leaps into an anthem full of electric guitars is a fitting song of surrender as we realise that the life we live isn't going to be much on our own. Christ longs to be a part of our lives if we let Him in- well done Jeremy for this song of freedom and redemption!
Both 'Illuminate the Sky' and 'Life is a Canvas' are both great praise songs full of vibrancy, providing a great start to the album as first and second song. With guitar riffs that are littered all throughout 'Illuminate the Sky', Jeremy gives listeners insight into the understanding that as we start to follow Christ, we cannot help but to shine His light to everyone we meet, illuminating the sky metaphorically as we start to see life from a new perspective- God's perspective, understanding that '…in Your arms we have new life, the chains of shame, they are now lies, falling down beneath the earth…' 'Life is a Canvas' then moves towards our desire of knowing Christ more and more as we feel '…your sweet embrace…' Full of electric guitars giving the song a grunge-type feel, we are brought into Jeremy's heartfelt longing as we hear his declaration, that '…life is a canvas longing for Your care…' Our lives are in search for something to fill the empty space, with Jesus declaring to be the source of encouragement, care, love and hope that we so search for. With a passionate vocal at times reminding myself of Robbie Seay from Robbie Seay Band, Jeremy has done a great job on these first two songs on the album All Creation Sings.
With worship at the heart of this album, Jeremy is able to infuse guitars and keys, ballads and rock melodies to promote a response of reverence, awe and wonder through these twelve songs. From declaring that Christ is everything to us that all we desire is to shine our lives brightly for Him so that those around us can see Christ in us ('Let Our Lives Sing') to asserting our devotion for Christ as we are '…poured out for You…' ('Poured Out'), Jeremy's wide musical variety on this album is one of the great highlights, with many songs incorporating grunging guitars and others just a simple string instrument and Jeremy's vocals as He calls out to God. 'His Prize' starts off with a guitar introduction similar to Lincoln Brewster's guitar solos as Jeremy reminds listeners to '…cast our gaze and our praise onto Christ the one who gave eternal life, God's sacrifice, and to Him we are His prize…' The gang vocals towards the end of the song amidst Jeremy's declaration for listeners to fall on our knees in worship, is a good addition, with this 3:10 minute tune being one of my highlights. Carrying on from 'This Prize' is 'The Struggle', which I immediately thought was a Tenth Avenue North cover. Despite not being so, Jeremy has offered up some of the most poignant and heartfelt lyrics of the album. Starting off the melody with the lyrics '…there's a war raging in my soul, who will win and which way will it go, will it follow Your throne…', you can tell that this song is going to be a heart-puller as Jeremy tackles inward turmoil, decision making, as well as struggles that almost everyone is going through- to live out fully for Christ or to hold something back, afraid that God may condemn or judge if He's shown the whole of ourselves. Through the prominent keyboard and eerily mysterious and worshipful guitar plucks, the song moves into 'Redemptions Way', a prayerful song filled with a hint of country as Jeremy cries out to God for grace and mercy, singing that '…I need You to bring me to my knees…', a sense of total surrender as we offer up our whole lives to Him. Finally, 'Sing With Creation' is the last song of the album and sums up the album nicely. A song of devotion as Jeremy sings with his acoustic guitar, declaring that '…we'll sing with creation and pour out love, we honour You our one true God…', this anthem of offering our voices to lift God's name up is a fitting last song to an album with such an honest, raw and heartfelt focus towards worship and music ministry. Well done Jeremy for such a compelling song!
Overall: At the heart of All Creation Sings lies a moment of honesty and adoration as Jeremy places everything he has, humble and prideful, hopeful and hurtful, towards the feet of Jesus as he declares His sovereign grace and mercy over himself and all of creation. Reminding me of a combination of needtobreathe and All Sons and Daughters with a worshipful twist, this 12 track album is a must for those who love indie worship, at times reminding myself of ex-Audio Adrenaline singer, Mark Stuart. With intense passion and heart as each song points towards Christ and away from ourselves, the rawness of Jeremy Vanderloop's album is an interesting and unique aspect of his worship songs. As he continues to obtain more exposure in the Christian market, he will be sure to be signed by a record label (maybe integrity music or Sparrow Records). Well done Jeremy for such a hopeful and inspiring album.
RIYL: All Sons and Daughters, Tenth Avenue North, Kristian Stanfill, Luminate
Buy the Album: iTunes/Amazon mp3