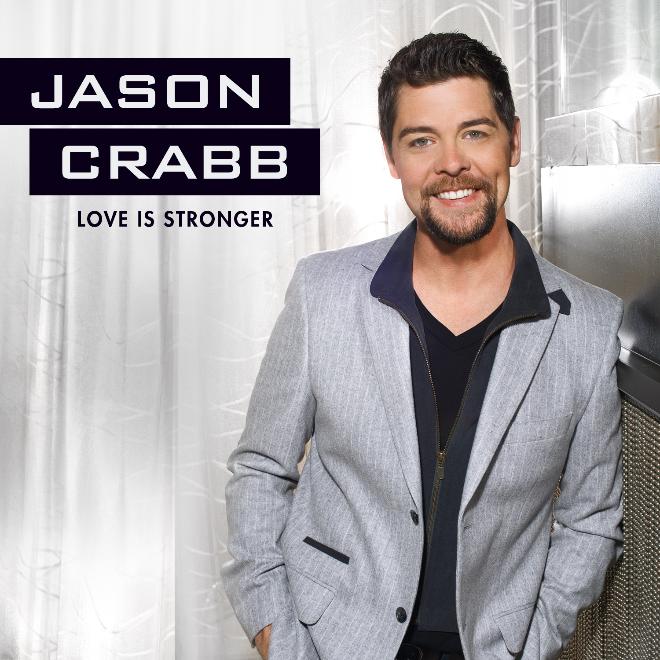 Artist: Jason Crabb
Title: Love Is Stronger
Label: Spring House Music
Release Date: 3/12/13
Reviewer: Jonathan Andre
Tracklisting:
Give
What the Blood is For
Let Mercy Hold You
Living Life Upside Down
Love is Stronger
Morning
There's Not a Crown (Without a Cross)
God's Up to Something
Love Wins (w/ Kari Jobe)
Near
Satisfied
I've never really been into the Southern Gospel genre. While artists like Bill Gaither, Ernie Haase and the Signature Sound, and the Crabb Family are all making their impact within the gospel music genre as they influence the lives of many Americans and others living around the world; I just haven't really caught on to the music, nor have I felt a great level of enjoyment whenever I did listen to some of the genre (Ernie Haase was a support act to MercyMe and Michael W. Smith in their Sydney Easterfest leg of the Australian tour during April 2012). Nevertheless, this new album from Jason Crabb (once a member of The Crabb Family and now a solo artist) is something that I initially thought I would never listen to, but here I am, writing a review for this album! With these 11 songs presented in a country way as the music leans more towards CCM and powerful anthems as compared to his previous album, Jason's heart for the Lord is considerably evident as he covers 'Let Mercy Hold You', originally written and recorded by Seth Mosley for his band Me in Motion, as the first single released on Love is Stronger. While this album release may not necessarily turn me into a southern Gospel loving music enthusiast (though I have great respect for what they do and the ministry and group of people they are serving), it does let me appreciate Jason's music a whole lot more, giving me a sense of respect and belief that even an artist who sings southern gospel can still create a CCM record. As the album released on March 12th (alongside Audio Adrenaline's prominent comeback album as well as another tired worship album release from Seventh Day Slumber), it is Jason's collaborations with worship leader Kari Jobe and songwriter Ed Cash that has peaked my interest into listening to this album. The result has led me to say that Love is Stronger is a solid release that does a great job in expanding my musical horizon. While I have to say that I'm still a little hesitant when breaking out of my musical appreciation mould, Love is Stronger is still a compelling album that is sure to be enjoyed by Jason Crabb enthusiasts everywhere. From first single 'Let Mercy Hold You' to the heartfelt and worshipful 'Near' and the collaboration 'Love Wins' with Kari Jobe, Jason's second solo studio album is something to savour as fans of Southern Gospel and CCM will enjoy such an album that is able to walk the line between CCM and gospel, and does it quite nicely!
'Let Mercy Hold You', originally a recorded track by Seth Mosley on the Me In Motion EP Yes We Can, is the first single from the album, and while the musical genre of it may be a divergence from the style of music Jason has done in the past, his enthusiasm and passion to try something new and different is certainly evident through this heartfelt song. As we are reminded through light electric guitars and Jason's powerful southern-gospel sounding voice that it '…grace is everything you need, it's only then you'll see that every night is holding back a sunrise, every star is shattering a blue sky, I know it's hard…but one thing will carry you through, so let mercy hold you…'; this song of redemption, hope and perseverance is sure to touch millions of listeners and bring to the fore emotions that many have bottled up for too long. One of the songs released last year that reminds me of the overflowing love and kindness of our Father, we are reminded that it is in the title of the song that we can see the character of God. It is not called 'let judgement hold you' or even 'let repentance hold you'. Instead its mercy, and it is in the light of mercy shown by God towards us that we can readily repent and surrender ourselves fully to Christ. Until we are rid of our judgemental paradigm that we can hold onto more than necessary, our freedom (or perceived freedom) will only be temporary. 'Let Mercy Hold You' is a wonderful song full of light acoustics and terrific for radio airplay, but it also as a hopeful and inspiring message to go along with a feel-good musical undertone. Well done Jason for such a wonderful rendition of a Me in Motion song, perhaps surpassing the original recording as my favourite version of 'Let Mercy Hold You'.
'Near' is the second radio single on the album and is also the other melody represented here in the CCM format, with the song co-written with Ed Cash, one of the chief songwriters for Chris Tomlin melodies that we sing in churches every Sunday and throughout the week. Releasing to radio earlier on during 2013, the light percussion and pulsating drums echo Jason's passion to proclaim God's nearness to us always despite whatever we may feel. As Jason reminds us through a NRT interview that '…the song "Near" is such a powerful message, not just because we need to know the Scripture that is based on, but also to know that it is real. Even when you do feel alone and when you are going through some crazy moments in life, when you feel like your prayers aren't being heard or you feel alone, the truth is His Word is alive…', we are given an inspirational lift as Jason powerfully hits the high notes and enthusiastically delivers one of the most heartfelt and emotional songs on the record. With this song going to be at home with many CCM enthusiasts (me included); 'Near' offers us comfort in the midst of trials, as we see this anthem of certainty and assurance declared over us to be remembered, sung and promoted in weeks and months to come.
Both 'Love Wins' and 'Living Life Upside Down' are other highlights from the album, with Kari singing a duet with Jason on 'Love Wins' and Jason singing a Russ Lee cover in 'Living Life Upside Down', with the original song definitely giving off a 1990s vibe sound. Starting off the album with a piano riff, 'Love Wins' is great lyrically as Jason encourages us to keep going during our trials and reminds us that love (in this context Christ) wins in the end, providing motivation to listeners during difficult circumstances. The harmonies of Kari throughout the song is also a great touch, yet musically, the song requires a bit of work, with irregular beats and drums falling out of sync with the music and singing often deterring and distracting from the message trying to be conveyed during the song. Nevertheless, the song is sure to be popular despite this mishap, with Kari being one of the most popular worship artists currently. 'Living Life Upside Down' is a re-recording from an old Russ Lee song when he was in the vocal group Truth in the 1990s. Listening to the song for the first time on Jason's album, you wouldn't tell that it was that old, with the song fitting seamlessly within the album. With a riveting keyboard intro that could possibly sound like it was taken from a textbook type riff famous during the 90s, Jason calls us all up to think about our own lives, as we wonder if the decisions and choices we made are really godly of just for ourselves. Confronting, emotional, poignant and in some ways motivational as we seek God's will for our lives first, Jason pays respect for Russ and his involvement in Truth as he covers the song nicely without much alterations musically. Fans of the 1990s vocal group will enjoy this song, a throwback to when they were popular. Well done Jason for such powerful tracks and certain highlights on Love is Stronger.
Throughout the rest of the album, Jason infuses CCM with southern gospel to create 7 other songs that remind us of God's closeness and love surrounding us during the harshest of trials. 'God's Up to Something' is an acoustic melody with big striking drums and Jason singing in a southern gruff voice reminding us that God's plans may sometimes be mysterious, yet He's always weaving every experience we have towards His glory; while 'What the Blood is For' reminds me of some ballads Carman or Avalon sung during the 90s about the sacrifice of Christ, as we are reminded through this heartfelt piano emphasised ballad that '…that's what the blood is for, it cleans the dirty man I am, makes it possible to stand before You Lord…' The title track of the album also employs a keyboard presence (like many songs on the album), with Jason painting a personal emotive message as he sings to someone close to him that love is stronger than any weight they are carrying, inspiring them (and us in the process) to set the baggage down at Jesus's feet. The musical techniques employed in Love is Stronger creates an album that pays homage to various bands during the 1990s as riffs, musical styles and other little things are all incorporated into this album. Maybe it's because this is the first southern gospel-like album I've listened to, maybe it's because I haven't listened to Jason's songs before, but whatever the case, listening to Love is Stronger is a unique experience.
'Morning' offers the remedy that joy comes in the morning after a night of hopelessness as Jason uses acoustics and his powerful voice to lift the listener from the mundane to the extraordinary, and even though the opening song 'Give' presents to us a country style melody (I'm not really a big fan of the country genre- but I'm willing to listen to a few tracks and expand my musical horizon!); the song fits as first track as Jason emphasises the need for us to forgive others so that our hearts can mend and that the forgiveness displayed towards us by others can be readily accepted. As we learn that giving and receiving go hand in hand, we are invited into the notion of being a cheerful giver as well as receiver, thereby not placing one above the other and not acting more humble or prouder than we should. 'Satisfied' is the last song on the album, and even though it's a different musical direction compared to the tenth track 'Near'; it is a perfect ending to a heartfelt album that reminds us of the love of God, even to the point of sending Jesus to die and rise again for us! With just piano and strings, Jason declares that '…You satisfied my soul and I stand amazed at the blessings I know and still to this day the mercies You show make it clear to see that You love me…' as we are reminded of the certainty of Christ's love. A wonderful end to these 11 tracks that bring out a different side to Christian music, 'Satisfied' is one of my favourite songs from Love is Stronger. Sometimes with less instruments and just a piano and an enthusiastic voice, a song can transcend and influence someone just much as a rock song can- that's the same with 'Satisfied', with the message of thankfulness shown through Jason's vulnerability through a song without much instruments there to cover it up! Well done Jason for such a compelling song, motivating us to see that as Jason can be satisfied with the Lord and all His good gifts and promises, we can as well!
Overall: Jason's second album Love is Stronger is one for both enthusiasts of CCM and southern Gospel, as he does is greatest to infuse both musical genres together. As we are reminded through poignant melodies and heartfelt anthems of God's goodness to us and His nearness regardless of our own choices or circumstances around us, this release is sure to be comparable to any other album release in March, and ought to be looked at, even if you aren't necessarily a listener of the genres. You'll be surprised at how much the music is enjoyable (like how I was pleasantly surprised) as we listen to Jason deliver some of the most enthusiastic and passionate vocals I've heard since Meredith Andrews in her album Worth It All (in my opinion). With fans of The Crabb Family or Bill Gaither certain to enjoy this record, fans of Steven Curtis Chapman, Carman or Avalon will also enjoy this album too! Well done Jason for managing to infuse two of the world's most appreciative and popular Christian/Gospel genres!
RIYL: The Crabb Family, Steven Curtis Chapman, Avalon, Bill Gaither, Carman
Buy the Album: iTunes/Amazon mp3