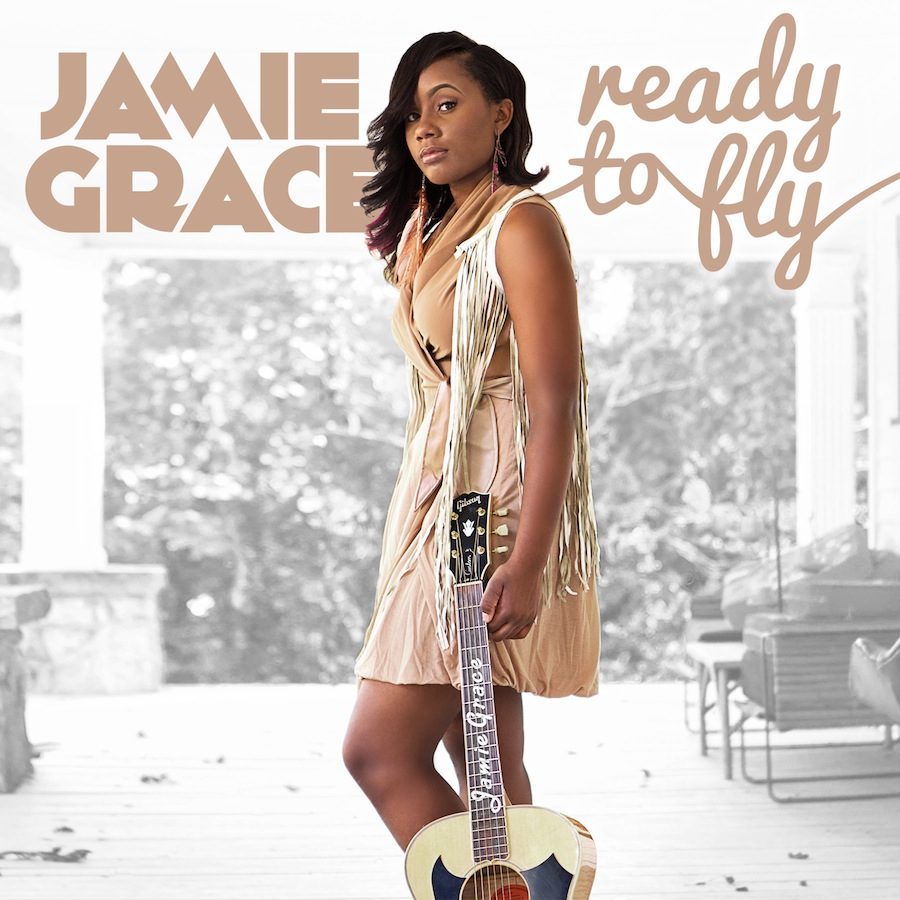 Artist: Jamie Grace
Title: Ready to Fly
Label: Gotee Records
Release Date: 1/28/14
Reviewer: Jonathan Andre
Tracklisting:
So Amazing (Prelude)
Beautiful Day
Just a Friend (feat. Manwell of G1C)
Fighter
Little Ol' Me
To Love You Back
Do Life Big
Every Bit of Lovely
White Boots (feat. Morgan Harper Nichols)
The Waiting
My First Love
Always You
Ready to Fly (Avery's Song)
Since her debut album in 2011, Jamie Grace has been one of the driving forces of Gotee Records, especially since the departures of artists like House of Heroes, Stephanie Smith, Abandon Kansas, GRITS, John Reuben, Relient K and others. Winning a Dove Award in 2012 for the Best New Christian Artist of 2011, Jamie's life has been able to echo a grace and hope of something bigger than herself. Jamie Grace has a song to sing, and from critical acclaim and praise, this song is worth listening to. Suffering from Tourette's syndrome since an early age, Jamie has been able to take the Christian music industry by storm through her powerful release of her debut album not too long ago. Now having released her second album Fighter yesterday (sharing a release date with Casting Crowns and Andy Mineo), Jamie has been able to deliver an album that's just as stylistic, enthusiastic and energetic as her debut, not that long ago, but probably feels like a lifetime ago to Jamie, who is now 22 (19 when her debut album released). From her hit single 'Beautiful Day' which released mid last year, to her motivational melody 'Fighter' that gives us inspirations of hope through other people's stories; Ready to Fly gives us a snapshot of Jamie's thoughts about God, love, life and where she is at right now. With the album holistically being about how you have to be '…ready even when you don't know your future…', Jamie sums up the entire album in one word- waiting, and having the ability to be patience and allow God to use His timing, and that when the timing is right, we will be ready to conquer whatever lies before us. A certain purchase for fans of Group 1 Crew or Britt Nicole; Jamie and her music continues to further impact the teenage age bracket, as well as influencing, adults, young adults and anyone else who is keen on acoustic/pop/CCM.
'Beautiful Day' is the first single on the album, and one of my favourite songs by Jamie of recent times. With a percussion loop and some acoustics to form the musical backbone of the melody, Jamie presents a sunny song of thankfulness as we are poignantly reminded that '…there's something 'bout the way Your sun shines on my face, it's a love so true, I could never get enough of You..' Encouraging and uplifting, this 3 minute pop melody (with the familiar voice of TobyMac as backing vocals) is perfect for a lazy Saturday morning when you're just in your room cleaning and taking rearranging clothes in your drawers. As spoken by Jamie herself, '…I'm just pumped that people are already excited about 'Beautiful Day' and that they are playing it…[but] this is scary, you have your whole life to write your first record and then you get to your second record and you've got one to three years, so it's totally different. It was a little intimidating…' It is because of this vulnerability that makes the song and the album a lot more real and applicable, as we all can feel pressured in our lives at one point or another. The song is great, presenting to us a powerful bridge that reminds us that '…I've got no room for worry, I've got no room for doubt…there ain't no limitations to Your amazing grace…', and infusing together some pop with a rhythmic beat, to create maybe one of the most enjoyable CCM melodies of last year, and a song that I'm sure more people like than would care to admit.
The title track 'Fighter', 'Do Life Big', 'To Love You Back' and 'Every Bit of Lovely' are all great standout songs and all in my mind need to be considered options for further radio singles by Jamie (in fact, 'Fighter' was a promotional single released as a lyric video on her youtube page, but hasn't officially been released to radio as of yet). With a piano introduction, 'Fighter' is as emotional and encouraging as any other non-threatening mainstream track (a la Carrie Underwood's 'See You Again'), and knowing Jamie's walk with Christ, becomes even more emotional and poignant, knowing that even if we ourselves cannot fight in the situation that we are in, God can still fight on behalf of us. A ballad based upon her own life experiences (and others that she knows), this song about being a fighter hits home for Jamie, with her continual struggle with Tourette's syndrome being one of the daily things Jamie has to give over to God as she ministers through music. As the ballad rouses up to be an anthem where Jamie declares '…You're my inspiration, my inspiration yeah…', I'm sure it is intentionally unclear about who her inspiration is- ranging from God to parents to friends, I'm sure anyone, regardless of religious affiliation, can be inspired by Jamie through this track. Knowing her faith in God, 'Fighter', though not explicitly about the Christian faith, is a timely reminder that we are not alone in our own battles, and that God, family and friends, will stand beside us as we travel through this life of unpredictability and uncertainty.
'To Love You Back' is possibly the most CCM radio friendly song on the album, and I won't be surprised if it becomes single #2 or 3. Presenting to us possibly one of the most worshipful songs Jamie has done, this synth and powerful drum beat track is something to behold, as Jamie declares out that '… I still can't believe that you've loved me for eternity, and what's so marvelous to me is that I finally get, I finally get, I get to love You (to love You back)…' While this song can be sung in churches (and I wouldn't be totally against it if it does), this CCM/worship track is something different that Jamie has done, and is certainly a welcomed thing for Jamie to do (at least by me anyway) in future albums and recordings. Presenting to us pop in its purest format in 'Do Life Big' (with an uncredited performance in backing vocals from someone like TobyMac or KJ-52), the song encourages us to do just that- live life to the full and to perform each and every task with our whole hearts. While somewhat cliché in the chorus, as Jamie encourages us with her proclamation of wanting to '…do life big, break out them blue skies, I can feel my heart beating inside…', this song, just as much as it is going to be criticised for its lack of lyrical ingeniousness, is also going to be a great motivator amongst those who hear it, reminding us to live our lives with no regrets, even if the delivery, both lyrically and musically, leave many listeners, especially those who prefer more creative melodies a la Bebo Norman or Andrew Peterson, much to be desired. Regardless, Jamie continues to forge her craft, and comes to a powerful melody in 'Every Bit of Lovely'. Directed to young teenage girls, Jamie offers up her advice in the encouraging words of how '…you're God's original work of art, yes you are, so don't ever let them tell you that you're less than wonderful, cause you're a one and only…' Unconditional love and identity are both universal topics, and are certainly much more central to girls than to boys as things to ponder and think about. With electronic vocal distortion, rap sections, and powerful moments of truth, this song about squashing doubts, insecurity and worry is one that'll certainly stand out for me personally, with 'Every Bit of Lovely' one of the most musically diverse, yet equally encouraging songs Jamie has ever done. Channelling other artists like TobyMac or Group 1 Crew in this song, 'Every Bit of Lovely' is as encouraging to guys as it is going to certainly be for girls!
Throughout the rest of the album, Jamie offers up a plethora of tempos in each of the songs to hopefully bring in a wide range of listeners. Delving on a variety of topics, Jamie offers us hope in the form of 'The Waiting', a slow piano ballad that personally draws from Jamie's own experience of her own feelings towards a friend in a coma, and how her own waiting for what was going to happen is a reminder to ourselves to trust the Lord's timing and be confident and certain that no matter what happens, that God is a good God, and that '…You'll make sense of it all and I know You'll show up, so I'm letting go of these thoughts that are taking control…' 'Little Ol' Me' is an acoustic country-style swaying track and is possibly the most infectiously joyous melody (along with 'With You') that Jamie has ever created. Co-written with newworldson lead singer Joel Parisien, this rhythmic song requires us to lay down everything at Jesus's feet and allow Him to use the circumstances in our lives in whatever way to glorify Him. Country styles continue to flow in 'White Boots', a duet with Jamie's older sister Morgan Harper Nichols. Singing about waiting for the right partner, Jamie's family all sing on a song that while not necessarily sung to Jesus or about the Christian life, is possibly one of the most heartfelt and vulnerable melodies that Jamie has ever done, reminding us single people (like myself) to wait for the right spouse, knowing that God already knows and has planned who my spouse would be from the beginning.
Continuing the fun poppy-ness of the album with 'My First Love', a guitar driven melody that reminds God (and us) of Jamie's first love (and hopefully our first love as well), as well as 'Always You', a CCM melody that could seemingly be lost in a sea of radio friendly material, but also giving listeners a clear reminder of how '…nobody loves me the way You do, cause you're just You, always You…'; it is Jamie's emotional and often relatable song 'Just a Friend' that will sure to garner both praise and criticism alike as Jamie pours her heart out to talk about unrequited love. While the timing of the song may not have been great (why would a 22 year old sing a song about a teenage crush and something that happened a while back?), Jamie nevertheless raises issues of love, being in love, and the issue of identity and acceptance in this acoustic guitar driven upbeat song, that features a guest rap by Manwell of Group 1 Crew. As Jamie offers up her issues to God in a prayerful bridge, declaring that '…Father, I will place this in your hands, You know me and all my crazy plans, humbly I surrender this to You…', this is meant for all of us who are trying to make love work. 'Just a Friend', while the timing in the recording of it can be off, is just as equally powerful and resonating with myself and hopefully other single Christians, as any other melody on the album!
Overall: Ready to Fly is a great collection of songs by Jamie, and a great reminder for all of us listening of God's timing in whatever situation we find ourselves in. As One Song at a Time garnered much praise and critical acclaim, Jamie's second album is sure to catch the eye of listeners and enjoyers of music, and critics alike. While Jamie's personality is still bubbly and the album as a whole is written, performed and delivered with a fun-filled atmosphere, Jamie's maturity and song-writing skills is just as good as anyone within the Christian music industry. With the central theme of the album firmly grounded in God's timing for us, it is the last song 'Ready to Fly', dedicated to a little girl who Jamie knew, who passed away, that gives us a great reminder of how transient this place is, and that any moment, we are ready to fly, not just out of our physical homes into the wide world we long to discover, but also from our earthly home into the spiritual home of heaven. From upbeat melodies to heartfelt reflective songs, there is great diversity within Jamie's music, and certain to be enjoyed if you love similar artists, like G1C, Natalie Grant or Mandisa. Well done Jamie for such an inspiring follow-up album, and one of my standouts in January 2014!
RIYL: Group 1 Crew, Natalie Grant, Britt Nicole, Ryan Stevenson, Mandisa
Buy the Album: iTunes/Amazon mp3