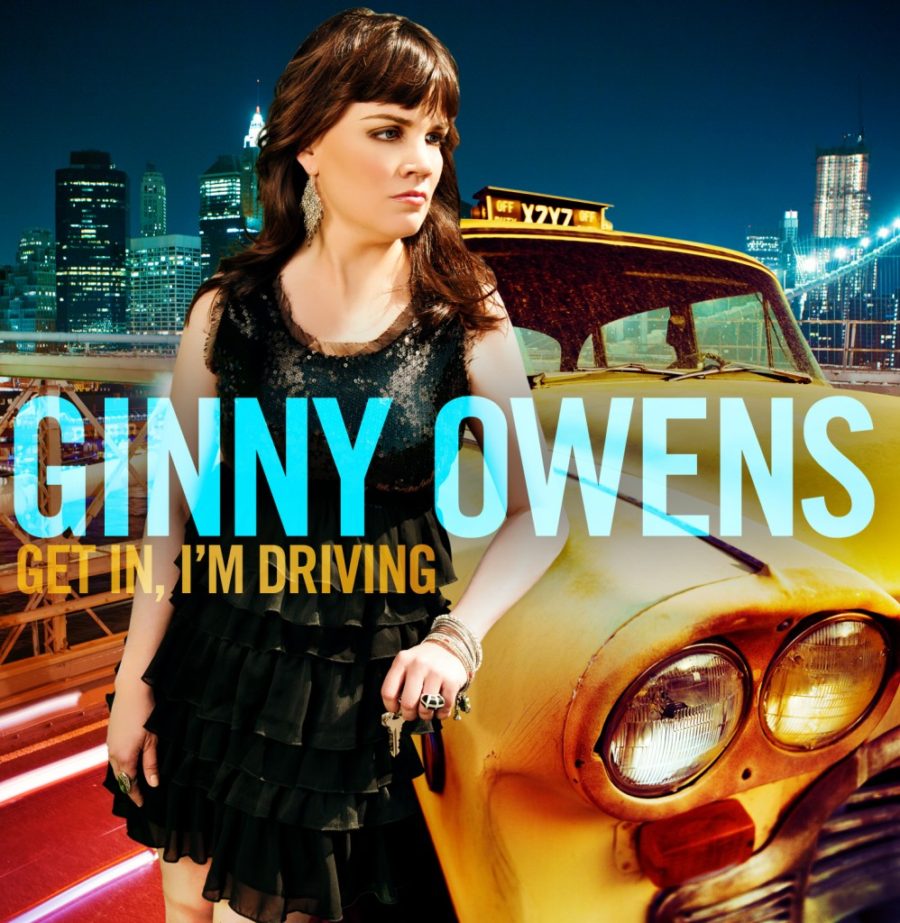 Artist: Ginny Owens
Title: Get In, I'm Drivin'
Label: Soul Stride Records
Release Date: 9/13/11
Reviewer: Jonathan Andre
Tracklisting:
Get In, I'm Drivin'
Mystery of Grace
Before You Fly
Rain
Joined at the Heart
Better Off
Lay It Down
Higher Ground
Daughter of Destiny
Better That Way
The Song
Legally blind at the age of 2, Ginny Owens has made many Dove Award nominated and critically acclaimed albums, with top-charting songs like 'Simply Love You', 'Free', 'Something More', 'I Love the Way' and 'Wonderful Wonder'. Back with a new studio project in five years, Get In, I'm Drivin'; Ginny has written 11 songs full of heart and soul as she writes some of the most poignant and meaningful songs in her career. From the quiet ballads of 'Rain' and 'Joined at the Heart', the soulful title track, as well as the choir hand-clapping echo song 'Daughter of Destiny'; this album is one of the most unique and ingenious albums from September 2011; from an artist with the same musical calibre as Nichole Nordeman and Nicole C. Mullen. Reflecting on the album as a whole and its soulful/R & B/jazz genre, I am able to be immersed in the albums raw honesty and hopeful nature as Ginny sings out her passions and problems, grounded in the reality that God is the driver in the car called our lives, and that '…if you wanna take the ride of your life then c'mon, get in, I'm drivin'…'
The title track starts off the record in a soulful manner, with a lot of keyboards and light percussion. As Ginny starts to sing, '…I use to be afraid I'd never figure out who I was meant to be; what I should be about…' I am certain that everyone who hears this starts to ponder times in their own lives where they've thought about what they would want to be, where they would use their talents, if what they're doing is even what God wants them to accomplish or not. With vocals reminiscent to Nicole C. Mullen or Janna Long from the vocal group Avalon; Ginny gives hope to those who are struggling with identity issues, and through the musical arrangements of a strong drum beat, vocal echoes, as well as a strong piano undertone; she is able to introduce a beauty into surrendering control to Jesus, proclaiming the words, '…are you ready for the ride of your life?…' Life with God in control is a life like no other, with no guarantees. Certainly out of our comfort zone, this song tackles these themes head-on, producing a well rounded musical journey that marks this track as one of my favourite from the album.
'Lay It Down', 'Mystery of Grace', 'Daughter of Destiny' and 'Better Off' are all standouts on a piano-driven album that speaks to the very heart of giving in the control that we have in return for the grace He supplies so readily. 'Mystery of Grace' speaks that we are conscious of the daily gift God brings to us. As Ginny places it, '…one of the greatest lies we tend to believe is that we are unimportant and insignificant in the grand scheme of things. But grace changes that. It consumes us, replacing our feelings of doubt and insignificance with purpose and hope…' Through the strong piano connection of this song, and the use of acoustic guitars and light percussion creating a soul-jazz musical combination; as well as the lyrical focus of '…just give into the mystery of grace…', this is one of my favourite songs from the album. 'Better Off' starts with a driving piano riff as Ginny sings to the devil (or someone else in her relationship/friendship), claiming that '…I'd be better off…without you…' Irregardless of what spin the song is focusing on, we can tell that there is a struggle between her and this other persona; and this certainly mirrors our relationship with God sometimes. We realise that God has defeated sin and death, yet we live with the constant nagging of us being told that we are what we choose, we are how we act. God has taken care of all of it, and through this clever song, Ginny addresses this difficult issue for all of us.
'Lay It Down' is one of the pop-soulful songs that shows Ginny's vulnerability as she sings about laying our burdens at God's feet as we become free from the chains that we carry. With a percussion riff filled with a piano undertone and some backing vocals creating a soulful jazz melody, Ginny proclaims for us to '…lay it down; don't let it define you, you're not strong enough to carry that around, go ahead and lay it down…' as we realise that on our own, we're not strong enough, but with God, anything is possible. 'Daughter of Destiny' is a song for women, anchoring their identity in Christ; and is one of my favourites on the album. Though it is focused on women, everyone can receive something from this call-and-response track with light percussion and a vocal choir. We are all God's children, with a destiny that only we can fulfil. As Ginny relays this truth '…as I make my way along this journey, wisdom and truth will walk beside me, I've been given purpose and direction, oh I am master-minded by the Author of perfection…' I am able to soak in the knowledge that God is painting our artistic tapestries, a wonderful sight to behold as He weaves and creates a masterpiece, even out of things that seem to be failures and shattered dreams.
As I listen to the rest of Get In, I'm Drivin', many themes are brought to light as Ginny sings a continuing jazz infused soul musical fashion. From acknowledging that sometimes failure comes before the fruitful finish when God shows you that '…you always fall before you fly…' ('Before You Fly') to continuing to travel along this journey of life as we reach our goals as we become more like Christ ('Higher Ground'); it is the two softer ballads 'Joined At the Heart' and 'The Song' that speaks volumes to many listeners, including me. 'Joined at the Heart' speaks of adoption, with Ginny drawing on inspiration from a couple adopting a child. Ginny shares that as we understand that we are called the sons and daughters of God, we are able to receive the good gifts that He freely gives us as our hearts are changed from the inside, understanding that '…we are humbled to be part of a greater story written by the Author of miracles and stars, and as this journey unfolds there is one thing that we know, God has made it so we are forever joined at the heart…' A piano only track, this is one of the most poignant and vulnerable songs of Ginny's career. 'The Song' is the last on Get In, I'm Driving; about life's journey as we trek and follow God's voice wherever He leads. As Ginny cries out across the acoustics, '…I'm following the Song, it's calling me to come along to the places I have never gone…' we are encouraged to take the journey into the unknown, knowing that God is there every step of the way. Well done Ginny for such a compelling song!
Overall: Ginny's latest record has stretched many lyrical and musical boundaries as she enters back into the Christian market with a style and grace, showing that her songwriting abilities have improved since her time away. Comparable to many artist comebacks like Jaci Velasquez, Rebecca St. James and Rachael Lampa; this is an album for quiet contemplation and declarations, as we continue to grasp the unending mercy and grace the Lord freely showers over us. Well done Ginny for such a refreshing album that has made me appreciate the soul/jazz genre more!
RIYL: Nichole Nordeman, Nicole C. Mullen, Sara Groves, Jaci Velasquez
Buy the Album: iTunes/Amazon mp3