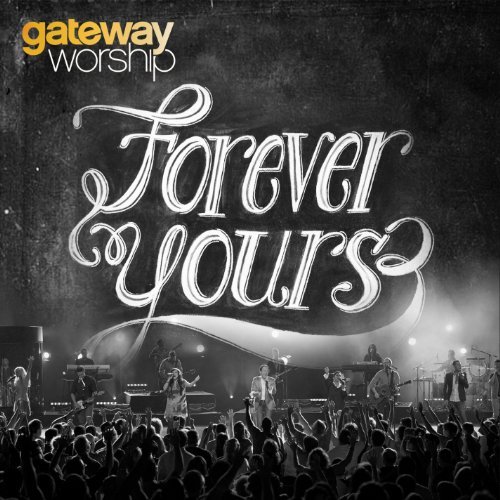 Artist: Gateway Worship
Title: Forever Yours
Label: in:cite Records
Release Date: 10/9/12
Reviewer: Jonathan Andre
Tracklisting:
Not Ashamed (feat. David Moore)
Be Lifted Higher (feat. Thomas Miller)
As We Pray (feat. Thomas Miller)
Forever Yours (feat. David Moore)
Mystery (feat. Kari Jobe)
Love Has Done It (feat. Zach Neese)
God & King (feat. Rebecca Pfortmiller)
All He Says I Am (feat. Cody Carnes)
The Father's Love (feat. Ben Haake)
139 (feat. Alena Moore)
We Will See (feat. Walker Beach)
Worship the Great I Am (feat. Kari Jobe)
The Whole Earth (feat. Thomas Miller)
'…this album is an experience that takes you into the truth of redemption and leads you to catch a glimpse of the power of restoration woven throughout the album with the gift of worship…' Gateway Worship, the worship team at Gateway Church, have released their 2012 live album, Forever Yours, with much anticipation after their critically acclaimed live albums of Great, Great God and God Be Praised. With Gateway Church residing in Texas and home to Dove Award nominated worship artist Kari Jobe, these new 13 songs from a worship ministry that captured the heart and hopefulness of Christ within us and working through us have been able to place a new light upon worship music- rivalling Israel Houghton's Jesus at the Center and Vertical Church Band's Live Worship at Vertical Church as the most moving and emotional live worship album release of the year. Featuring Kari on two songs, as well as the latest worship offerings from worship singers David Moore, Thomas Miller, Cody Carnes and worship pastor Zach Neese, Forever Yours reminds us of the living power of Christ and how He is able to (and always does) restore us from the brokenness that we sometimes feel, weaving together our moments of trials and pain to create a beautiful tapestry of colours and patterns, thereby depicting a striking landscape of joy as we are reminded of Gateway's commitment to worship- '…to leading the Body into a place of intimate worship and an understanding of the power of worship…' From stirring anthems like 'Not Ashamed' to the intimate moments of 'Forever Yours' and 'Mystery', Gateway's 2012 album reminds us of the power of exultation and how worship is a daily part of our lives and outward expression of our love for Christ and our relationship with Him.
Without knowing any songs on the album before listening; or much about the worship movement to start with, I was pleasantly surprised with Forever Yours as a whole. Starting the album off is the rousing anthem 'Not Ashamed'- also reminding me thematically of Kristian Stanfill's power worship hit, worship leader David Moore presents with us a reason to cry out to our Father in worship as we proclaim '…I am not ashamed, no way, I've been saved by amazing grace and nothing's gonna take it away…'. Though sounding cliché at times throughout the song, its strong guitar riffs and dancing melody are more than enough to enjoy this song full of intense passion and excitement as listeners around the world are met with enthusiasm as we are assured our certainty in Christ and how we are not ashamed to assert Christ as our Lord and Saviour. David Moore also sings the title track 'Forever Yours', a reflective ballad about our dedication to Jesus for His sacrifice in our place, and how '…broken and lost, You found me, though hurt had been my way You healed my life…' This six minute anthem of hope is great track of redemption as the song builds up through a crescendo to create a declaration of our allegiance to Christ, that '…You saved me and I will be forever Yours…' Certainly a powerful heart-changer to be sung in churches very soon, 'Forever Yours' is one of my favourite songs on the album. Well done David for such revealing, comforting and energising melodies of freedom and hopeful promises.
With the ultimate theme of the album to be in a place of realisation of Christ's majesty and the love and affection He has for us and thereby respond with worship, gratitude and reverence; Forever Yours features many songs that are able to stir up the worshipper in us a give thanks for our Saviour and Friend. Kari Jobe's 'Mystery' is a piano track describing the mysterious works and understandings of God and how '…loving me since time began, such love I'll never comprehend…', giving a sense of awe and wonder as we fully trust Him no matter how mysterious He can be, or how unsure of His ways we are. Kari also sings out the song 'Worship the Great I Am', reminding me of the themes of power anthem 'Revelation Song'. Full of drums and guitars presenting the anthem through the declaratory words '…Worthy worthy Jesus is Worthy, praise to the Son of Man, Glory and Honour crown You forever. Worship the Great I Am…', Kari's passion is clearly evident, providing a rousing anthem as we show our affection and praise to our Father. '139' is a poetic acoustic-driven melody based upon the famous Psalm 139, and with worship leader Alena Moore's singing reminding me so much of Brooke Fraser, I am able to soak into the knowledge that '…You search me and know all my heart…' As we understand that the all-knowingness of Christ is an assurance of His promises, we can rest in the truth that '…You called me to be holy…' The famous hymn 'God & King' starts off with a riveting acoustic introduction reminiscent of a David Crowder Band introduction (to any of his popular songs- they also covered this song on their album Illuminate), and sung with great passion and vibrancy from worship leader Rebecca Pfortmiller. With just as much enthusiasm as worship artists Jenn Johnson and Meredith Andrews, Rebecca's rendition of the ever-loved hymn is one to cherish for many months, giving us a stirring reminder of our freedom to continuously praise our friend and faithful Father, as well as compelling our hearts with powerful melodies in the process!
From lifting up Jesus and not being ashamed to shout out His name in worship ('Be Lifted Higher'), and reminding listeners of the power of prayer and how '…not ours but Your will be done, Father, as we pray to You…' ('As We Pray'), to singing about the love of Christ and how nothing can separate us from the endless supply of abounding grace that He gives ('The Father's Love'); Gateway Worship have created melodies with anthemic power and reflective hopeful prayers as their foundation to bring congregations (physical as well as communally virtual) from a place of daily grind into one full of devotion, adoration and abandon. As I continue to listen to this album, I am amazed at how much I have enjoyed it; considering I knew nothing of the band before this album (all I knew was that Kari Jobe was a part of it). Gateway Worship are able to cover plenty of worship themes, from a reminder through a guitar riff and a hopeful line giving assurance that '…I am all He says I am…' ('All He Says I Am'), to a piano infused song of longing in anticipation for the day when our hopes, desires, dreams, disappointments and heartaches will be made right in God's sight ('We Will See'). But my favourite song comes in Zach Neese melody 'Love Has Done It', reminding me of the Steven Curtis Chapman song 'How Love Wins'. 'Love Has Done It' promotes a similar theme complete with a driving crescendo of guitars and drums as I listen to the poetic lyrics sung by Zach (with a vocal similar to Jeremy Riddle or Todd Agnew)- '…lift the God whose love delivered me, magnify Christ the coming King…' Speaking about love being the ultimate motivator in Jesus' sacrifice, Zach's stirring vocals and enthusiastic passion are able to place this melody as a viable radio single for the album in the near future. Well done Zach for creating such a humble and motivational worship experience.
Overall: Forever Yours gives us a clear reminder of our place in Christ's never-ending story of our redemption and His magnification. As we are able to take a glimpse into Gateway's motivation for worship- '…Gateway Worship uses worship as a catalyst for change that helps to transform our temporary view of who we are and how we see God, to an intimate exchange between every believer and the Creator of Heaven and earth…' we can see a musical collection of worship melodies that are not necessarily the most popularly sung, but nevertheless perform a great service in connecting worshippers to the Lord in a celebratory way. Not as popular as Hillsong or Passion, Gateway Worship is able to still have an impact and serve its place in the worship community, and is a certain purchase if you are a fan of great modern worship music. With heartfelt songs together with power anthems, Forever Yours is one to remember for the year in live worship music, and will certainly rival Vertical Church Band for best live album of the year. Well done Gateway for creating such an enthralling and riveting time of worship.
RIYL: Jesus Culture, Desperation Band, Passion, Hillsong
Buy the Album: iTunes/Amazon mp3