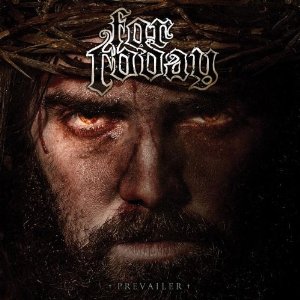 Artist: For Today
Album: Prevailer EP
Label: Razor & Tie Records
Release Date: 04/02/13
Reviewer: Lee Brown
Tracklisting:
From Zion
Crown of Thorns
Flesh And Blood
Open Heaven
Fearless (Acoustic)
For Today has been on something of a roller coaster ride over the past year. Having released their 2012 album Immortal to rave reviews and touring (as always) constantly for their new label, the band was then hit with a scandal over a (now former) band member's comments, and then had all of their equipment stolen. That's quite a ride to go on. Ever the (ahem) prevailers, however, Mattie Montgomery and company bounced back with their token intensity and are ready to unleash another morsel to hungry fans.
From the cover artwork (Jesus crowned in bloody thorns) to the always devoted lyrics, For Today never relents from what they're about. As Brody B stated in the comments to his review on Immortal (linked above), the amount of passion For Today puts into their albums is often far above other bands. Prevailer EP is no different. In fact, in some small ways, For Today continues to up the ante on spirit-filled lyrics, even while gaining more and more secular support.
It's hard not to notice when a band who often tours with White Chapel continues to gain ground with non-believing audiences while never watering down their message to "fit in" with the venue or crowd. It just goes to show how much true skill and passion play on the hearts of music loving people that the same crowds that chant to White Chapel also embrace For Today. With Prevailer, the band continues to prove that they are the best metalcore has to offer across the board, but still do not break any new ground for the genre.
Most of the tracks on the album would fit nicely on a "deluxe" edition release of Immortal. That said, I applaud the band for not dipping their foot into that "money making opportunity." Having recorded Prevailer not long after Immortal, it's easy to forgive the band for not taking much of a divergent sound. In fact, the real divergence comes from a return of Mattie's fry screaming and an acoustic track.
The album begins with "From Zion." Stylistically, "From Zion" is the most divergent song on the album. Rather than feeling like it could have been grafted onto Immortal, this track feels like it was inspired by Breaker mixed with the screaming style used on Ekklesia. Aside from Ryan's clean vocals being put into the mix, the track is heavily Breaker in sound. It is also nice to hear Mattie bust out his fry screaming, as well. Though I'm not a fan of that style screams (love his gutturals, though), they add a nice touch. In putting "From Zion" first on the album, it's almost as if the band is giving a homage to their past before pressing into the future.
Lyrically, "From Zion" is typical For Today. It is a cry to justice and reminder of Jesus' power. With any other band, I would loudly laud how passionate and powerful the lyrics to this song are. However, being as this is For Today, the lyrics are right in line with what you'd expect. They are powerful from start to finish, but I feel that "From Zion" is really a "just getting started" moment for this album, as the power and potency of the message only grows from here.
The most powerful song on the album, in my opinion, has to be "Crown of Thorns." Even when compared with For Today's awesome discography, "Crown of Thorns" stands out as one of their best tracks ever. From the tolling of the bells to the deeply haunting screams, this is the song you're paying for when you buy this album. It is just hauntingly beautiful from start to finish. There's just something about the way the drums hit and lead into Mattie's "We crown Him…" that makes the hair stand up on the back of your neck in all the right ways.
The tolling bells that start the song present almost a funeral dirge element that is quickly overcome by Mattie's always impassioned cries and a few more fry screams. The message of the song is straightforward. "We crown Him with a crown of thorns…. King of Kings, beaten and broken down, why would He live like a servant… why should He live like a slave?… It should have been me…" Both Mattie and Ryan are on top form for this track. Rather than exposit it's virtues, however, why not check the song out for yourself:
https://www.youtube.com/watch?v=9msBh8ozOEY" width="480″>
The power of "Crown of Thorns" is carried into "Flesh and Blood," a song that defines the band's "charismatic" nature. The focus of the song is that the world will see "flesh and blood filled with the fire of God." Anyone who has ever been to a For Today show (or known someone who has) knows the band's passion for works of healing and prophecy. Not being a charismatic myself, I sometimes wonder about this emphasis on miracle working, as portrayed in this song. I've seen Mattie make comments about these topics many times on his FaceBook page and had to consider the weight of what he was saying more than once.
At times, I (and others I've seen on our boards) almost hold their charismatic faith against the band. It is in these times that I am reminded of the words of the great C. S. Lewis, who said; "we regard our own state as normal and theurgy as exceptional, whereas we ought perhaps to regard the worker of miracles, however rare, as the true Christian norm and ourselves as spiritual cripples" (Lewis, Miracles, p 150). Certainly, the Biblical picture of the disciples in Acts displays this "flesh and blood filled with the fire of God" more than the spiritual "safeness" non-charistmatics (like myself) often experience. In this regard, "Flesh and blood" will either be an anthem or a divisive track for many listeners. I prefer to hail it as an anthem.
"Open Heaven" is the final original song on the EP. As "Flesh and Blood" covers the idea of working through God's power, "Open Heaven" points back to the majesty of God Himself. It is a track of "hope for hopeless man… so let hope arise again." This track is a reminder that even hell itself must bow down before the powerful Creator of all. It is also a reaffirmation that "I will follow Him to seek and save the lost." From start to finish, then, it is an evangelistic anthem filled with a discourse on the nature and character of God.
As with the other three tracks on this album (that are original), "Open Heaven" would fit nicely on Immortal and finds most of its musical styling from that album. As before, this is not a bad thing at all. Songs such as "Open Heaven" prove that though Prevailer doesn't really break new ground, it contains some of the best of what For Today has to offer and it belongs in every fan's collection.
The EP concludes with an acoustic performance of the band's powerful song "Fearless" from Immortal. When I first got my press copy, this was the track I was most excited to hear. Having just reviewed Phinehas' amazing acoustic tracks and having had an affinity for acoustic versions of metal songs since Haste the Day did some of their own, I was ready for a masterful acoustic gem. What we get, however, is possibly the weakest track on the album.
First of all, let me just state that this is not due to the fact that Mattie's voice is nowhere to be found on the song. Ryan does a simply fantastic job on his own (I've always thought his voice sounds like Jeremy Renner's turn as Hawkeye on The Avengers). His vocals really are top notch. What brings the song down for me, is the choice to attempt a direct recreation of the original, beat for beat. Rather than take elements of "Fearless" and adapt them into a harmonious acoustic piece, the band attempts to go step for step on a song that doesn't naturally work well as an acoustic piece.
So, where Phinehas found a way to make acoustics that rivaled or even surpassed their original songs, "Fearless (Acoustic)" will always be a lesser offering for me. The only place where the band did include an adaptation of sorts was in adding the bridge to Seraphim into the closing refrain of the song. This alone "spices" the track up. Overall, however, I didn't find this acoustic to be all that compelling. This is a shame, considering the amazing talent and awesome vocals behind it.
Overall: For Today brings a handful of new tracks that follow closely to the model of their predecessor, Immortal. Variety comes through the return of Mattie's fry screams and an acoustic song that is merely passable. That being said,   at least three of the five tracks being offered up (possibly even four) on Prevailer are worthy to be considered with For Today's best work. Among these three tracks, "Crown of Thorns" by itself is worth every penny of this album and will forever belong on any "Greatest hits" playlist.
Prevailer doesn't break new ground, but it certainly adds even more power to For Today's already impressive discography. Fans of the band need not even question hitting that purchase (pre-order) button. Those who are on the fence about For Today need merely to check out "Crown of Thorns" or "Flesh and Blood" to be convinced of this album's worth.
RIYL: Sleeping Giant, August Burns Red, Eyes of Eli, A Plea For Purging, The Great Commission
*Reviewer's note: The press copy given by Razor & Tie did not include the DVD offered in certain packages. Therefore,  no review of that element is provided here. You can, however, preview the DVD content here.