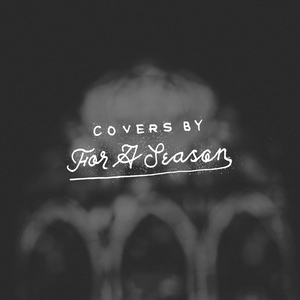 Artist: For a Season
Title: Covers EP
Label: independent
Release Date: 1/28/14
Reviewer: Jonathan Andre
Tracklisting:
You Are
Oceans
Stronger
Don't You Worry Child
10,000 Reasons (feat. KJ-52)
'…if it means that only one life is changed by all the efforts in the music that we make, then, the consensus remains, it was all worth it. To see more lives empowered and emboldened by faith is what compels us to seek a larger platform and podium. The world needs to hear the gospel in a life giving and encouraging way. That is what we desire, and that is what you are sure to leave knowing after experiencing For A Season…' For a Season, a rock-worship band from Florida, is a band that has quickly become one of my favourite indie artists of the last few years, and it wasn't their original material that drew me to the band. And while their 2013 EP Lion Hearted was a powerful and great, albeit short, EP, that introduces us to this rock quartet, it is their worship/pop acoustically driven cover videos that they recorded and released on both youtube and iTunes throughout 2013, that made me become intrigued with this group of heartfelt and encouraging worshippers (as well as endorsements from artists like KJ-52 and Colton Dixon). While many listeners may not have heard of this band before, I'm sure they have heard of their viral cover of 'Oceans', to the point where I myself declare that their rendition of the Hillsong UNITED classic, is almost as good, if not better, than the original recording itself. With the band releasing 5 cover songs as part of an EP in January of 2014, For a Season has been able to garner praise, adulation and respect for these musical offerings, and as I listen to these melodies sung with emotion, fervent hope and encouragement, I am able to assert that these men of God are destined to be one of the biggest breakout CCM/worship artists of 2014, and I would certainly recommend For A Season to whomever wants to listen, in the hope that these men and their music are able to encourage and impact listeners with the hope that '…when feet may fail and fear surrounds me, You've never failed and You won't start now…' ('Oceans').
Written and famous by Colton Dixon as his first post-American Idol radio single, 'You Are' is a heartfelt worship song, and while throughout the melody, no mention of 'Jesus' or 'God' is ever uttered, we are nevertheless reminded of the adoration and reverence to our Saviour, in the heartfelt words of how '…if I had no voice, if I had no tongue, I would dance for You, just like the rising sun, and when that day comes and I see Your face, I will shout and sing of Your glorious praise…' With the song debuting as a music video in early 2013, with the band playing the melody as well as a life-sized mural of Jesus on the cross being painted throughout the duration of the song; For A Season highlight acoustics, heartfelt vocals and an extended instrumental bridge to shows us many song highlights. A melody that brings to the fore gratitude, thankfulness, praise and adoration, For a Season have delivered a powerful cover that stays true to Colton's original recording as we are continually reminded of how much God means to us. Standing at just over four minutes, For a Season's rendition, and more importantly, the great painting that was created in the video to accompany this song, have made the band one of my favourites throughout the past year and a bit. With the band also delving into themes like comfort in the future ('Don't You Worry Child'), standing up and facing the unknown that Jesus calls us towards ('Oceans'), praise and adoration for our King '…10,000 years and then forevermore…' ('10,000 Reasons') and a moment of us knowing that we're stronger than anything we face in our everyday lives ('Stronger'); For a Season display to us an array of music styles and unique instrumentation to unveil one of the most strongest EP lineups this year so far. Gone global since its introduction into churches last year, both 'Oceans' and '10,000 Reasons' are great renditions by the band as we see the former melody being arguably one of my favourite covers of the song, if not on par with the Hillsong UNITED original. Presented in an acoustic way, with powerful guitars and strong drum beats, it could possibly be the only version that I know of that has a male vocal leading the song. While it could take some time to get used to, especially for anyone who is used to Taya Smith singing the song, For a Season present arguably the best choreographed cover on the entire EP. KJ-52 join the band for a rap section on '10,000 Reasons', which surprisingly blends well with the version as KJ sings out between the second and third verses that '…now with the way You are and everything You do, if I had to write it down, no words I could ever use to sum up what You do and all the ways You move, cause You are awesome…so all we do is place our lives at Your feet, just like a child colours a picture for his Dad to see, Your life and peace, the reason why my life is free, I'm humbled in Your presence, with these words I speak…' While I was initially hesitant about how a rap would seem between this Matt Redman classic, KJ-52, alongside For a Season, manage to create a version of the song that is just as good and unique in every way to the original version. With the band also covering Mandisa's 'Stronger' with acoustics and a pretty standard song structure, and a mainstream cover of Swedish Mafia's 'Don't You Worry Child' (a while a mainstream song it is, the melody does give us comfort and hope to don't '…worry, don't you worry, child, cause heaven's got a plan for you…'); For a Season give us some of the most enjoyable covers I've ever heard in what could possibly be one of my favourite EP's of the year so far.
Overall: For a Season's first covers only EP is a great blessing to listen to, and will only bolster the group's popularity, credibility, and respect as the listeners hear the heartfelt recordings of some of the beloved songs of the 21st century so far. With the endorsement of both KJ-52 and Colton Dixon, this is a band that you don't want to miss- and while I appreciate their rock genre explored on Lion Hearted, it is their acoustic worship nature that suit the band best, and that really drew me into the band as a whole. Here's hoping that the band continue to create music with an acoustic/pop/organic feel. Well done For a Season for such a poignant and emotive collection of songs, and one that'll be on repeat in my iTunes playlist for quite some time.
RIYL: Colton Dixon, Hillsong UNITED, Matt Redman, Matthew West
Listen to the Album: Website