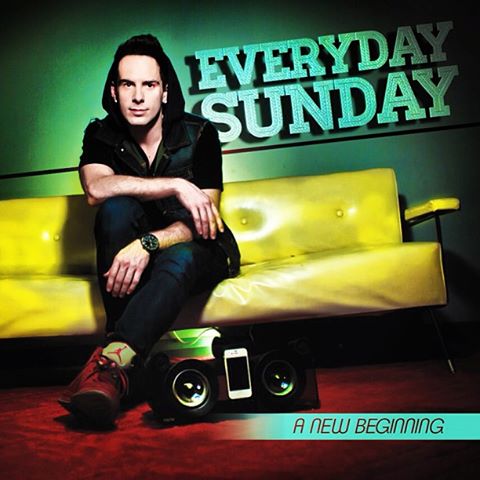 Artist: Everyday Sunday
Title: A New Beginning EP
Label: independent
Release Date: 7/16/13
Reviewer: Jonathan Andre
Tracklisting:
Solar
Calculate
The Spark
Perfect Time (To Fall In Love)
A New Beginning (feat. Group 1 Crew)
Calculate 2.0 (feat. Transform DJs)
Everyday Sunday was a band that came from Colombus, Ohio; onto the Christian music scene around the mid 2000s, are still even to this day critically acclaimed for their album Wake Up! Wake Up!, their debut album released in 2007 on Inpop Records. However, since around 2009/10, the band has somewhat fallen off the radar. With a varying lineup of band members (and lead singer Trey Pearson the only existing member of the band ever since it's inception); fans of this pop-punk outfit have certainly had their interest peaked when Everyday Sunday's long awaited comeback into music was brought to life in 2012, with Trey releasing a new single 'Calculate' to radio in June 2012. Now a little more than a year later, Everyday Sunday's new EP titled A New Beginning released to iTunes on July 16th, and judging from the cover (with only Trey on it and no one else), it seems like the new Everyday Sunday going forward will just be Trey (and a bunch of other members reserved for touring purposes). Providing us with a contemporary pop sound, the EP is certainly a divergence compared to albums the band has released before; however, just with every other band that has had an evolution of musical styles (Jeremy Camp, Kutless and Sanctus Real have all shifted their musical focus from Rock to CCM over the years, Hawk Nelson changed their style when Jason Dunn left to incorporate more of a radio music focus); Everyday Sunday's album feels very fresh and enjoyable in a dance-pop way. With the songs reminding us of the love of Christ and how everyday with Him feels like a new beginning, Trey manages to balance the EP nicely, having its own fair share of deep and meaningful tracks, coupled with a few songs certain to be placed in any mainstream radio playlist. From the title track featuring Group 1 Crew (one of my favourite pop-dance-hip hop bands) to the remix of 'Calculate', this is a great album to be purchased if you enjoy pop-dance artists like Group 1 Crew, We are Leo, Hawk Nelson or Capital Kings.
The first radio single from the album, 'Calculate', released to radio in 2012, with many listeners either loving the song or either hating it and the musical direction Everyday Sunday was taking. Upon hearing the song myself, I initially didn't think much of it, with the song being almost as mainstream-y as you can get- Trey sings about how '…I can't calculate, calculate, all the ways that you love me…' While I know for sure that Everyday Sunday is a Christian band, I possibly would've thought (a year ago, and I still today) that Trey could've been a bit more overt in the lyrical content. Nevertheless, this is a fun song to play at parties (and the song is represented like this in the music video for it), with an electronic beat and powerful electric guitars anchoring the song musically. 'Calculate' speaks about a love that cannot be fathomed, counted or even calculated. Listeners may believe it to be a love between family, friends or between two spouses. However, knowing the history of the band and the other songs on the EP and the outgoing faith elements in them (namely 'A New Beginning' and 'The Spark'), I am able to sit back and listen to Trey declare the words, as I sing along with them to God, knowing that even though we continue to delve and dive deeper into The Word of God, it is still a drop in the ocean of knowledge of the Lord and what we know about the King of Kings. We can't calculate the love He has for us because it cannot be calculated- God's love for us in infinite- far more than we ever know or imagine. This song can be a doorway into intelligent conversations with family and friends about the love and grace God longs to give us. Also placing a remix of the song as the last track on the album, the song is managed to be stretched from a three minute pop tune to a 6 minute long power ballad with dance beats and electronics placed all over the song. A great remix to a song that's ought to hopefully define the new era of Everday Sunday, Trey should be commended for such an upbeat and catchy song, yet also one with a deeper level of meaning that can be utilised by us to bring our friends and people that we know to Christ!
'Solar' reminds me of something Capital Kings would do musically, with electronic beats starting off a song that's message is something a la Group 1 Crew's 'Live it Up'. While on the surface the song can seem a little superficial and weak lyrically, we are still reminded through it and the upbeat dance nature that us humans still need to have a fun time, and that even if not every song is spoken about the Lord or something else uplifting, that doesn't mean that the song should be forgotten about. Even though I still have my reservations why such a song like 'Solar' is included if there are many other mainstream artists depicting this lyrical theme of having a good time quite nicely (Owl City's 'Good Time' anyone?), I can't deny the fact that the instrumentation and musical backdrop to 'Solar' is indeed stellar, and hopefully as listeners hear this song, they can discover more about the artist and what he believes, and thus learn about the Lord that way (hopefully!). 'Perfect Time (To Fall In Love)' provides a message of love and a chance that's ought to be taken as we see the song directed to listeners who may feel scared to take a leap of faith or a chance to let their hearts be vulnerable even to the possibility of it; while it is both 'The Spark' and 'A New Beginning' that are my two favourites on the album, and possibly the two most radio friendly songs on the EP.
Starting off with a keyboard riff, 'The Spark' is delivered from the point of view of God, with Trey declaring that '…I set the sun for you, built up the mountains too, laid out the starts in the sky, made it all for you, you know I made you beautiful…', as we are reminded of the beauty of the creation we have been given. Written as a ballad directed to the less fortunate children of the world, we are able to relate to 'The Spark' and rest in the truth that '…you are loved, you are mine, I'm the One that makes you shine…' God is the One that gives us breath, and that alone is something for us to give thanks to God for. Manwell Reyes of Group 1 Crew joins Trey on 'A New Beginning', a song about the difference Christ has made in the life of Trey and the band, and the new beginning that Trey is taking in terms of musical direction. With light electric guitars to anchor the song musically as Trey lets listeners know that '…You got an energy I can't describe, I was dead but You gave me life, You're there to rescue me everytime, right when I think it's over…'; I am given a vibe musically that compares this band to the musical backdrops of artists like Stellar Kart and Hawk Nelson (the Jason Dunn fronted band), while also channelling some Group 1 Crew hip hop goodness. A perfect track to listen to with the windows down on long drives down the highway, 'A New Beginning' is a song that speaks about the difference Christ has made, and that each new day is a chance to consciously declare that God has delivered a new beginning in us. Well done Trey and Everyday Sunday for such a poignant, fun and danceable track.
Overall: While I may not be that familiar with the band, A New Beginning EP ought to be a must-purchase for die hard Everyday Sunday fans. Adding Everyday Sunday to the list of artists who have stylistically changed direction musically, or have made a comeback of late (from Rebecca St. James, Rachael Lampa, Newsboys, Audio Adrenaline and Hawk Nelson); this dance-pop EP is a great EP to be enjoyed with a meal and a group of friends. One of the biggest and most welcomed surprises of the year so far (in terms of how much I enjoyed this album- more than I thought I would); fans of the band and other pop-dance-punk artists will check this out in a heartbeat. If you aren't sure, like me, check this out on Spotify first and see if this is for you. Now after listening to A New Beginning, my interest has increased in terms of previous Everyday Sunday albums. Well done Trey for such an enjoyable and fun listening experience!
RIYL: Capital Kings, Group 1 Crew, We are Leo, Stellar Kart, Hawk Nelson
Buy the Album: iTunes/Amazon mp3