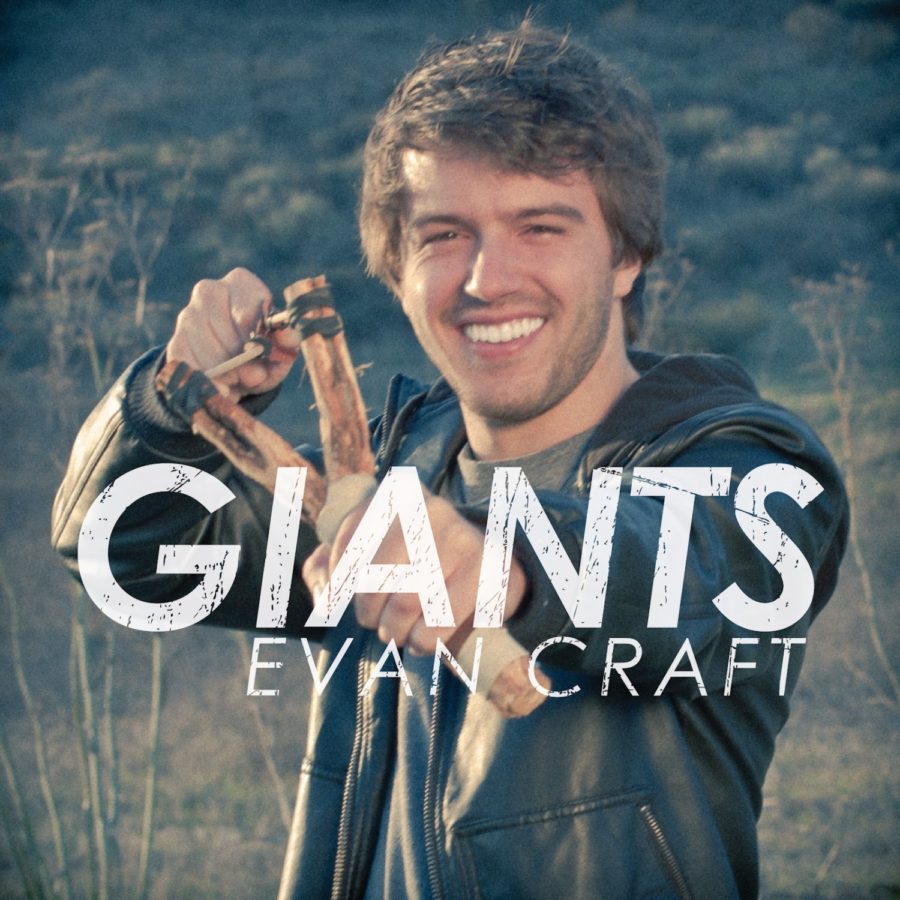 Artist: Evan Craft
Title: Giants
Label: DREAM Records
Release Date: 3/26/12
Reviewer: Jonathan Andre
Tracklisting:
Sky is Falling
Fight or Flee
Giants
Get Up
Broken Heart (feat. Qis Walker and Lauren Thurston)
Reclaim
Human (feat. Jonathan Thulin)
Fighting Gravity
Lay Me Down
Clarity
No Hay Nadie
DREAM Records have had some prominent artists added to their roster of late; Nicole Croteau, Press Play, Jonathan Thulin (known for his hit video 'Babylon'); and now, Evan Craft. With heartfelt melodies and honest songwriting from Evan and other songwriters Jonathan Thulin and his brother David, Giants speaks with themes of equipping us to conquer the giants that come across our lives, by reminding us of the God who are bigger than our own circumstances and situations. With a mixture of slow ballads and upbeat melodies, Giants has already garnered praise for it's first radio single, 'Broken Heart'; with numerous radio stations around America playing the hit song. While not a main Christian record label, DREAM Records have presented us with Evan Craft, a man whose heart for God is nothing but infectious!
'Broken Heart' is Evan's first radio single, speaking about how God can mend the heart that is in need of repair. Starting the song with a decent piano riff to draw in the listener, Evan and the guest vocalists give certain situations of hopelessness, describing how hurt can penetrate, no matter how old or young you are. Poignantly singing out, '…can Love heal a broken heart…', Evan's plea is met with hope as we understand that Jesus is the remedy to this hurt and pain. With a bass line and percussion beat, complete with hand claps; 'Broken Heart' is a hopeful song along the lines of Group 1 Crew's 'He Said', where we understand that God uses the times of hurt and hardship to shape who we are in Him. A nice reminder of God's love, Evan points out in the bridge of the song that '…my pain, You took it all away, and I feel more than grateful…'; showing that God is more than able to help those who need Him the most.
An acoustical pop song filled with a light piano undertone, 'Giants' speaks especially to those who seem to struggle with overcoming situations in the lives, with Evan declaring that with God, we can conquer even the toughest of foes. Reminding me of a David v Goliath battle, we are met with the truth that God is able to stand together with us throughout any adversity; sometimes needing to understand that it can be through these trials and hardships that we are able to cling more to the Lord for support and trust. Another standout song, 'Reclaim' speaks about the second coming of Christ, when He comes to take His children home. A cross between a song of hope and a song full of hurt for those who won't be with Christ; Evan sings out against the electronic synths and strong percussion showcasing his hurt for those who don't know Christ, '…my heart breaks until all are healed in His name and they come to know His unyielding grace so that will be the day…when He reclaims…' One of the most personal on the record, I am able to be encouraged by this song, knowing that there is a day coming when everything will be made right. Hopefully between now and then, we'll continue to share the love of Christ to those who have yet to know the living God.
'Clarity' is Evan's attempt at a RED-type musically inspired song as he breathes life into the song littered with grunging guitars and percussion, relaying his message for us to open our eyes and see what needs to be done in the world before Jesus returns. His lyrical message is evident, '…I wanna see, I wanna know would you help me believe, what makes your heart beat…I wanna see with clarity…' as we understand the urgency for believers to be the hands and feet of Christ so that His message is proclaimed. Both 'Get Up' and 'Lay Me Down' are both stripped down acoustic tracks that both speak volumes about our relationships with both God and our fellow creation. 'Get Up' is confronting at times, with Evan questioning through the acoustic guitar, '…why do we worry about tomorrow, why can't we love our brothers today…let not another chance slip away to tell the lost about His fame…' inviting those who call Jesus their Saviour to proclaim to anyone they can, to stand unashamed for what they believe. An anthem that is sure to be sung at many of his concerts, 'Get Up' is encouragement a-la-confrontation; that once we understand that what we have to too precious to keep for ourselves, we cannot wait but share it with others. 'Lay Me Down' is one of his most humbling, listening through the piano as Evan lays himself at the Saviour's feet, showing that he is second to the God who captured his heart, proclaiming that '…I will run right into Your open arms if you take this broken heart…' Bearing everything before the Saviour, this is how we should behave, giving everything just to sit at Jesus' feet!
From proclaiming that his life with Christ has led him to view his life differently, understanding that life is more than just material things and that we must fight the forces that pulls us towards the things that may hinder our walk with Christ ('Fighting Gravity') to relying on God that situations will improve, even if circumstances in life show us the opposite ('The Sky is Falling'); it is the duet with Jonathan Thulin, 'Human', that shows Evan's best songwriting; with some of the most poignant lyrical moments as he is able to show his vulnerable side for the world to see. Starting off with a plea to God, '…don't tell me that I'm human, this day could be my last; it took so long to get here, and it goes so fast, the disease that plagues the weary, and cuts down lifespans, am I not thinking clearly or is this God's plan?…', Evan acknowledges what everyone is thinking, the feeling that we all get when things in our life turn out of whack. We come to God with the questions like, 'why did this happen, or that?' We are so overwhelmed with the frailties of our own existence, knowing that in someday, we'll all leave this Earth. But as the song carries own amongst the keyboards, Evan shows us that we are not alone in our plight, that as we travel through our lives, God will hold us up as we '…trust the words You say to me, [they will]…lead me home…' A song about redemption about God waiting for His children to come back to Him, 'Human' is my favourite song on Giants!
Overall: With a hint of Josh Wilson, Brandon Heath and Jimmy Needham all within the album, Evan Craft's Giants is a unique and different debut from an artist that has certainly left his own good mark on the musical industry. From soaring ballads and meaningful melodies to songs that need focal attention; this is a record that is able to stand tall on a release date that harbours other releases like TobyMac's 'Dubbed & Freq'd', Jimmy Needham's 'Clear the Stage' and Britt Nicole's 'Gold'. With many genres colliding at once on this 11 track musical journey, fans of CCM music in general should take a look at Evan's debut release!
RIYL: Jimmy Needham, Brandon Heath, Josh Wilson, The Afters
Buy the Album: iTunes/Amazon mp3