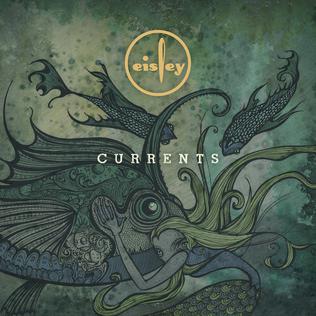 Artist: Eisley
Album: Currents
Label: Equal Vision Records
Release Date: 5/28/13
Reviewer: Cimarron Hatch
Buy The Album: iTunes / AmazonMP3

Tracklisting:
Currents
Blue Fish
Drink the Water
Save My Soul
Millstone
Real World
Wicked Child
Find Me Here
Wonder English
Lost Enemies
The Night Comes
Shelter
For their fourth full-length album, Currents, Eisley has recorded and produced completely on their own in a home studio. Recording at home gave them a lot of musical freedom and was a necessary convenience with several members having just had new babies. The 5 piece band from Tyler, TX is made up of sisters Sherri DuPree-Bemis, Stacy DuPree King, Chauntelle DuPree D'Agostino, brother Weston DuPree, and cousin Garron DuPree. This is their first time making a "DIY" record and it has turned out wonderfully.
The title track, "Currents," opens the album with lots of drums playing an odd meter like crashing rapids. This song gives you the first glimpse of the continuing water theme throughout the album. Perfect harmonies by the sisters are a feature of the song, along with acoustic guitar played by another brother, Collin DuPree, who is in the band Merriment. Ear-pleasing piano introduces "Blue Fish," which is about being mistakenly lead along by someone: "Bait me like blue fish." More piano comes in for the bridge, and it concludes with dreamy chanting. "Drink the Water," the album's first single, is a real standout track. It is especially beautiful when it launches into the flowy chorus which includes so many amazing little accentuating sounds. I really love the piano phrase that is played all through the song, and the strings and magical "ahhs" that bring it to an end. "Save My Soul" has a simple beginning of low guitar, background "oohs," and lead vocals from Sherri. Her husband, Max Bemis, who is the frontman of alternative rock band Say Anything, contributed vocals for the nice bridge.
A hopeful song about feeling trapped in a situation, called "Millstone," is sung by Chauntelle. This is the first time she has performed lead vocals on a full song, and I hope to hear more from her because her voice is equally as beautiful as her sisters. Another standout, "Real World," is next. There is a charming uniqueness about how the melody is played on the piano in unison with the lead vocals—it really captured me. The verses are very casual, but when the chorus comes in, the track becomes spectacular with amazing vocals from Stacy, including some goosebump worthy falsetto. The bridge is incredible with piano and a mob of "ahhs." "Wicked Child" mildly reminded me of surf rock. Beautiful strings start in the second verse, and vocals on the bridge are provided by another DuPree sister, Christie, who is the other half of Merriment with Collin.
"Find Me Here" is a subtle song with an acoustic first verse and great high notes in the bridge. "Wonder English" is also primarily acoustic and features echoing vocals from Sherri and Stacy in unison. A nice electric guitar solo comes in toward the end. I love the verses of "Lost Enemies," which include a consistent cowbell tapping, but the chorus just doesn't seem to fit with the rest of the song. Of course it is still highly enjoyable. The strings seem to swirl on "The Night Comes," which is a subdued, remorseful love song, perhaps about love lost. Finally, another one of my favorites, "Shelter," has elegant strings and very classically influenced piano. In fact, most everything about this song reminds me of classical music such as from the romantic period. This style suits Stacy's breathy but strong voice well.
Overall: I know I have overused the word "amazing," but this album could be called nothing short of so amazing. After the first preview of "Drink the Water," I was pretty sure the rest of the songs wouldn't disappoint. I'm all about DIY music, and this is a great example of it going well. Probably my absolute favorite part of this follow-up to 2011's The Valley, is all the various uses of piano. It's just such a beautiful instrument, and works perfectly to compliment the singers' voices. I think Currents will do wonders for this musical family's career, and I can't wait to hear more.
Score: 4.5/5