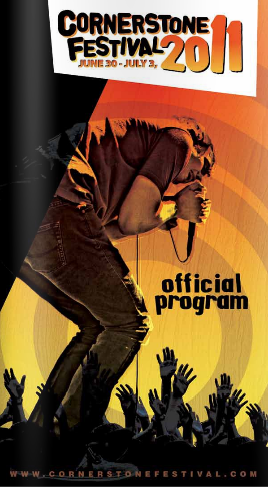 Read Part 1 (Tuesday and Wednesday) here.
Read Part 2 (Thursday and Friday) here.
Day 5 – Saturday
Saturday morning after breakfast Emily and I walked up to the Anchor tent to catch some of their morning service. I was hoping for a good message from Joshua Stump but what we actually got was a plethora of testimonies from different attendees about what God had done in their lives that week at Cornerstone (especially healings).
After lunch we went to the Impact generator stage to see a cute old couple called CeCe and Me. They sounded kinda like something off one of my grandma's records, but they weren't quite what I was looking for. We went to the Gallery to see Timbre's big set – and they actually didn't start very late for having a dozen people on the stage. They closed with the lush "Dawn Awakes," and we stopped by the table in the back to show Timbre something unique – there is a tiny picture of her playing her harp at a bar in Rachel Ray magazine in a random travel section featuring things to do in Nashville (sadly, she is uncredited).
Later in the afternoon I checked out a bearded folky-looking guy named Gabriel Kelley. He had a female vocalist with him and the sound felt somewhat like The Civil Wars, except maybe not quite as melancholy? (It's been a couple weeks now and details are starting to escape me.) Next Photoside Cafe played at Main Stage. The violin-fronted rock band almost sounds like an old Jars of Clay and they are continuing to move up, at least at Cornerstone. After enjoying them in a tent in '09, I wasn't sure how they would fit their early Main Stage slot last year, but they owned it well and were one of my favorite musical performances. This year, they played Main Stage again with a later slot, and they owned it again. Every member is quite talented and they often linger in vamped grooves as they explore dynamics between the lyrical parts; hopefully you'll be hearing more about Photoside Cafe in the future.
We headed back to the Gallery to see the Psalters, who had been absent from Cornerstone in some recent years. My understanding is that the Psalters lineup is somewhat organic, and this particular permutation was full of beards and deep voices. The Psalters are a loud, acoustic group with lots of homemade percussion instruments and a passionate love for God and nature. The whole band shouts lyrics like "The road to hell may be paved with good intentions, but the road to heaven is not paved!" At times, they almost seem like they want everyone to live in the woods and give land back to the Native Americans, but regardless of how you feel about their politics, there's a wonderful joy that bursts forth when ten deep voices fervently sing psalmic phrases like "The Lord is my light and my salvation! The Lord is the strength of my life!" The show also featured a girl twirling fire-sticks, and what's not to like about that?
I went to the water spigot to refill my water bottle and saw that a simple but tantalizing sign had been taped over the cornucopia of show advertisements:
Ha! I thought. Norma Jean at a generator stage! That's a good one! It reminded me of the time a few years back when a kid walked around with a sign that said Coldplay was playing at the Gullible Stage. But the Arkansas Stage was directly across the road from the water spigots, so I looked back there. They had a bigger, official-looking Norma Jean poster with the same info on it. Could this be for real? I'm not even really a Norma Jean fan, but they've played Main Stage at Cornerstone before so it would be a big deal if they randomly showed up to play a generator stage. We went back to our campsite and one of my friends said he saw Norma Jean merch being set up and then he saw the frontman. So we came back at 8 to check it out, and we weren't the only ones:
That was kinda fun to see, but after a couple of songs we stopped by Chelsea Cafe to see part of another Listener set. I also saw Stephen Harrison from The Chariot watching. (As pretty much the last set of all of Cornerstone this year, we had been looking forward to them all week, and it was nice to know the boys were here.) Then we went back to Main Stage to check out some Blindside. I kinda missed them growing up but they've been getting a lot of buzz with their recent comeback album. Their frontman looked younger than I was expecting, and they handled Main Stage well. Longtime fans may cringe at this, but viewing them through the backward lens of time they feel to me like a cross between the Red/Disciple kind of sound and the Wavorly/Wedding kind of sound, but…. better?
Nighttime had set in, and it was time for one of our other most anticipated shows of the week – Josh Garrels. We had checked him out on a friend's recommendation at Cornerstone '09, fell in love, bought two albums, bought his new album that came out later that year, learned all his songs, and were disappointed that he didn't make it to Cornerstone '10. So we were pretty excited to see him on the lineup this year, especially after he released an incredible album last month completely out of the blue – and completely free! We didn't get a chance to interview him, but Emily did record several of his songs.
Unlike his completely solo sets of two years ago that relied a lot on track loops, Josh had a couple band mates with him this time, including Annalisa Nutt, who does most of the background harmonies on the new album. Josh played mostly new songs, and they sounded fantastic – and with the simple stage and the cool lights and backdrop of the Gallery Stage, I felt like I was watching a live TV show performance or something. For older songs, he played "Zion & Bablyon," "Freedom," and "Going Home." We were hoping for "All Creatures," but he saved the energetic hip-hop part of the set for his last, new song, "The Resistance," where he put down the guitar to get up and move around and spit out the words that clearly were very important to him. It was definitely a highlight of the week for us.
Afterwards, we stopped by the Chelsea tent to catch the end of Illalogical Spoon and their indie hippy dance party. Then it was time for our last sleep of the festival.
Day 6 – Sunday
On the last day of the festival, a lot of the vendors are either out of stuff or trying to get rid of what's left so they don't have to take it back. Last year we got a giant rain stick 50% off from the homemade/crafty vendor in the corner of the big merch tent, and this year we picked up a wooden flute and some finger cymbals, along with some fabrics.
Early in the afternoon From Indian Lakes played a short showcase set at Main Stage. They're a group of young guys with a great dynamic, emotional rock sound and I'm sure we'll be hearing more from them in the future. Then it was time to play my third and final set with Insomniac Folklore, which was also the last act for this year's Impact Stage. (The Impact Stage was both kind enough and clever enough to have both giant fans and a cell phone charging station – great incentives to get passersby to hang out for awhile.)
We packed up our campsite in the heat of the day and went to see Men As Trees Walking again at the Gallery. We got dinner at some of the food vendors by Main Stage, where a CCM-type worship band was playing. I didn't have my schedule on me but I think it was Robbie Seay Band. No offense to them or anyone who is encouraged by their music, but I personally found it to be rather boring and emblematic of the stagnant sound that makes me frustrated with the industry (but that's a topic for another day).
We went back to the Gallery to relax in the chairs before Brooke Waggoner, and the preceding act was an unexpected delight. SHEL – an acronym of the members names – was a group of four young girls playing piano, mandolin, violin, and drums/percussion, occasionally with an older guy playing with them. We said to ourselves, They're totally sisters (They were) And that's totally their dad! (It was). They were also all extremely talented at their respective instruments. They're totally homsechoolers! we said (They were). Sometimes Eva played an "electric mandolin" that resembled a tiny electric guitar. And Liza wasn't just a little sister hitting drums – she had deliberate rhythms that were all part of an intricate composition along with the other instruments. SHEL has a part-classical, part-poppy sound similar to their inspiration in Brooke Waggoner, and their EP was soon flying off the back table and into the hands of dozens of impressed festival-goers. Keep an eye out for them, too.
They were followed, of course, by Brooke Waggoner, who had removed the mysterious sunglasses of her previous Cornerstone performances. The talented pianist entertained the crowd with a mix of songs from her EP and two full-lengths, and she's supposed to be recording a new album soon.
The Gallery tent was done for the year, and before we left the stage manager gave a frank announcement that confirmed some rumors I had heard going around the festival that week – that Cornerstone was "out of money" and that next year's festival would look very "different." Maybe that had something to do with the lack of the usual big names this year; maybe not. Regardless, due to all the good that comes from thousands of different kinds of Christians spontaneously interacting for a week, I hope and pray that they figure out their finances – I think Norma Jean's surprise appearance is proof enough that there are plenty of bands that will still come to Cornerstone without big payments. (They clearly have a lot of income coming in every year, but I know nothing about how it has varied in recent years, or about their expenses or the overall management situation. For now they seem to be acting like Cornerstone will continue next year as it always has.)
There were only a few shows left for Cornerstone 2011. Sleeping Giant brought their heavy worship set to the Underground tent, playing already-classics like "Tithemi" (all things must bow to Jesus' name) and "Oh Praise Him." As usual, frontman JR gave his testimony, and he also baptized some previously unbaptized believers with a gallon of water.
I don't remember who was playing Underground next, but I wasn't familiar with them, so we went over to relax at the final Main Stage show with Gungor. To be honest, I was expecting some more CCM-style worship, but I was actually very impressed. There was a lot of instrumentation and other variety and creativity going on, and it was a nice way to wrap up Main Stage.
Then it was back to the Underground for The Chariot. We didn't know what kind of antics to expect, but we knew it'd be something both fun and intense. Before the show even started, we saw a fan bring into the tent a giant six-foot inflatable Rio beach ball that we had seen bouncing around Main Stage earlier in the week. It was only partially inflated (or else it wouldn't have fit in the tent in the first place), but he proceeded to hook up an air pump with a cord from somewhere and inflate it to full pressure.
Finally, it was time for the show to start. Josh, Wolf, Stephen, and the others exerted their fits of energy, crowdsurfing while playing instruments and all of the other crazy things you expect from a Chariot show. They played mostly songs from Wars… and Long Live. At one point, someone from the stage started throwing rolls of toilet paper into the crowd. The white "confetti" filled the air as fans kept tossing the rolls around and watching the white trails float down. The rolls kept coming, and then somebody figured out that you could get the trails to hang over the light cord that ran between the poles down the center of the tent. The Rio ball was bouncing around the whole time. (I would have taken pictures, but my phone was dead.)
Dan Smith came out, of course, to do his part on "David De La Hoz," and then Josh actually stopped the show for fifteen minutes so Listener could do an intermission set. (Josh said something like, "I don't care what you say, this is my favorite band of all-time ever.") Dan claimed that this was Listener's one thousandth show, and that they had played a show every day at Cornerstone so this could be #1,000. Then The Chariot came back and finished out their set, closing with "Daggers."
And Cornerstone 2011 was over.