Album Review :
Casey Darnell - Coming Alive: The B Side Remixes
By Jonathan Andre in Reviews | Comments closed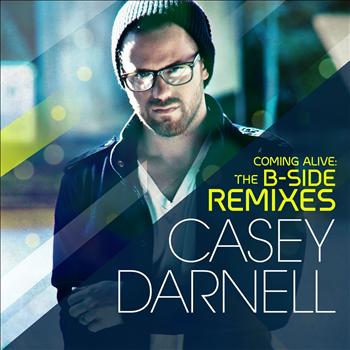 Artist: Casey Darnell
Title: Coming Alive: The B Side Remixes
Label: North Point Music
Release Date: 10/2/12
Reviewer: Jonathan Andre
Tracklisting:
Awakening (Cannon Remix)
Coming Alive (SubSynth Remix)
Brilliant Light (Illuminated Remix)
Brilliant Light (StonAir Remix)
Casey Darnell has been part of North Point Ministries for a while but it wasn't until 2008 when he launched his solo career, starting off with his independent album Words into Action followed by his first album Coming Alive in 2011. An intricate part of the North Point Music Ministry team with his hit songs 'Our Great God', 'Awakening' and 'When the Waters Rise', as well has his cover versions of popular worship songs 'Everything', 'All Because of Jesus' and 'Healer' by Tim Hughes, Fee and Planetshakers respectively; Casey has been able to deliver passionate melodies and hard-hitting anthems, giving listeners great worship songs as these melodies speak into the lives of many who hear his music. Now releasing his first EP (as well as first remix album too) in Coming Alive: The B Side Remixes; this 4 track collection of re-imaginings of his most popular and well-known songs from Coming Alive has some of the most ingenious and interesting mixing strategies employed, to showcase this remix EP as some of the most high quality and creative remix material I've heard in a while, since the remix albums of Newsboys Remixed and Go: Remixed in 2002 and 2007 respectively.
Remix albums are always a hit-and-miss. Some renditions are great; others just take the melody and distort it beyond recognition to create some song that is only remotely similar to the original. Casey Darnell's EP on the other hand is able to create songs that mix in originality and familiarity as we are given some songs that stay true to the original compared with others that envisage a track that is musically different than the studio track. 'Awakening (Cannon Remix)' is the first song on the album and starts with reverbing loops as Casey cries out the repetitive phrases '…generation…' and '…every heart…', looped onto each other as the beat of the song starts with a disco-type electronic undertone. Transforming this worship melody into something that can be played on the dance floor, the essence and meaning of the song is still there as Casey declares above the echoes and multilayered rhythms and drum beats that God is '…the anthem for all our days, we will tell the world in Jesus name, every heart is now awakening…' Sounding distinctively like worship leader Steve Fee, Casey's heartfelt anthem of praise and worship is given a welcomed makeover to present a remix that is able to fit dance and praise together to create one of my favourite remix songs of 2012, along with the remix of 'Lose Myself' by TobyMac on Eye on It: Deluxe Edition.
Both the anthemic songs 'Coming Alive' and 'Brilliant Light' are highlights from his debut album Coming Alive and are featured on his remix album to round out the four tracks (2 remixes of 'Brilliant Light'). With the introduction to the song sounding like a Gameboy or Super Mario level and the background music played there, 'Coming Alive (SubSynth Remix)' still keeps its worship prominence as it increase its dance presence through looping keyboard melodies and familiar (yet unfamiliar) sounds that you may hear coming from the Nintendo Mario games that you have played so many years ago. The meshing of the sounds is great as we are presented with a worship song that certainly pays homage back to Nintendo 64 days. As Casey declares that '…we are coming alive in the house tonight, everyone, everyone singing out what God has done, we are Alive…' we are able to immerse ourselves in praise collided with reverbing, echoes and ingenious laser sounds- elements that I would've thought had been reserved for dance-type songs. 'Brilliant Light', a song about how we lift up the name of Jesus because of '…how awesome You are, Lord…' and that it is because of the brilliant light that He shines upon us that everyone will Him in us; is given 2 remixes to round out this 4 song EP. While one remix employs a piano-prominent almost eerie-like mysterious song that dulls down Casey's vocals in favour of looping instruments and an extremely noticeable reverb, the other extends the songs by about 2 minutes, speeds up the track, and has a great long instrumental section of the song (that extends for about 3 or so minutes), as the electric guitar converses with the electronic undertone in a somewhat call-and-answer response-type technique. The use of reverb on this remix version is also nicely done, and pretty soon, you may be mistaking the remix melody for just some upbeat dance instrumental that is otherwise played at a dance party. Though both these two remixes are different and fresh ways to look at the song, I would've expected much more singing and less instrumental ingenious. After all, the song is called 'Brilliant Light', but in both versions, Casey maybe only sings 1 minute max. Despite this, 'Brilliant Light' is a great song to be given the remix treatment and a reminder for everyone to unveil their light to those around them that they meet. Well done Casey for the remix melodies that are able to capture a new aspect of the studio tracks.
Overall: North Point Music has given listeners some great worship artists in the last few years- Eddie Kirkland, Todd Fields, Seth Condrey, even Steve Fee, Heath Balltzglier and Candi Pearson Shelton. Casey Darnell is a welcomed member to this artist list and with both his previous full-length album Coming Alive and his debut EP along with his first remix album, is one of the most enthusiastic and passionate worshippers around currently. Reminding me of the musical style of Chris Tomlin or David Crowder, and the same enthusiastic nature as Steve Fee, Casey Darnell is certainly going to be within the worship music industry for some time yet. With 3 hit songs being ingeniously re-engineered to create a remix album that has its highs and lows, this EP purchase is a must for those who were fans of his previous work, or those who love good remix music. Well done Casey for such an encouraging album.
RIYL: Eddie Kirkland, Chris Tomlin, Seth Condrey, Fee
Buy the Album: iTunes/Amazon mp3