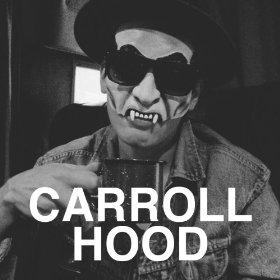 Artist: Carrollhood (Spotify) (iTunes)
Title: Afraid
Label: Feral Sounds
Release Date: 8/21/12
Reviewer: Carter Fraser
Tracklisting:
Remission
Afraid
Mr. Tampa
Welcome to Christian alternative's most notable "supergroup." Thankfully we're not talking about another 90's band with another DC Talk member taking helm, but Carrollhood, a collaboration between Tim McTague of Underoath, Nathan Young of Anberlin, and Reed Murray formerly of Tallhart. After a year of sporadically released new songs, Carrollhood have released a new EP of… the three previously released songs. While the tracklisting may be disappointing, the results of this project are not. Carrollhood's thumpy, pseudo-lo-fi indie rock is moderately surprising given the respective source bands. The least prominent member Reed Murray is even the one that steals the show; his pulsating drums are best showcased in the vaguely post punk influenced "Remission," a prime example of Carrollhood's percussive sound. The soft/heavy dynamic throughout Afraid bears resemblance to a less grungy Sainthood Reps, though "heavy' by Carrollhood's standards means a distant, shouted chorus, and "soft" means a muted guitar, a gentle synth or keyboard, and Murray's subtle rhythms.
The veteran maturity of Carrollhood is evident in the slow, deliberate, minimalistic verses. The title track approaches six minutes in length despite sporting a standard verse/chorus/verse/chorus/bridge/chorus structure, though it never lags in the slightest. All three members have been a part of masterful songs in the past, so we should expect some level of proficiency, but thankfully the sounds each bring to the table all mesh together seamlessly. The mellow restraint of "Mr. Tampa" is another case in point demonstrating the three-piece's talent, with the melodic chorus grooving along, picking up speed up through to the tense, beating end.
Overall: While Afraid may be a small sample size, there's no reason to think that musicians of this caliber couldn't put out something of this quality on a grander scale. Despite every "supergroup" that never deserved their hype, Carrollhood is one that does, but they aren't getting much. A longer release will likely draw a greater audience, but in the mean time get ahead of the curve with this excellent EP/extended single.
RIYL: Hawkboy, The National, Discover America, Interpol, Tallhart, Anberlin, Underoath