Album Review :
Brandon Michael Williams and Seth Andrew Hecox - All Folked Up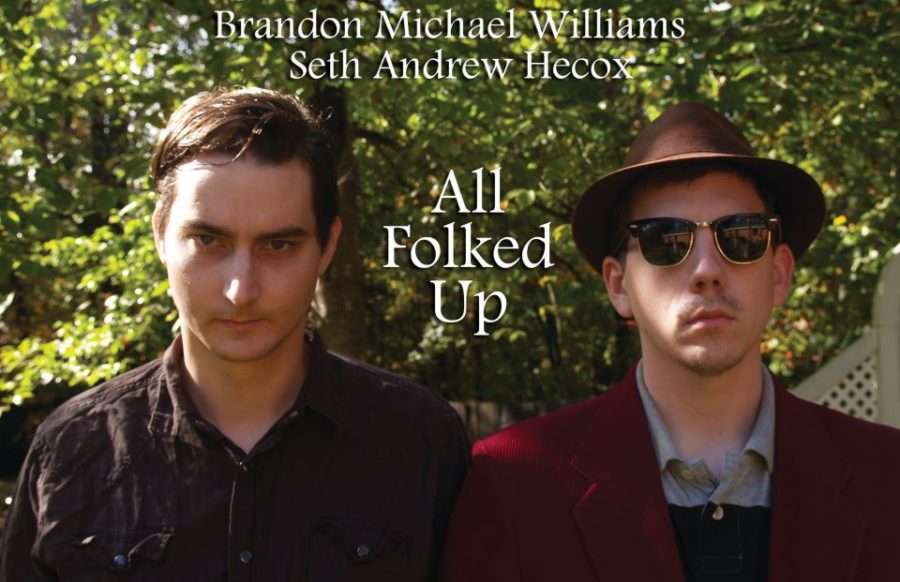 Artist: Brandon Michael Williams and Seth Andrew Hecox
Title: All Folked Up
Label: None
Release Date: 12/04/12
Reviewer: Josh Hamm
Tracklisting:
Without A Spark
Wake Up
Last Time I Asked For More
What Your Father Said
Speechless Is Your Love
The Mess I'm In
Remember to Forget You
It's Okay to Be Human
Shadows
It Is Well
There are a few things to get straight before you read this review. First, if you don't feel like reading past this sentence, my advice is for you to just buy the album. If only for the title, just buy it. Second, I have not extensively listened to Becoming the Archetype, so I can't tell you how the quality of this project compares to Seth's other endeavours.
All Folked Up is exactly what it sounds like. Stripped down folk music that isn't afraid to be fun. Musically, there isn't anything to find fault with, it may be simple: mainly guitar, piano, and drums, but the production hits the sweet spot between being minimalist and being from a garage. It's sparse, but professional. The vocals could have used a little bit more work production wise, although they sound fantastic on most of the songs, they could have sounded better on the closing track, "It is Well." Besides that though, there's a great range shown, as well as those gorgeous harmonies we've come to expect with all indie folk music.
What's great about this album is that every song tells a story. It's not a concept album though, or a narrative on each track, but each song has a unique perspective and account of life that is refreshing. When I first listened through, I thought it was pretty good, above average, but nothing to write home about. Then I began to listen again, paying close attention to the lyrics. Absolutely incredible. Admittedly, it's hard to make out all of them, but the ones that get through wrap themselves around your mind.  They're not esoteric or abstractly poetic, but speak straightforward truths in profound and straightforward ways.  So be prepared to read half review and half lyrics excerpts, because here they come.
The first song, "Without a Spark," speaks to the need for a spiritual life, which we try to discover in the dark, without looking for the light, and try to fan faith into flame without ignition. It's a good song, but the emotion and urgency in the bridge in staggering, with these words: "If we are not moving towards some goal,/ living in the love that conquers every obstacle,/Then human effort is in  vanity./We must believe, we must believe!" The follow up, " Wake Up," is one of my favourites, with constantly building verses, and catchy electric guitar, it's got a great message stirring people towards, if I may paraphrase Wall-E, living life, not merely surviving it. They directly address people, singing "It's no good lying in your bed, wake up wake up boy you'll soon be dead, tomorrow isn't guaranteed…/ to emerge from the cocoon/ like the bush that was burned but was never consumed/ the world's on fire, it's God's glory,/ it's all for you and me… Let your light be a vivid light/ shining like the moon in the dead of night,/ do more than just survive."
BMW&SAH have a great style to their music where no song is every boring. The mix of ballads and slightly up tempo numbers doesn't feel contrived, and while all of the songs sound similar, none sound the same.  Track six, "The Mess I'm In," is another favourite of mine, as the timing of the chorus, whether intentional or not, conjures up memories of the Veggie Tales theme song,  and features some honest Biblically inspired lyrics, "I'm like Moses in the wilderness,/ I'm broke and I'm worn and I'm done with this,/ I just want to see the Promised Land and I don't want to be held back again,/ but I'm slowed down by Your people like a  wave,/my soul is weary of the need to hesitate." Then the heartbreakingly human song "Remember to Forget You." Led by beautiful piano and guitar, the vocals are at their strongest here, as a story unfurls about a man lost in a dream, who "woke with a haze of formaldehyde around my buried heart,/ I was getting along, I was doing fine/ before you came around and plagued my mind,/ like we were never apart. /I can't remember to forget you." There's a subtle shift in the lyrics near the end, where he sings "I can't forget to remember you."The album then ends on a high note with the eighth and ninth songs being especially poignant.
"It's Okay to be Human," probably the best song on the album, could have been an alternative title, I think, as the theme pervades much of All Folked Up. It's subject matter that could have been cheesy or insincere with any other artist, but they're able to pull it off and make it meaningful as they sing "It's okay to laugh,/even really hard…the pressure to be cool will always suppress the best of you/It's okay to be human, it's okay to cry, even in public, when you feel like you're about to die… it's okay to love,/ even if it hurts, /don't be deceived enough to believe it's more about comfort." It's refreshing to find a band so willing to address these issues common to the human condition,in a refreshingly down to earth way. And then, I'm incredibly impressed in these lyrics as well: "There's a unity in pain, so don't ever think you're alone what seems like a barren terrain is really just another  stepping stone but he who best knows suffering, he knows the greatest peace, in Christ every broken thing joins together, and find great harmony." It's amazing to find such candour about Christ in a song when most artists either have bland, generic platitudes, or others take measures to not be pigeon holed by being overly ambiguous.
Overall: Brandon Michael Williams and Seth Andrew Hecox have created a fun and thoughtful album with All Folked Up. Their songs tell stories, grapple with ideas, and engage the listener in an original way.  It's brilliant music that makes you wish it was more than a side project.
RIYL: Lee Bozeman, Josh Harmony, Wilco, Bob Dylan, Becoming the Archetype