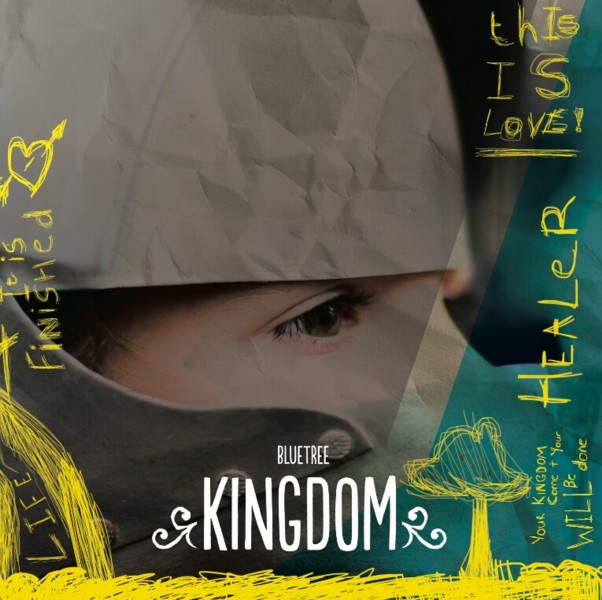 Artist: Bluetree
Title: Kingdom
Label: Exchange Church Media
Release Date: 5/8/12
Reviewer: Jonathan Andre
Tracklisting:
Glorious Victorious
You Were You Are
It Is Finished
Exalt Him
Destined to Reign
Jesus Healer
Shine
You Are My Rock
Rest
Lightens Up
Under My Feet
Everyone knows the song 'God of this City'. Made famous by Chris Tomlin on Passion: God of This City, throughout his 'Hello Love 2008 Tour', and again on his 2008 Hello Love album, not many people know the men behind the song. Bluetree are a Northern Irish band; that wrote 'God of This City' while visiting Thailand. As they played a few songs at a prostitute bar, '…Something was happening…all we knew was that we'd been in the middle of something we'd not experienced before…I can still remember those girls who were being sold [when]…I sing these words. Their lives are caught up in so much pain, but I'm convinced that they've got a better song to sing, I'm convinced that there's glory and praise that can shine from their hearts and lives…' 'God of This City' is a redemptive song, and as I reflect upon Bluetree's legacy, and how the song has been captured by many worshippers around the globe, sung in many different circumstances and settings; I am amazed at how God has used this song that was birthed during a time of witnessing brokenness at its worst; and turned it into a song that has impacted so many lives. As Bluetree ready for their second studio release, Kingdom, on May 8th, I was eager to hear how the band had progressed, musically and lyrically, after such an impacting first song.
'Jesus Healer' is the band's first single, and starts with a guitar hook that draws even the uninterested of listeners in. As Aaron Boyd starts to sing the gospel story, how Jesus died to set humanity free from destruction and separation from Him for eternity; I am blessed to listen to a song that is as simple as proclaiming Jesus to be lifted up, yet equally as emotive. As Aaron sings the passionate words '…Jesus, Jesus Healer, be lifted up, be lifted up…' I am reminded that Jesus and Jesus alone is worthy of our praise and adoration. The gospel story of His death and resurrection is crucial in our faith, as we understand that God's purpose was to bring us back to Him, and ours is simply to accept the invitation that's being given to us. What a fantastic song that's sure to be in churches soon!
'Destined to Reign' is another favourite of mine. With the bands starts an electronic feel as Aaron sings out the chorus, the rest of the instruments join in as the song immediately proclaims that we are to shine in the darkness, pouring out Christ's love in the areas He leads us to. Lyrics are a strong focus to this band, and this is shown through the chorus, proclaiming to listeners that '…we're destined to reign, and shine and live a life of love within new life…' There is a sense of urgency and passion in Bluetree's writing, and through many of their songs, it is clearly shown that '…we wanted to build up the church…[seeing] people released—and set free—from what they're walking through because of what Jesus did…' A fantastic song that shows off Bluetree's musical electronic ability, as well as setting the foundation that '…through the power of Christ, our King, we're more than conquerors in everything…' Well done, guys!
Looking through the rest of the album, I can definitely see a threading pattern that has been woven into most songs in the album. 'It is Finished' is another gospel song, stating plain and simple what it is that Christians believe. With a two minute introduction full of guitars, drums and electronics, Aaron sings out '…it is finished, the cross has done it, the work is over…' and together we sing out with him, knowing that God has done what we could never do, that the work that should've been ours to do is already done. 'Glorious, Victorious' is another anthem that begins with guitars, taking the listeners on a journey of discovery, reassurance, and declarations; showing us that '…I'm a brand new creation saved by grace through faith in Jesus name…' God reigns because of this, and through the rising percussion and ingenious synth effects, Aaron proclaims that '…forever God You reign…' 'You Were, You Are' incorporates electronic keyboards and places them across the big drum beats as the second song carries on from where 'Glorious, Victorious' left off. As Aaron sings '…You're far beyond all understanding, measureless in all Your glory, God You were, You are, You'll always be…', all we can do is just join in, lifting up our hands to praise the King who were, is and is to come. The tag '…even rocks cry out your praise…' is something to consider, that even when we don't praise Him, creation will. God is worthy of exaltation and glory, and knowing what He has done, we will be happy and honoured to give it to Him.
'Shine' again follows along from 'Destined to Reign', with a looping electronics as Aaron sings a duet with ex-Delirious? frontman Martin Smith. Singing harmoniously together, we are met with the challenge, to shine for Christ wherever we are, to '…light the world, show it Christ when you shine…' As confronting as it is comforting; we must step out, sometimes of our comfort zone in faith, to shine the love of Christ to the places that need it the most. 'You Are My Rock' follows along the same genre as 'Shine', as a slow reflective tune, more piano-driven and lyrically focused. As I reflect upon the song, a verse in Ephesians sticks out, that says that we ought to know how high, how wide and how deep the love of Christ is for us. One of the most reflective songs Bluetree has done since 'God of This City', I am amazed at the passion of Aaron, and as he sings the chorus for the last time '…You are my hope, You're my song, I will trust in You alone unfailing God…', I am pleased to call Bluetree one of my favourite up and coming British bands (perhaps because I don't know any more British bands!). Bluetree also extended themselves in 'Under My Feet', the last track on the album. With a strong drum beat and mesmerising guitar riff that creates a moment when you just jump up and dance away, this is not a typical Bluetree worship track, but rather a dancing song. And as the lyrics are sung '…sin is beaten, heaven came down and paid for it all, we stand redeemed…' we cannot help but also shout out this fact. God beat sin and death, and this is worth dancing to! What a fresh and invigorating song as the last song on the album!
Overall: To think that Bluetree have started from where Delirious? have left off can definitely be assumed. As Delirious? produced songs that have redefined the worship genre with songs like 'Majesty', 'History Maker', 'My Soul Sings' and 'Did You Feel the Mountains Tremble?', Bluetree's 'God of This City', 'It is Finished', together with 'Jesus Healer' and 'You Are My Rock' are bound to become classics in years to come. As Bluetree's frontman Aaron Boyd discusses, '…at the end of the day, church shouldn't be about agendas or flashy programs. If people aren't encountering God, we're missing the whole point, and church becomes just another social club…' Something to think about, that the way we do church should be sincere, the motivations right as we sing our hearts out to the God who brought us back to Him. A true worship album at heart, Kingdom is an album that will definitely stand out as one of my favourites in 2012!
RIYL: Tim Hughes, Matt Redman, Paul Baloche, Delirious?
Buy the Album: iTunes/Amazon mp3