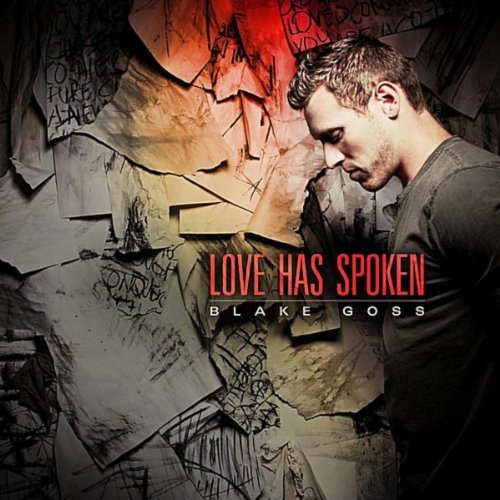 Artist: Blake Goss
Title: Love Has Spoken
Label: independent
Release Date: 7/17/12
Reviewer: Jonathan Andre
Tracklisting:
Our Victory
God With Us
Chains are Broken
Rise Up
Glorious
Christ Our King
Blake Goss, worship leader from Acworth, Georgia; has been serving as Worship Pastor of Freedom Church since 2007 and as reflected within the six songs that are on his debut EP Love Has Spoken, God's love envelops us so that we don't have to strive for acceptance. Reminding me vocally of Hillsong's Reuben Morgan and North Point's Eddie Kirkland, Blake's unveiling of these passionate melodies of our salvation, produced by Dove Award winning Ed Cash, is enough to gain some publicity in terms of signing to record labels. With such honesty and hopeful enthusiasm that reminds listeners of the celebration that is before us as we understand Christ's true sacrifice for humanity; Blake's first collection of songs is bound to be one of many as I anticipate him to be one of CCM's most prominent worship artists in the future of modern worship music.
'Our Victory' is the first song off the EP, and starts with a stirring electric guitar introduction similar to any pop/rock melody, to bring some of the most humble lyrics on the album. Starting off the song with '…our praises rising high, to You we offer up our lives, we fix our eyes…' it is necessarily for us to look at these lyrics and see if we truly believe what we're singing. Offering up our whole lives to Jesus can be difficult, frightening and even impossible without Christ at work within us, but as this song progresses, we are able to glimpse into Blake's convictions and see him declare Christ has his victory, even against such things that hinder us from Him in the first place. This celebratory song is not complete without strong drum beats and an electric guitar loop and as we soak in how Christ is victorious, we can rightly proclaim that '…God we are reaching higher, our victory…' Segueing onto anthem 'God With Us' that starts off with a gang vocal, this song of praise and lifting up is one that reminds us of God's qualities, and how He is '…The great I am, Emmanuel, here with us, here with us, in our hearts to dwell…' Not to be confused with MercyMe's hit single of the same name from their 2007 album All That is Within Me, 'God with Us' is a clever song that delves straight into truths as this 4 minute song packages together a lyrically rich melody together with a great guitar prevalent instrumental bridge. Sounding similar to singer Jason Barton, lead vocalist of the band 33 Miles, Blake offers up a song that could potentially be a hit for churches around the world. Honest and sincere, this song is solely upon Christ as we declare His goodness and who He is in light of our own salvation. Well done Blake for these two powerful anthems.
'Chains are Broken' is the first radio single from the album and along the same thematic lines as Chris Tomlin's 'Jesus Messiah', we are met with the reality that '…He who knew no sin became the sin of man so that we may live as His righteousness…', a hope that listeners ought to capture, as we continue to fully grasp what God has done for us. Featuring a strong electric guitar presence, this anthem is certain to be placed within worship set lists on Sundays for worship. As Blake gives his motivation behind the song and what he hopes the song will unveil to listeners- '…I grew up feeling like God's approval was dependent on what I did for Him, and I always fell short. This song is about realizing that Jesus did for us what we could never accomplish ourselves. Love has spoken in our defence…' I am able to rest in the hope that all my hurts, fears and insecurities were dealt with by Jesus, and able to declare His worth through the last song on the album, 'Christ Our King'. Sounding almost hymn-like, this modern worship anthem reminds us of how '…we are in awe of You Lord God above all other gods, for great is the Lord and greatly to be praised…' amidst all the country-style electric guitar work. As we are confronted with the knowledge of our great God, we cannot help but continually praise Him. 'Rise Up' and 'Glorious' are also great anthemic tracks as Blake urges listeners to join with him and '…rise up, join the chorus, sing aloud together, glory to the King who stands in victory…' along with the frenzied guitar work in 'Rise Up', sounding vocally similar to Steve Fee in the track, as well as providing us with a primarily acoustic track of emotion and vulnerability, as Blake declares God's majesty with a vocal reminding us of Kutless frontman, Jon Micah Sumrall. As we are given song after song of hope and worshipful adoration, Blake's heart is able to be shown- one of devotion to Jesus. Well done Blake for these heartfelt and poignant tracks filled with honest reflective moments as we continue to worship God in our everyday lives.
Overall: Though only an independent album, Blake's first album release certainly feels like a quality-produced album that will certainly gain much acclaim and notice with Ed Cash attached to the album production. With such honesty and lyrical poetry as we declare our praises to Jesus, this 6 song EP is a must purchase if you enjoy modern worship of similar styles to Chris Tomlin, North Point or Jesus Culture. As I am anticipating Blake to be signed to a major record label soon (maybe Sparrow Records or Integrity Music), this album is one of the most finely produced independent records ever since The Sonflowerz's By Faith. Well done Blake for such an awe-inspiring and honest EP!
RIYL: Steve Fee, Eddie Kirkland, Chris Tomlin, Kristian Stanfill
Buy the Album: iTunes/Amazon mp3