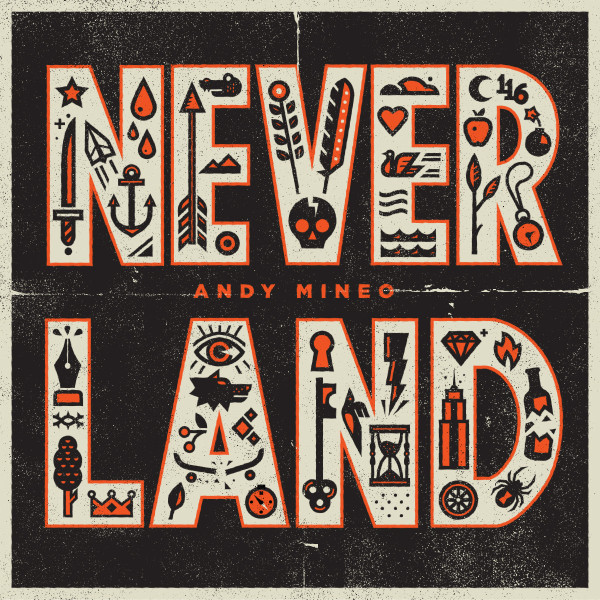 Artist: Andy Mineo
Album: Never Land
Label: Reach Records
Release Date: 1/28/14
Reviewer: Christian S.
Tracklisting:
1. Never Land (feat. Marz)
2. Paisano's Wylin' (feat. Marty of Social Club)
3. You Can't Stop Me
4. Rewind (feat. Kam Parker)
5. All We Got (feat. Dmitri McDowell)
6. Paganini (feat. KB and Canon)
7. Death of Me
Andy Mineo is back a mere nine months after releasing his Reach Records debut, Heroes, with a new EP titled Never Land. Heroes pushed Mineo into a new spotlight, getting rave reviews across the board for his interesting flavor of hip-hop. Utilizing creative instrumental tracks and fast rhymes, it's catchy and interesting hip-hop for both fans of the genre and casual listeners. With Never Land, Mineo hasn't exactly drawn any new lines for the genre, but it's another solid album full of catchy tracks with God-glorifying lyrics.
The EP consists of seven songs, and kicks off with the title track, "Never Land". It starts off ear-catching with the intense voice of Marz singing the hook, "In the night, I'm alone, without you, I'm drifting off, when you, take my hand, I'm so high up I'll never land." I like how the title track kicks off the album, and the track is definitely worthy of it. It's full of deep bass and lovely strings, as well as the occasional guitar or vocal sample. This track is an example of one of the many things I appreciate about Mineo: his songs often contrast the intense side of hip-hop – pumping bass, beating drum samples, even turntable mixing – with the lovely side of what hip-hop could be, including strings, piano, layers of background harmonies, and guitar. His songs never do one or the other; they always find a way to utilize a unique combination of both.
The next track, "Paisano's Wylin'", is mostly just a fun track, making Italian jokes in affected Italian accents. Paisano is something of an Italian term for "homeboy," and Mineo and guest vocalist Marty just rap about being crazy Italians who put red wine on everything. Andy makes good use of his crazy vocal oddities, which only adds to the hilarity. For those of us who like more serious hip-hop, it may be hard to get into, but when I just let myself enjoy it for what it is, I find myself laughing along.
When the last laugh is over, the next track starts off explosively when Marty screams "You Can't Stop Me!" Between the occasional scream and the hardstyle saw bass, I was afraid the track was going to take a Family Force 5 direction, but except for the aforementioned items it didn't head too far off. "You Can't Stop Me" is another intense, bass heavy track, lyrically dealing with the fact that because God's on his side, no one can stop him – especially not himself. The lyrics, "You will never write a verse like Kendrick, never give rap what rock got from Hendrix, Top 10 alive you will never be mentioned, why aim so high, you won't survive the trenches," show the struggles he has believing in himself, and his final realization and that he doesn't have to, he just needs to believe in God.
The next two tracks slow it down a little, and get a little more serious; they're well placed, because at about this time I want something a little more sober. The track "Rewind" deals with some of the things in Mineo's past that made him who he is today, specifically getting into rapping at a young age, his aspiration to be an artist, and the struggles that came with being an independent Christian rapper. "All We Got" is the most musically complex track, with acoustic guitars, acoustic bass, auxiliary percussion, and a general Latin jazz flare. The chorus, courtesy of Dmitri McDowell, gives the song an even smoother R&B feel. This is one of the most real tracks on Never Land, dealing with many of the issues Mineo faces on a daily basis: everything from insecurity, to pride, to relationships.
"Paganini" is definitely the most intense song on Never Land, with insanely fast rhymes and the heaviest bass on the album. If you didn't know, Paganini was a violin virtuoso from the late 19th century that was so amazing there were people who thought he was possessed. He was definitely a show off: there are stories of him cutting his violin strings and playing mind-blowing feats on one string. Mineo uses Paganini as an example of how he feels when he shows off to glorify God. The rapping in this song is insane, there are fast discordant violin lines to match the Paganini theme, and in the end there is a seriously impressive beatbox solo. It might not be the most humble or meaningful track, but it sure is impressive.
The final track, "Death of Me," addresses the difficulties of life in the music industry. The hook, "Just tryina live life, what I do for a living could kill me," shows how seriously he's considering his lifestyle. He goes on to reflect on how he feels spiritually starved because he doesn't spend enough time with God. The song has a very mournful air, and for such an upbeat album, it's an interesting way to end it. It's like showing the listener what he can do, and then at the end of the EP showing the listener what it costs him.
Overall
Never Land is fun and serious by turns. Sometimes you're laughing at funny jokes, and sometimes you're sympathizing for him and his problems. He accomplishes both with skill. This EP is full of great rapping, creative songwriting and fantastic production. Whether you're a fan of the genre or not, check this record out.
RIYL: Lecrae, KB, Tedashii, Trip Lee