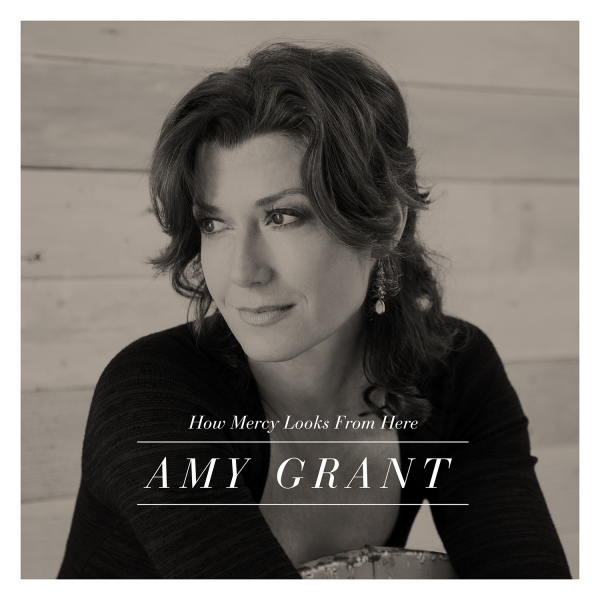 Artist: Amy Grant
Title: How Mercy Looks From Here
Label: Sparrow Records
Release Date: 5/14/13
Reviewer: Jonathan Andre
Tracklisting:
If I Could See (What Angels See)
Better Not to Know
Don't Try So Hard (w/ James Taylor)
Deep as it is Wide (feat. Sheryl Crow and Eric Paslay)
Here
Shovel In Hand (w/ Will Hoge)
Golden
Our Time is Now (w/ Carole King)
Not Giving Up
How Mercy Looks From Here
Greet the Day
Amy Grant has been within the music industry for over a span of 5 decades (starting during the late 1970s and spanning the era of the 80s, 90s, as well as the last two decades since the turn of the millennium). One of the longest current recording Christian artists alongside Steven Curtis Chapman and Michael W. Smith; Amy's heartfelt songs and hopeful lyrics have been inspiring listeners for a very long time, from 'El Shaddai' and 'I Will Remember You', to 'Lead Me On', 'Simple Things', 'Every Heartbeat', 'Takes a Little Time' and 'That's What Love is For'. With no signs of slowing down, her 35 year old music career is one that's going to be one of the most celebrated, honoured and respected of all Christian music history, and I'm sure will be missed from the industry itself (both Christian and mainstream) when Amy finally retires. Needless to say, her new album How Mercy Looks From Here is a gem to listen to if you've been a fan of Amy's for her whole career, or even if you have been a newer listener to her music. With modern hits 'Better than a Hallelujah', 'Hard Times' and 'She Colours My Day'; Amy's transition throughout the decades to incorporate pop rock and light acoustics in her music as well as the balance between Christian and mainstream music is done quite nicely. With many popular and mainstream artists performing duets with her on her newest album, from James Taylor ('Don't Try So Hard'), Carole King ('Our Time is Now'), Will Hoge ('Shovel in Hand') and Sheryl Crow ('Deep as it is Wide'); this is an album that reminds us of the faith so central to our lives whilst also appealing to listeners of the mainstream acoustic pop and folk genres. From the first single 'Don't Try So Hard' that reminds us to embrace the grace given by God to us, to 'Deep as it is Wide', the potential second single that displays the deep and wide properties of God's love, How Mercy Looks from Here is a standout album in May 2013 (I'm sure in terms of all music genres), with 'Don't Try So Hard' all but assured (hopefully) to be on the annual WOW Hits album for this year, releasing in September 2013!
'Don't Try So Hard' is the first radio single from the album and is perhaps one of my favourite all time songs from Amy, possibly alongside 'Better than a Hallelujah', 'El Shaddai', 'Lead Me On' and 'Every Heartbeat' as the top five favourite songs from Amy throughout her entire music career. With great harmonies from mainstream pop artist James Taylor, both Amy and James give a melody with heart and poignancy as listeners are reminded of grace personified and the immensity and enormity of it, in which we ought to bask and continuously remind ourselves of our hope in Christ our Saviour. With ethereal vocals and a powerful piano hook, Amy's reflective musical atmosphere runs through the whole album, with its central theme and message anchored through this song. Reminding us to '…don't try so hard, God gives us grace and we can't earn it, don't think that you're not worth it…'; the in-your-face truth about us not trying hard because of the price paid by Jesus is clearly evident, and with it should come a sense of freedom as we discover that we don't have to keep striving on our own towards a sense of acceptance, forgiveness and restoration. Christ continues to give grace to us everyday, and 'Don't Try so Hard' is a nice timely reminder of our role in earning Christ's favour- nothing! Our sense of worth ought not to be attached to how well we try at the things we think will earn Christ's love for us. Full of light keyboards and looping percussion beats, the soothing vocals of both Amy and James give us a clear reminder of our own need to stop trying to earn and to just accept grace for what it is. Something to remind ourselves not to be always trying to prove ourselves (to God or to each other for that matter); 'Don't Try Too Hard' continues to show us the quality of both Amy's songwriting skills as well as her singing. Well done Amy for such a poignant and emotional song!
'If I Could See (What the Angels See)' is the first song from the album, and one of my personal favourites as Amy brings to the song her heartfelt and ethereal voice alongside light acoustics and a musical introduction similar to Sanctus Real's 'We Will Never Give Up'. This upbeat melody about yearning to see things from an eternal perspective is something every human is searching (whether they realise it or not) on a daily basis, and the powerful words of Amy longing and hoping to see '…what the angels see, behind the walls, beneath the sea, under the avalanche, through the trees, gone would be the mystery…' is something that I'm sure will resonate with many listeners as they hear this track. Full of mystery and wonder, it poses the question; that if we could hear what the angels heard, and saw what they saw; would we live our lives differently in light of that? A question to really consider, Amy seems content to understand and bask in the knowledge that God is all-knowing, and that even though we may not understand or even see what could often be right in front of us, it is the trusting and placing our faith in Christ that will give us confidence and encouragement as we venture towards future endeavours with Him. 'Better Not to Know' is presented with a stripped down musical element, showing acoustic guitars and a passionate vocal from Amy. While it may be a drastic change from the upbeat first track, it is equally as compelling. Amy presents the issue of trying to be all-knowing and longing to understand more, yet Amy counter-argues this point by declaring that '…it's better not to know the way it's gonna go, what will die and what will grow…' Speaking about her own life about how she bought a field that eventually didn't bring the yield of fruit that her family wanted, the song speaks about all the moments in our lives that didn't go according to how we wanted them to, and presenting to us that if we knew all that before time, I'm sure each of us may not venture into that circumstance, and thus may not have learnt the things that we did. As we understand that some part of the mystery is left up to God instead of us, we can rest in knowing that whatever circumstance we are finding ourselves in, all things are used by God to make us grow, spiritually and otherwise into better men and women of God.
Amy also explores the topics of loss and death in 'Shovel in Hand', through her poignant duet with Will Hoge describing the story of how her son buried his best friend during 2007; reminding us about the transientness of life and the necessity for us to start living now and not putting plans on hold for 'later' and the uncertainty of it. Similar to this theme is 'Our Time is Now', written by Switchfoot lead singer Jon Foreman, and a duet with Carole King. Presenting an acoustical pop ballad, Jon's writing is literary genius, as Amy and Carole present to us the startling truth that we must all face- time flies and before you know it, there're regrets, baggage, despondency and hopelessness knocking at our doors. With the song rather an encouragement instead of a downer that many could perceive from first listen, this song that presents the poignancy in proclaiming '…our time is now, let us sing before our time runs out…' is one of my standout tracks, and something to listen to and ponder as we live our lives with no regrets. With Amy also delving into themes like God being here in our everyday lives (the piano driven 'Here'), us being reassured by God that we are loved and golden, something that needs to be said to us each day to affirm our identity and worth ('Golden'), as well as the hopeful promise to all of creation that Christ doesn't give up on us in our struggles and our feats ('Not Giving Up'); it is the heartfelt promises of 'Deep as it is Wide' (with Sheryl Crow and Eric Paslay) and the title track 'How Mercy Looks From Here' that's destined to be some of my favourites from Amy ever (alongside 'Better than a Hallelujah', 'Don't Try So Hard', 'El Shaddai' and 'Lead Me On').
As Amy weaves in her own personal experiences into the title track (like the death of her cousin in 2010 and a the marriage of her daughter), we are confronted with some of the most poignant lyrics of the album as Amy describes that '…when you face your greatest fear, losing all that you hold near, open up your eyes my dear, that's when boundless grace appears, unseen angels hover near, saints are singing loud and clear, oh how mercy looks from here…' Such hope and encouragement discovered in these words is enough to propel this album as a whole to be one of my favourite albums released in May so far. Singing along with writer of 'Deep as it is Wide' Eric Paslay and singer-songwriter Sheryl Crow; the fourth track on the record carries on with the theme of God's love being deeper and wider than we can ever see or even imagine, and that our efforts to gain it aren't going to change whether Christ continues to freely give it or not. With acoustics and great harmonies from the other two singers, 'Deep as it is Wide' is a great highlight that propels into the anthemic melody that's destined to be a radio single sometime in the future (possibly by the end of the year). With such emphasis on God's love for humanity, the description of it being like a river wide and deep is a great analogy, reminding us that God's love flows from Him to us continuously and without end. Well done Amy, Sheryl and Eric for such a hopeful and inspiring song.
Overall: Amy's first album full of new material in 10 years is enough hype in itself to intrigue listeners, even those who may not necessarily be a fan of Amy's singing style or her type of music for that matter. Full of moments that encourage us to dig deeper in our relationship with Christ, this is perfect to purchase if you have enjoyed Amy's quieter and more reflective music of the past, of if you enjoy modern contemporaries like Natalie Grant, Audrey Assad or Francesca Battistelli. From the first single 'Don't Try So Hard' to the heartfelt and hopeful second single 'Deep as it is Wide'; we are encouraged to make our relationship with God a priority through these 11 tracks. As Amy continues to assert her presence in a music industry that can be equally downward-looking on those who have staying within the industry for such a long time; Amy shows no signs of slowing down her music, and with How Mercy Looks from Here expecting to become popular amongst listeners from both the Christian and mainstream genre alike, hopefully this can be one that will bring listeners into the loving arms of Christ our Saviour. With a great amount of status and popularity over the years, Amy Grant's new album is possibly one of my favourite from her ever. Well done Amy for an inspirational and meaningful album!
RIYL: Michael W. Smith, Natalie Grant, Francesca Battistelli, Audrey Assad
Buy the Album: iTunes/Amazon mp3