Album Review :
Akissforjersey - New Bodies
By Scott Swan in Reviews | Comments closed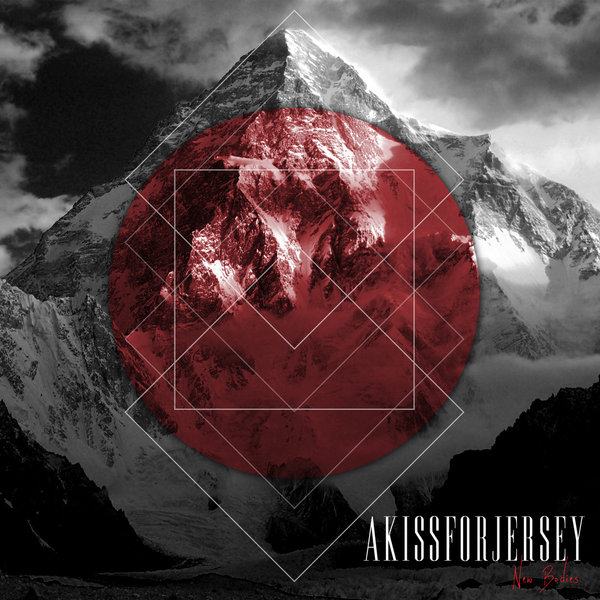 Artist: Akissforjersey
Title: New Bodies
Label: InVogue
Release Date: 1/21/14
Reviewer: Scott Swan
Tracklisting:
War

Revival
The Sound of Revolution (feat. Kevin Bryant)
DeathEater
New Bodies
Widow/Maker
Dear Wayward,(There is Hope Yet)
Bones
Fell Short, Walk Tall
Blind and Bound
Everything New (feat. Sid Menon)
Well, it's been nearly six years since we've heard a peep from post-hardcore outfit Akissforjersey. For the most part, their last release,Victims, garnished an overall positive reception. With intricate guitar work, tight vocals, and an ability to produce quality melodies both in the heavy and the softer moments, Victims is a solid album. Now with their new 2014 release New Bodies, will this band out of North Carolina deliver a standout effort after a long breakup, or will it simply fade into the background of a crowded genre?
Thankfully, upon giving this album a first spin, I quickly realized that this record was not one to be taken lightly, nor would it be fading away from my playlist any time soon. Although the overall sound does not stray too far from the band's previous release, I really do feel like it has matured. A deeper layering of tones along with rapid fire melodic hooks that sucked me in from the opening moments. Some might disagree, but lead singer Zach Dawson actually reminds me a of another Zach, Zach Riner of disbanded Sent by Ravens fame. This is not a bad thing, in my opinion, as the vocals come through strong, clean and passionate. Even though New Bodies does not necessarily bring anything experimental or new to the table musically, from the opening track to the last it held my attention firmly and then found myself wanting to go back and start the experience over again. For those of you wanting a hard metal/metalcore sound this may not be the album for you. Not to say New Bodies doesn't have heavy moments, but to my ears, this record is more concerned about tight licks and groove rather than straight up head banging.
The first track "War" starts off with a kind of whiny guitar sound that might have you wondering a little, but gratefully, within seconds busts into a nice hardcore sounding verse that is a nice kick in the pants. The hard pounding eventually blends into a clean sung chorus. Lyrically focusing on providing hope to a broken world and broken people. "Lift up the banner/Dig out the graves/Because hope is needed the most for the vessel breaking the waves." It is a standout track for me and a good way to start the album off right. The next two songs, "Revival" and the "Sound of Revolution" follow a similar pace and are solid tracks. Themes of waking out of slumber to facilitate life and overcoming the negative things that would want to bury you, are present.
"DeathEater" is one of the heavier offerings, featuring plenty of heavy vocals mixed with precision guitar licks. Not to mention a nice bass guitar breakdown towards the end of the song. The title track continues with a concept of death not being the end of the story and resisting a life of passivity. For the next track "Widow/Maker", you get a change of pace with a worshipful intro then slowly building up into a medium paced ballad. This song does a nice job portraying the emotions involved in coping with loss and heartbreak. "Dear Wayward" asked the question "Will you rise/rise and take your place as sons of the living King." Depicting a "prodigal son" situation where you can really hear the frustration, but is never a lost cause.
Upon first listen of "Bones," I thought the lyrics were a little confusing, considering the chanted opening lines, "We are the only one's who can undo the damage/the damage we have done/the damage we have done." At which point, the song then goes on to convey how much we need God and pleading with him to "breathe life into these bones." However, I feel that the open line is perhaps just a call for some personal responsibility, not something in actual conflict with the overall theme of the tune. Following is a short little intro track "Fell Short, Walk Tall." Consisting of a distorted ambient guitar being played over a preacher delivering a message. This continues well into the next song which eventually morphs into the fast paced rocker "Blind and Bound." The final track "Everything New" is an almost contemporary sounding piece that features a quiet piano intro and sounds like something that could come from Building 429 (that was just a band that came to mind, no offense to them, just not my thing).
Overall: For the most part, this is an enjoyable and easy to listen to album that I highly recommend, especially for fans of the band's previous work Victims. Look, it's probably not life changing, musically, but if you like good rock music with driving guitars, you will probably like this just fine. It hooked me, and I'm sure it will be a staple for my listening enjoyment for some time to come.
RIYL: Everything Slow Motion, Spoken, Sent by Ravens