Album Review :
A Very Special Christmas - Bringing Peace to Earth
By Jonathan Andre in Reviews | Comments closed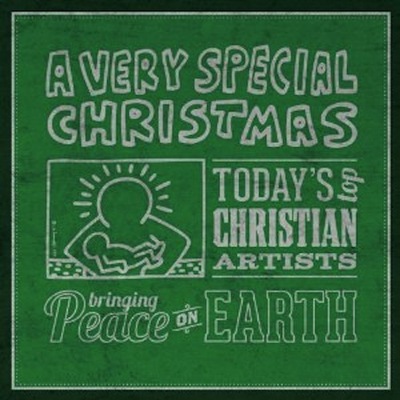 Artist: A Very Special Christmas
Title: Bringing Peace on Earth
Label: Word Label Group
Release Date: 10/16/12
Reviewer: Jonathan Andre
Tracklisting:
Because It's Christmas- Sidewalk Prophets
Gloria (Hark The Herald Angels Sing/Angels We Have Heard On High)- Jason Castro
Baby Boy- for KING & COUNTRY
O Come, O Come, Emmanuel- Francesca Battistelli
O Holy Night- Group 1 Crew
Bethlehem Skies (feat. Dave Barnes)- Dara Maclean
Jesus, Savior- Chris August
Christmas Together- Jamie Grace
Go Tell It On The Mountain- needtobreathe
He Has Come For Us (God Rest Ye Merry Gentlemen)- Meredith Andrews
O Come All Ye Faithful- Big Daddy Weave
I Believe- Natalie Grant
For The Beauty Of The Earth- BarlowGirl
We Three Kings- Building 429
Labor Of Love- Point Of Grace
When Love Was Born- Mark Schultz
A Very Special Christmas is the title of a music compilation that has been in production releasing albums since 1987, with benefits and proceeds towards helping everyone involved with the annual Special Olympics. Featuring Christmas and holiday songs that are performed by a variety of mainstream artists like U2, Madonna, Jon Bon Jovi and Willie Nelson; 2012 marks the 25th anniversary of the series, with the label organisation releasing two albums this year- A Very Special Christmas: 25th Anniversary (on Big Machine Records) and A Very Special Christmas: Bringing Peace on Earth (on Word Records). Though I haven't had a chance to listen to the 25th Anniversary album yet, what drew me to this series especially now was their promotion of their second album, featuring many CCM artists on Word Label Group giving their own renditions of carols (as well as new songs) as they promote the album front and centre on their website. Even if no one has heard of artists like Meredith Andrews, Natalie Grant, Building 429 and for KING AND COUNTRY before, I'm sure their profiles up on averyspecialchristmas.com will be enough to intrigue listeners into listening to their music. A great opportunity for some artists to break into the mainstream (needtobreathe is quite popular in the mainstream industry, and Francesca's music has been played on various TV shows), this collection of 16 songs is a great collection of up-to-date recordings of fan-favourite Christmas carols, new songs, as well as older melodies, with highlights on the album ranging from the worshipful carol 'He Has Come For Us (God Rest Ye Merry Gentlemen)' (Meredith Andrews), the melody-altering rap-pop rendition of 'O Holy Night' (Group 1 Crew) and the anthem that I'm sure will be popular next year, 'Baby Boy' (for KING AND COUNTRY).
From traditional carols to specifically written original Christmas songs, each artist on the album offers up a unique musical offering in relation to Christmas and what it means to them personally. Sidewalk Prophets' original song 'Because It's Christmas' starts off the album in guitar-driven fashion as singer David Frey sings about how '…the snow is falling again, it looks like wonderland, but I'm stuck in traffic behind all these red lights…' Speaking about the moments leading up to one of the most memorable and sometimes stressful times of the year and how in all the rush, busyness and madness, we can forget the true meaning of the holiday season, this 3:13 song is a timely and cheerful reminder to '…take your time and slow it down, let your heart hear the joyful sound…', understanding that the decorations, the tinsel, the stress and worry are all second to the central importance of celebration- of Jesus' birth, as well as the joy of giving to our friends and family the love that we may sometimes hold back from them every other day of the year. Francesca Battistelli unveils her brand-new carol 'O Come, O Come Emmanuel' on this compilation, and while not musically complex like other renditions from Jeremy Camp or Lincoln Brewster, this piano-only song is that of hope to the nations as Francesca cries out '…rejoice, Emmanuel, shall come to thee oh Israel…', reminding listeners of the season of cheer and giving as it starts to approach- that Christ's birth is enough for us to sing praises and rejoice Him. With their recent mainstream fame since their 2009 album The Outsiders, needtobreathe's rendition of fan-favourite 'Go Tell it On the Mountain' is a great highlight of this Word Records compilation album, as we marvel at Bear Rinehart's vocal ability and his intense passion as he sings out the words '…go tell it on the mountain that Jesus Christ is born…' Amidst the banjos and keys, Bear reminds listeners to declare Christ's love wherever we go, proclaiming the impromptu tag '…hallelujah, Jesus Christ is born…' in the process. Also gaining mainstream popularity is soul-pop singer Dara Maclean (with 'Suitcases' appearing in a Charlie's Angels' TV episode in 2011), and on this album, offers up a duet with pop singer Dave Barnes to create the melody 'Bethlehem Skies'. With hand claps, finger clicks and a motown swaying rhythm beat, Dara offers up an honest portrayal of events that night, declaring that '…holy holy, silent night, peace has come to all mankind, all of this with me in mind, under Bethlehem skies….' Dave Barnes offers up a great harmonisation and backing vocal, with this soul-acoustic-motown Christmas melody is able to stand out as one of the album's most unique and poetically poignant tracks on A Very Special Christmas: Bringing Peace on Earth. Well done Dara for this song of redemption and praise that is one of my favourite songs on this Christmas compilation!
With more than half of the songs on the album originally written rather than covers of Christmas carols, this compilation album seeks to place together current and previous Word Records artists and their songs to create a song list with some of the most poignant and reflective Christmas melodies ever written or musically arranged, with highlights on the album ranging from Jamie Grace's bouncy and fun-filled 'Christmas Together' (speaking about how we ought to come together with family and friends this Christmas and enjoy the season of togetherness), and rhythmic story-telling of Jesus' birth by Chris August in 'Jesus Saviour'; to the hymn-like 'For the Beauty of the Earth', sung by pop-rock group BarlowGirl and reminding everyone that Christ has come '…for each perfect gift of thine to our race so freely given…' Though I was expecting to see BarlowGirl's big Christmas hit 'Hallelujah (Love Has Come)' within the album lineup instead, this nativity version of the hymn is a great addition to A Very Special Christmas: Bringing Peace on Earth, a song of hopeful prayers towards God as we give praise and adoration for the gift of His Son to earth. All-female group Point of Grace also contribute towards the 16 tracks with their hit single from Home for the Holidays, Andrew Peterson penned 'Labour of Love', an acoustic guitar and keyboard reminder of how grim conditions were when Jesus was born, and that the labour Mary had to endure was one of pain, heartache and suffering, but also of love as she understood the implications of the birth of the Saviour. Artists Mark Schultz and Building 429, though not on Word Records anymore (on Fair Trade Services and Essential Records respectively), also add in their Christmas melodies, heartfelt piano ballad 'When Love Was Born' and guitar rock anthem 'We Three Kings' respectively, each providing a unique account of the Bethlehem night, with Mark identifying with the shepherds and Building 429 singing the carol through the eyes of the three wise men; and thereby giving listeners greater musical genre variety, yet all with the same passion and heart that Christ is born on Christmas, and that we ought to celebrate not just on the day, but throughout the year as we proclaim '…Hallelujah, He is Christ, our King…' ('When Love Was Born').
Meredith Andrews has always been one of my favourite female artists with her poignant melodies and passionate vocals, with one of my album favourites being her own rendition of a fan-favourite Christmas carol classic in 'God Rest Ye Merry Gentlemen', adding her own chorus to the song as she reminds listeners that '…He has come for us, this Jesus, He's the hope for all mankind, He has come for us, the Messiah, born to give us life…' This worship anthem still captures the heart and passion that the Christmas carol provides, yet also adds a modern worshipful atmosphere through the undertone of keys and strings, making this melody one of my favourite modern renditions of 'God Rest Ye Merry Gentlemen', along with MercyMe's rendition of the song on their album, The Christmas Sessions. Another great carol rendition on the album, Group 1 Crew's melody-altering 'O Holy Night' may seem a bit alternative and different at first listen, but after a few listens hearing Manwell and Blanca cry out '…fall on your knees, oh hear the angel voices, o night divine, o holy night when Christ was born…' to a different rhythmic beat is very refreshing and while only 3:18 in length, this hip-hop/pop duo really nail this song with enthusiastic passion and heartfelt motivation. If the original melody of 'O Holy Night' wasn't what it is now, then Group 1 Crew's melody would be a great alternative! However the true honour of 'favourite song on the album' really falls upon Aussie band for KING AND COUNTRY (comprised of Joel and Luke Smallbone, brothers of Christian pop/worship artist, Rebecca St. James), and their originally penned song titled 'Baby Boy'. This anthem of praise and poetic poignancy is a great reminder of Jesus' role in the redemption story of bringing creation back into relationship with the creator, and how '…endless hope, relentless joy started with a baby boy…' Easter is of great importance to Christians, yet its high significance would not have been if not for Christ's birth in the manger. 'Baby Boy' is a continual, timely and ever-present reminder that the war between good and evil, Christ and the devil, our old lives and the new, has been conquered by a baby, and listening to this song makes me ever grateful for this. Well done for KING AND COUNTRY for this beautifully musically arranged song of hope and proclamation, and my favourite Christmas song of the year!
Overall: From mighty anthems to reflective piano-only melodies, A Very Special Christmas: Bringing Peace on Earth is a great compilation released for a great cause in helping the Special Olympics. Hopefully the start of more Christian artists becoming more popular in the mainstream artist (Britt Nicole's song 'Gold' was just announced in the new mainstream album compilation- Now That's What I Call Music! 44), each one of these 16 songs are able to paint a picture of Christmas that is more than the friends, the family and the food, giving listeners hope, peace and joy in the process. An album to please listeners of almost every musical genre (except for hard rock), this album full of Word Label Group artists should inspire other Christian label groups (Provident, EMI CMG) to release their own Christmas album compilations. Well done to the compilation group in releasing this album, providing such a rewarding musical and lyrical experience in the process, as I soak and dwell in the knowledge that '…Emmanuel has come and I believe…' ('I Believe').
RIYL: WOW Christmas, Group 1 Crew, Steven Curtis Chapman, Francesca Battistelli
Buy the Album: iTunes/Amazon mp3