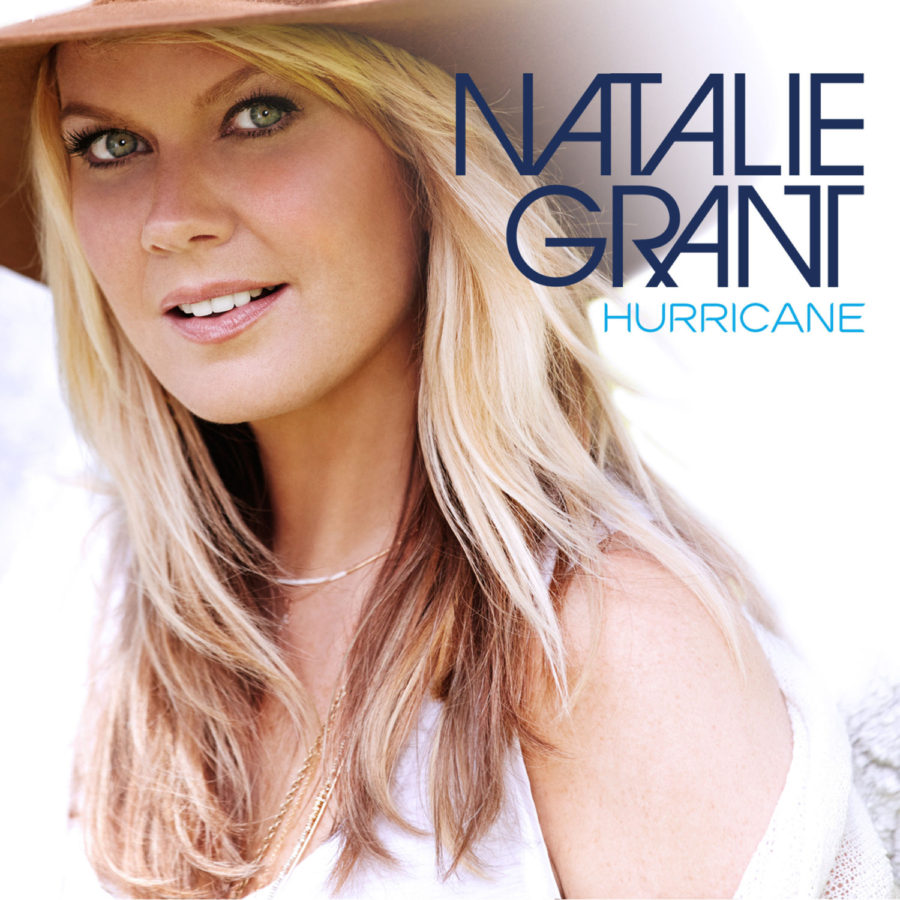 Artist: Natalie Grant
Title: Hurricane
Label: Curb Records
Release Date: 10/15/13
Reviewer: Jonathan Andre
Tracklisting:
Closer to Your Heart
Hurricane
For All Of Us
Whisper
Burn Bright
This is Love
Born to Be (feat. Gary LeVox)
Dead Alive
When I Leave the Room
In the End
One of my favourite female CCM artists ever, Natalie Grant's songs throughout the years have been an inspiration for many listeners of her music, from the chart-topping 'In Better Hands', to the heartfelt and poignant 'The Real Me', the upbeat and electric guitar driven 'Awaken' to the encouraging and percussion prominent 'Live For Today'. Now releasing her 7th studio album Hurricane on October 15th 2013; the powerful songwriter and performer has given us 10 songs to remind us of God's presence with us always, even in the moments of the hurricanes of our own lives when we can't necessarily see Him or feel His presence with us. Taking more than three years to complete an album which is the most personal and poignant to Natalie; we hear her personality and heartfelt passion shine through each song on the album. From upbeat melodies, to co-writes and piano only tracks, Natalie shares that '…these are the strongest songs I've recorded in a long time and are a true reflection of the hope I find in my faith – songs I am eager to deliver to audiences night after night…the best part of the experience of making the album was being reminded of the truth once again…I felt like I had forgotten it. I found hope in the midst of my own circumstances and feel like I have created something with all of my heart that can bring hope to those who will listen…' Stepping out of the CCM box to deliver some of the most unique and musically diverse songs throughout her musical career, from the country and folk inspired 'In the End' to the rock anthems 'Closer to Your Heart' and 'Dead Alive', as well as the worshipful cover of Hearts of Saints's 'For All Of Us'; this is a great album to purchase and listen to if you're a fan of Natalie's previous albums, or if you enjoy contemporary worship/pop artists like Chris Tomlin or Steven Curtis Chapman. With her song 'Hurricane' being the fastest rising song to #1 on any chart out of every song and single in her career, this album, one of 2013's most anticipated CCM/pop album (alongside Newsboys's Restart and Skillet's Rise) is personally one of my favourites from Natalie, and one of my favourite 2013 albums overall.
'Hurricane', the title track of the album, as well as the first radio single from it, is one of my favourite songs on it. Starting off the melody with a soothing backing vocal by Natalie as she uses the melody as inspiration to herself and others that God isn't far, just a call away, from the moments when we are in the hurricane; the song provides us with a simple lyrical message of hope, yet equally profound and hopefully life-changing for all those who hear it. A rock anthem at heart, Natalie's personal journey through postpartum depression after the birth of her third child was used as the catalyst of the song and the album in general, providing listeners insight into the real journey Natalie and her husband Bernie Herms faced during the moments after the release of Love Revolution till the release of this album. 'Hurricane' gives us a message of standing firm, of hope even in the darkest places, as Natalie declares amidst the strong guitars and the powerful percussion beats to '…don't back down from the fight, He'll shelter you tonight, and when you feel the rain, call His name, He'll find you in the hurricane…' Life in the world we live in isn't necessarily all rosy and perfect, with Natalie first providing us with perspective- '…people think sometimes every life situation resolves itself easily and we come out happy with a little bow on it. But what it actually says is that He's there reaching out His hand even as the winds continue to rage. We always want the storm to stop, but instead He says that He'll come to us in the middle of it. That imagery inspired the song…' God indeed stops storms in our lives regularly, but He also chooses in other circumstances to allow us to walk through them with Him. Full of emotion, power, invigorating hope and encouragement for all those who may feel themselves that they are in the midst of some treacherous and powerful metaphorical no-way-out storms; Natalie's own personal testimony of overcoming them through Christ gives us expectation and something to look forward to, knowing all full well that '…there's a place you can run, when you fall, and it's all come undone, you'll be safe in the raging storm, so just let go, cause you are held in His arms…'
Releasing 3 promotional singles on iTunes before the release of her album; Natalie's continual emphasis on Christ and His role in the redemption of mankind and our only response to receive it, is creatively thought out and written in these three songs, 'Burn Bright', 'For All of Us' and 'Closer to Your Heart'. Initially recorded by independent rock/worship band Hearts of Saints and placed on their album For All of Us which released in January; the song delivers a message of Christ giving everything He had for us, and will hopefully have the same impact for listeners just like how 'Your Great Name' had years before. 'For All of Us' sums up the gospel quite nicely- that Christ's redemption and love was for all of us to accept. The poignant words of how '…here at the cross, Your death, the price, Your agony means life, for all of us…'; we can meditate and rest in the true and timely words, fathoming and grasping the enormity of the statement. Full of reassurance and love shown beyond compare, this song is a declaration- that no matter what we have done, our past mistakes, regrets and pains cannot compare to the overwhelming grace that's covered us. With powerful electric guitars and Natalie declaring out with a passionate vocal to the Lord with the poignant refrain of '…Hallelujah, Hallelujah, worthy is the Lamb that was slain…'; 'For All of Us' is great to worship along to in both a corporate and individual setting. Hopefully, as listeners hear Natalie's rendition of a song that's destined to become a famous and timeless worship melody; Hearts of Saints can obtain some exposure in both the independent and CCM music market.
'Closer to Your Heart', the first song on the album, continues with the same enthusiasm as 'For All of Us', this time with a more upbeat tempo and Natalie opening up to the point of the lyrics allowing listeners to see her in a vulnerable and emotional state. A song that encourages herself, just as much as us, that God longs for us to draw closer to Him, and that we can so often feel like '…I've been running so fast, trying to get back to the start, I've been holding so tight but it all just comes apart…'; this is a bold and powerful anthem and invites any listener to hopefully declare alongside her to the Lord, each of us using the song as a catalyst for inward change and transformation as God uses the circumstances and experiences around us to mould and shape our hearts to be more like His. Finally unveiling the third single in 'Burn Bright', a piano only track inspired by Natalie's own heartfelt moment of sadness at her family member's drug abuse problem and plight; the song is an inspiration and encouragement to many, inviting anyone who listens to soak in the words of how '…you were made to shine, you were made for life, even if you've lost your way, turn and you will hear love say you were made for more…' With each of these three songs showing a piece of Natalie that many may not have heard before ('Closer to Your Heart' is one of my favourite rock anthems from her, 'For All of Us' is perhaps the most passionate she as sung for a worship song, and 'Burn Bright' and its subject matter are one of a kind); these songs are great choices to promote Natalie and her album, releasing October 15th. From these 4 songs (inclusive of 'Hurricane') alone, Natalie's album makes my top albums list for 2013 so far!
Throughout the rest of the 6 tracks, Natalie divulges some great and poetically written themes and messages for us to ponder and take note of. 'This is Love' is a light electronic keyboard emphasised melody that invites us to show love to our God and fellow man, especially through the encouraging lyrics where she encourages us to '…give it away…', hopefully to those who need love and acceptance much more than we do or have; while 'Dead Alive' is electronic music to the max as Natalie invites us to participate in a worship-like EDM melody that hopefully conveys a message of how God is '…a love with a deeper affection, You stole my heart, You're my only obsession, oh, You electrified my soul, and You're making the dead alive…'. Again with a piano only track, Natalie dedicates 'When I Leave the Room' to her three daughters, twins Grace and Bella, and Sadie Rose, as the song, penned by Natalie, Bernie, and good friend and singer-songwriter Nichole Nordeman, showcases heart and passion as Natalie honours her children in the song as we get a glimpse into the emotions that are felt by God towards us at all times.
Albums also have a greater touch with an inclusion of a duet of some kind, and on Hurricane, Natalie's duet-representative song is 'Born to Be', with Rascall Flats singer Gary LeVox. An encouragement and a confronting melody all at once, Natalie shows us that there are moments in our own life when '…we have all been afraid, we have all run away, from the light, wanting more, we forget the love that we're created for…' The encouragement that we are born to 'be' is quite freeing and hopefully life-changing, that as we delve deeper in relationship with Christ, we can show God's love to others, not out of a motivation of guilt or duty, but for the love of God and Christ. Gary's voice and harmonisation with Natalie's is a great highlight, and will hopefully bring in some listeners of Rascall Flats and other country singers, introducing them to Natalie and Christian music along the way. Ending the album with country-infused melody 'In the End', complete with banjo, electric guitars and a southern gospel/country flavour; Natalie delivers a rousing anthem that reminds me of something that southern rockers Third Day or Rhett Walker Band would record. A message of comfort and bold declaration as Natalie invokes the theme of the glorious day coming when '…the sun will always shine, He's gonna wipe away the tears from your eyes…cause we win in the end…'; this is the perfect end to an album that touches on some powerful and emotive subject matter, yet always leaves us in great spirits and lifts us up to moments of certainty, trust and clarity. Recorded at Nashville's Blackbird Studios, 'In the End' is a bold testament of our faith in Christ. Well done Natalie for such a compelling and out-of-the-box song that's one of my favourites on Hurricane.
Overall: Hurricanes, both the physical and metaphorical kind, aren't so great when they suddenly appear in our own lives, sometimes out of warning. Through them, God always speaks, and just like the song 'Whisper', which encourages us to be reminded that sometimes God speaks to us in subtle ways, even when we're looking for the grand, majestic thing to prove to ourselves that He is working in our lives; we are reminded, by that melody and by the album as a whole, that things are going to get better, in our own lives and those around us. Once again delivering melody after another full of powerful hits, Natalie's reputation as a influential songwriter and one of the most prolific and vocally compelling CCM artists of the modern era is all but assured in this album. From first radio single to the last song on the album, Hurricane, despite it's interesting title name, is one to be treasured by any Natalie Grant enthusiast (like myself), or if you are into some great pop, with a bit of acoustic, country, folk, rock and EDM slotted in between. The most musically diverse album she has done in her career, Natalie continues to wow and inspire many listeners, both now and ever since she started her own solo career in 1999. As Natalie places 'personal' front and centre to make this album the most relatable and encouraging album she has done since Awaken (my own opinion), this album will be a great blessing to anyone who hears it, whether they are a fan of Natalie's music or not. Well done Natalie for such an enjoyable album, and one of my favourites within the September/October album release period!
RIYL: Chris Tomlin, Rebecca St. James, Steven Curtis Chapman, Nichole Nordeman
Buy the Album: iTunes/Amazon mp3