Album Review :
Lincoln Brewster - Joy To The World (Deluxe Edition)
By Jonathan Andre in Reviews | Comments closed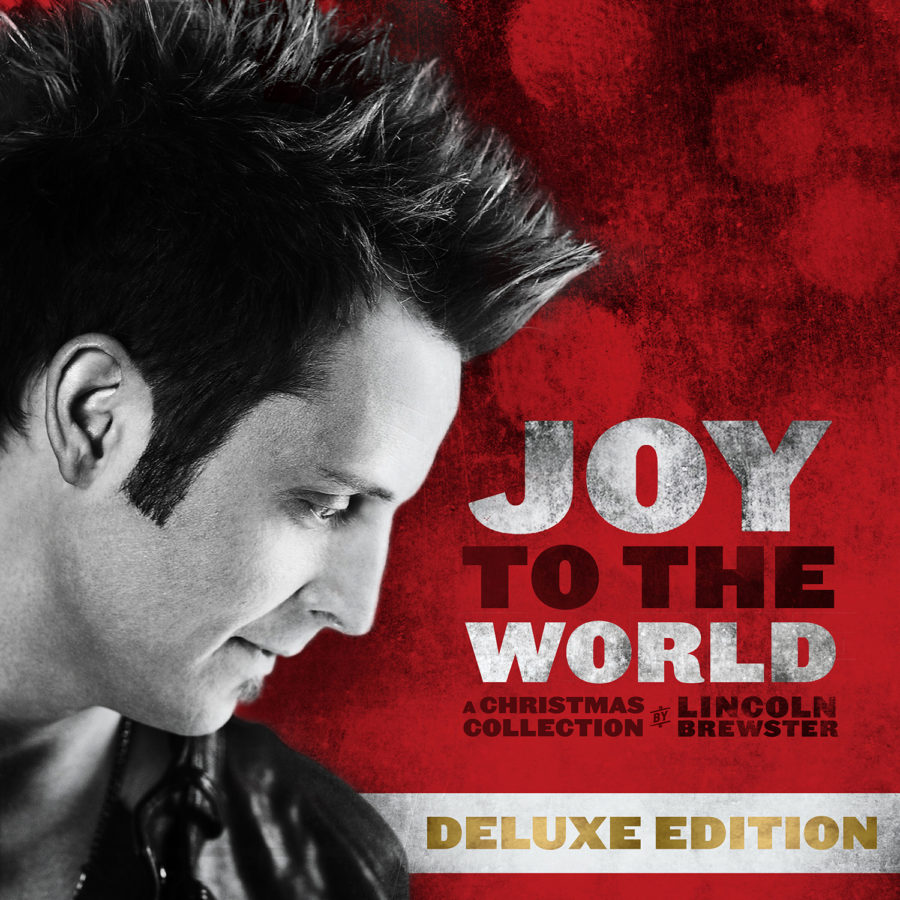 Artist: Lincoln Brewster
Title: Joy To The World (Deluxe Edition)
Label: Integrity Music
Release Date: 11/5/13
Reviewer: Jonathan Andre
Tracklisting:
Angels We Have Heard on High
Hark! The Herald Angels Sing
Joy to the World
Little Drummer Boy (feat. KJ-52)
Shout For Joy
Our God
Miraculum (Instrumental)
O Come, O Come Emmanuel
Do You Hear What I Hear?
O Holy Night (Another Hallelujah)
Silent Night
O Little Town Of Bethlehem
Joy to the World (Live)
Little Drummer Boy (feat. KJ-52) (Live)
Shout For Joy (Live)
Our God (Live)
Miraculum (Instrumental) (Live)
Little Drummer Boy (feat. KJ-52) (Live Video)
Our God (Live Video)
Miraculum (Instrumental) (Live Video)
Famous for his rendition of 'Everlasting God', as well as other chart-topping radio singles like 'Let the Praises Ring', 'Majestic', 'Today is the Day', 'Love the Lord' and 'Reaching For You'; Lincoln Brewster has been one of my favourite worship artists. Infusing such intense passion as he plays his electric guitar with enthusiasm, listeners from around the world are sure to be in awe of his musical ability (personally, he's one of my favourite electric guitarists ever, aside from Stu G. from the now-disbanded worship group, Delirious?); but also of his vibrant and energetics songs, all with a focus of praise and worship. Releasing his Christmas album Joy to the World last year in October (featuring hit songs like 'Little Drummer Boy', 'Shout for Joy', 'Our God' and the instrumental 'Miraculum'); this year Lincoln returns with an expanded edition of the 10 track album, this time including 2 newly recorded carols, 5 live renditions and 3 videos, to extend the tracklisting from 10 to 20. While this album only serves a purpose of being purchased in full by those listeners who may not have had a chance to purchase Lincoln's standard edition of the Christmas album yet, the tracks do remind myself, at the very least, that Lincoln's worship style and presence, both as a singer/songwriter and as a guitarist, is certainly one of the most enthusiastic, passionate and powerful out of all the worship artists around lately. Entering in the same class as Phil Wickham, Meredith Andrews, The Sonflowerz, All Sons and Daughters and Tim Hughes as my favourite worship artists ever (sorry Chris Tomlin, Matt Redman and David Crowder…), Lincoln's Joy to the World is a great album to listen to during this Christmas and holiday season. And while at times it could seem that '…sometimes Christmas music can slip by as festive, and what we're singing about can be marginalized…I wanted to try-as often as possible-to make the music sound like what the lyrics were saying…arrangements that hadn't been done before, a record with a modern edge…', Lincoln does a great job in fusing together elements of pop, rock and rap, leading to an album that still stands tall amidst Christmas albums released in 2013, even though the majority of the recordings were done in 2012!
Featuring 10 re-releases and another 10 new additions, it is a great time to listen to Lincoln's new album, if you haven't already. One of my favourite songs on the album, a song that was once associated with Jars of Clay (the Christmas carol that this Tennessee band is famous for!), 'Little Drummer Boy' incorporates an infusion of regular drum beats with thrilling electric guitar hooks, and though only 2:55, Lincoln and rapper KJ-52 create a gem of a song. Reminding listeners that the gift that we bring to the Lord during this holiday season is rather the abilities and skills that we have rather than physical presents '…I'll play my drum for Him…', a worshipful atmosphere is created as free worship permeates the back half of the song through guitar solos, claps and KJ-52 creating wonderful background rap stanzas. Both the worshipful 'Shout for Joy' and 'Our God' are also standouts ('Shout for Joy' was originally on his 2010 album Real Life, while 'Our God' is a Chris Tomlin cover), with each melody given a Christmas flavouring, and also some added lyrics to commemorate the holiday season fast approaching us. 'Shout for Joy' starts with bells and an eerie keyboard, complete with remix-type percussion loops, as Lincoln leaps into a joyous decree, adding his own Christmas verse- '…o night in Bethlehem, heaven came to man, born the Son of God, sing out the Lord has come, oh Emmanuel, now our God is here with us…', while Lincoln performs an almost flawless version of the Chris Tomlin classic. While it may take a while for us to feel comfortable with the marrying of '…o come let us adore Him…' over the bridge of 'Our God', Lincoln is able to turn this already powerful anthem into one fit for the Christmas holidays.
'O Holy Night', one of my all-time favourite carols, reminds creation of the night '…when Christ was born…', highlighting the song's worshipful presence as he creates a piano undertone filled with an eerily refreshing electric guitar sound worthy of appreciation and admiration. The addition of the chorus of Leonard Cohen's 'Hallelujah' within the melody to create a worshipful sound is a great decision by Lincoln, offering up a worshipful moment where the words '…hallelujah…' are sung side by side with '…fall on your knees…' But the real gem of the album is the instrumental track, 'Miraculum'. Standing at a long 6:20 in length, this melody incorporates carols from 'God Rest Ye Merry Gentlemen', 'We Three Kings', 'O Come, O Come Emmanuel' and 'Carol of the Bells' amongst more to produce a well-polished and anthemic medley of songs worthy of playing in the orchestra. With no words, this tune is a pure example of worship, as even with no words, Lincoln is able to translate a worshipful presence that is sure to touch people who may not have heard about Christ, or not have been that receptive to Him in the past. Add to this carols like 'Hark! The Herald Angels Sing', 'Joy to the World' and 'Do You Hear What I Hear', all with a similar enthusiasm shown through his fantastic guitar work, Lincoln has been able to deliver an album certain to be a personal favourite in years to come. These ten tracks, released last year, have been able to place a modern spin on timeless Christmas carols, creating an atmosphere for praise and worship to occur with a joyous spirit. From rock melodies like 'Little Drummer Boy' to instrumental creations like 'Miraculum', Lincoln's 10 tracks of hope and declaration is able to show the listener the best that the season of Christmas has to offer, with the physical present the precursor to the ultimate present of His presence in our lives.
The first song on the deluxe edition of Joy to the World, 'Angels We Have Heard on High' is the first new studio recording to be placed on the album, and to have it as the first track is something remarkable. And while 'Joy to the World' was a great first song on the standard edition, 'Angels We Have Heard on High' takes the atmosphere of the song and album as a whole towards a next level. Starting off with a light electric guitar riff as Lincoln invites us to declare out '…gloria, in excelsis deo…', a moment where his enthusiasm and passion ignites as we are invited into an anthem of declaration, with Lincoln's guitar and voice boldly declaring in sync God's glory and goodness to all. One of the best guitarists that I know (only bettered by Stu G. from Delirious?), Lincoln delivers a flawless instrumental rendition of 'O Little Town of Bethlehem' as track No. 12, complete with reverbing electric guitars and light guitar sounds that make it almost believable that different string instruments are in harmony on this song, even though when I know that it's just different unique effects on the electric guitar. A soothing moment lasting a powerful, albeit short, 2 minutes 37 seconds; Lincoln continues to assert his competencies as both a powerful singer/songwriter and an instrumentalist.
The 5 live tracks ('Miraculum', 'Shout for Joy', 'Joy to the World', 'Our God' and 'Little Drummer Boy') that complement the studio recordings nicely add in a great element to the whole collection, and whilst each of these recordings are almost the same live as they are studio (with the exception of a crowd), these 5 songs (which are in fact my top 5 songs out of the 10 original tracks) are certainly going to provide listeners with some interest and some great enjoyment, especially if you really enjoy worship and live music like myself. The 3 added bonus videos also provide us with a visual to how Lincoln delivers these songs live, and while the idea of these videos are great, the quality of them sadly do not live up to my expectations of what they would be when I initially thought about how the video clips would proceed. Whilst the music is great, the video seemed to be a little grainy, blurry, with many lights that led to the overall feel of the video to be distracting. Nevertheless, the three videos of 'Miraculum', 'Our God' and 'Little Drummer Boy' still provide us with adequate concert footage, giving us lovers of Christian music who haven't seen Lincoln in concert (like myself) the pleasure of seeing what snippets of the concert could be like.
Overall: If I haven't said it enough, let me say it again just for good measure- Lincoln Brewster is a fantastic worship leader with an expert electric guitar skill. Providing us with equal amounts of passion, enthusiasm, heart, emotion and a worshipful atmosphere in his music; anyone will be blessed by the album. Something for everyone, Lincoln is able to dip his creative hands into the areas of pop, rock, worship and even rap (with KJ-52), delivering a solid album release that continues to assert my observation that Lincoln continues to become one of the most underrated and enjoyable worship artists around, possibly usurping artists like Chris Tomlin in terms of enthusiasm and passion. While Lincoln hasn't done a full-length studio album since 2010, this Christmas album does give us a precursor of what we might hear in 2014! Well done Lincoln for one of my favourite Christmas albums since Third Day's Christmas Offerings and BarlowGirl's Home For Christmas!
RIYL: Chris Tomlin, Phil Wickham, Tim Hughes, Paul Baloche
Buy the Album: iTunes