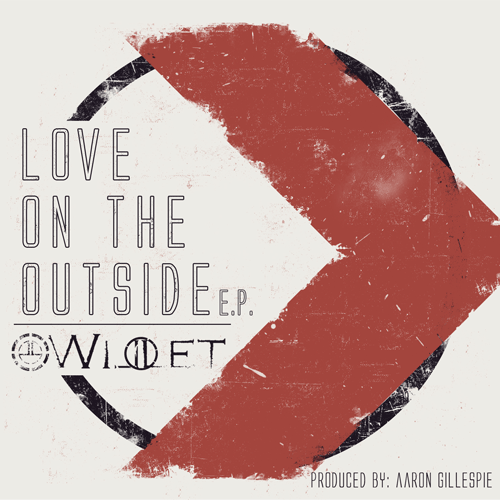 Artist: Willet
Title: Love On The Outside
Label: independent
Release Date: 4/3/12
Reviewer: Jonathan Andre
Tracklisting:
Love, Love, Love
Disaster
Love on the Outside
You are Not Just Holy
Death By Surprise
The Hungry
Comprised of three brothers Jeremy, Justin and Jordan Willet from Maryland, this 3-piece independent rock band have released their independent record Love on the Outside, produced by rock/worship enthusiast and The Almost frontman, Aaron Gillespie. Sounding similar to Aaron himself as well as Michael Barnes from RED, Jeremy Willet and his brothers deliver a worship rock EP with an independent sound, and a certain purchase if you love indie rock and worship. Reminding listeners of how the love that we have found in Christ isn't for us to keep to ourselves and that '…till the whole world hears, we're gonna love, love, love on the outside…' ('Love on the Outside'), Aaron Gillespie has lead this trio of rockers straight to my anticipated list for albums in 2013 after their successful Kickstarter fundraiser throughout 2012. Though only listening to this album because of Aaron Gillespie's involvement, I'm glad I have, because with a hopeful major record label signing (BEC Recordings, same as Aaron?), or even without, Willet are certain to shine in 2012 and 2013, with these 6 songs beautifully crafted to show us how to show Christ to this broken world, and to give a real and honest portrayal of life, its struggles, and the joy that comes from knowing that Christ has conquered it all with His death and resurrection. With this album certainly one of my favourite EP's of the year, Willet's rise to become one of my personal artists to watch in 2013 has led this album to become one of the most underrated indie rock/worship albums of 2012, as we are encouraged and reassured that '…if this is good news, we have to let it out…' ('Love on the Outside').
Starting off with the 1 minute song 'Love, Love, Love', this acoustic melody is just as powerful as the 6 minute track 'The Hungry', with 'Love, Love, Love' reminding us through the hand claps, eerie keyboards and layered percussion that we ought to '…love, love, love, love on the outside…', and though a simply penned lyric, it is beautifully poignant as we realise that as Christ's ambassadors on Earth, our actions and lives ought to be Christ within us, working through us as we show the world the transformation He has made in our lives. The title track 'Love on the Outside' expounds upon this in this guitar driven song that almost sounds like something heard from a Kutless album from first listen. At times sounding similar to Aaron Gillespie and independent artist John Waller, Jeremy Willet gives us a clear reminder through grunging guitars that '…He parted ocean waves with the words of His mouth; He made water flow from a rock during a drought…' Such wonderful feats that demonstrate God's wonderful power and majesty, we are encouraged by this emotive and powerful song to break out of our comfort zones to help and assist those in need, even if we may feel slightly uneasy about what lies ahead. The notion of shining our light is certainly evident throughout the album, yet especially on this track. Jeremy has been able to craft a passionate title track that calls us Christians towards a calling that doesn't stop '…until the whole world hears…' Well done Willet for such emotive songs full of determination and perseverance.
As Willet leads us through the remainder 4 tracks on the EP, the lyrical poignancy, hopeful promises and worshipful prayers lead me to marvel at the talent of the band, and also to soak in the encouragements given through these songs. 'Disaster' starts off with a gruging guitar reminding me of a song by hard rock band RED, and as Jeremy starts reminding us that '…whatever disaster, will try to destroy, whatever disease may come, we know that God is love…', we are drawn into a moment of encouragement that Christ's love will envelop everything we have done or will do, and our decisions and consequences don't bring us closer or farther away from Him. Willet also tackles surrendering to Christ in our moments of weakness as we long for Him to '…be my life, when death takes me by surprise…' ('Death By Surprise') as well as opening up our homes and hearts to the hungry, hopeless and hurting and understanding that as we respond to those less fortunate than us, it's like we are responding to God Himself ('The Hungry'); but it is the heartfelt worship single 'You are Not Just Holy' that sums up what this album is truly about. Starting off with an acoustic riff and Jeremy declaring that '…as long as I live, there will be praises upon my lips…', I am myself personally challenged by Jeremy's words, as we fully grasp what it means to praise God in all circumstances. With the song moving along to the chorus and Willet declaring God's holiness, listeners are drawn into an understanding that God is holy beyond understanding and for His matchlessness, His praise and adoration is the only fitting response we can give to such a sacrifice as His. Certainly one of my favourite songs on the album, 'You are Not Just Holy' is a constant reminder of God's faithfulness and amazing love for each of His creation.
Overall: Willet has engineered an album worthy of listeners to purchase if you enjoy independent rock with a worshipful focus. Aaron Gillespie producing the record is just a bonus- with his producing the album the only sole factor in listening to Love on the Outside. Recently funded in their kickstarter project, a new album on a record label in 2013 is a given for these men from Maryland. One of the EP's that has certainly caught me by surprise this year, the album full of hope and heartache, pain and praise is a great avenue for worship and reflection, contemplation, comfort and even confrontation as we soak in the wisdom that this band has to deliver. With such honesty that some songs can feel so telling and dig deep within ourselves to the places we may not want to open up to, Love On the Outside is a beautifully constructed album, leaving Willet with great music potential in 2013. A tremendous job from a band that is certain to garner praise next year. Well done guys on an album well done!
RIYL: RED, Jars of Clay, Aaron Gillespie, The Almost
Buy the Album: iTunes/Amazon mp3