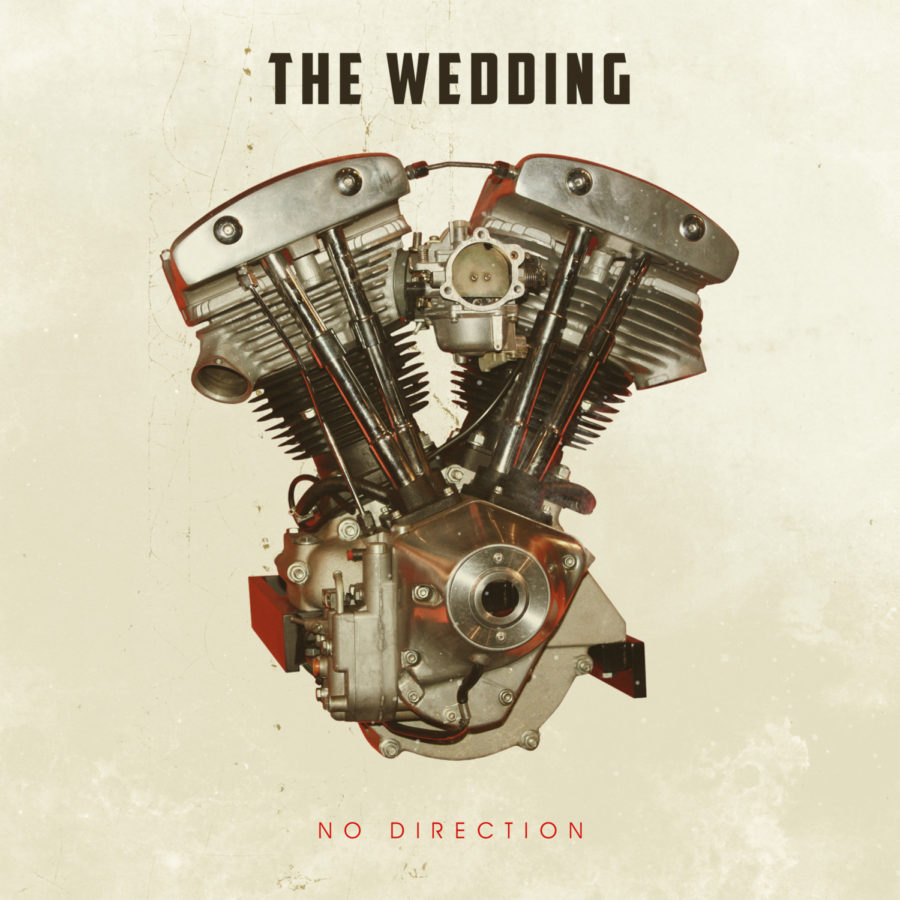 Band: The Wedding
Title: No Direction
Label: Tooth & Nail
Release Date: September 25, 2012
Reviewer: Jessica Cooper
Track Listing:
No Direction
In The End
The Lesser Worth
The Raconteur
Hang On Love
The Wildest Ocean
Mors Tua Nos Vita
Kill Any Excuse
Heartbreak In Melody
Don't Let Me Down
Young And Dangerous
Distance And Resolution
One thing is for sure: this band is dynamic as all get out, and so diverse when it comes to changing their sound. They stay true to roots when it comes to certain aspects of their writing, but the fellas of The Wedding know what people are looking for, and totally have the talent to keep an audience entertained. No Direction is a breath of fresh air after several years without a full release, and once again, they've nailed it.
This album is packed with the familiar energy that has resonated throughout the band's history, despite several member changes and difficulties with record labels. I've witnessed firsthand how hard they work to accomplish the mutual dream of "making it" in the favored world of Rock 'n' Roll. No Direction contains solid and hard-hitting, rhythmic bass lines, melodic chord progressions, and drum cadences fit for any circle pit.
With such factors coming in to play, it's tough to decipher a clear comparison between everything the band has put out over the years, but this is definitely one for the books. There's a lot of tempo change on this album that reflects the energy that the band exudes. The music has changed and evolved over time, but still resounds the comfort of punk and rock influences that the guys have formulated their style according to. The lyrics are something that I believe everyone can relate to, enjoy, and remember, and that's because they've had some incredible blessing when it comes to the gift of story telling and poetic devices within the realm of song writing.
If you've been in a touring band or know anyone who fits that role, you know that the life of a traveling musician is centered around a vagabond state of mind, couch surfing included. I understand that concept on a more personal level, and I find myself often mirroring the emotions of songs about homelessness, in every form of the word other than living in a cardboard box under a bridge. The album's title track "No Direction" portrays that in a pretty solid way:
"I cut ties, batten down the hatches / I've spent too much time and action / On this static gold / Oh it's all just static, don't lie / I've been working on a destination / Cross town, cross state, cross the nation / I just wanna go where you wanna go now / Who you gonna be now, who you gonna be? / Who you gonna be now, who you gonna be? / I've got no direction / I said I've got no direction."
Then there's the feeling of spiritual homelessness that becomes more prominent the nearer one draws to God. "The Lesser Worth" more than touches on this subject in a pretty blunt manner:
"Not America / Not the place I love / Not a mountain top / Not a setting sun / I find no comfort here / Not America / Not the place I love / Not a thousand peaks / Not a thousand stars/ I find no comfort here for my soul."
The rest of the album presents perspectives on rising for a cause ("The Raconteur"), enduring troubles ("Hang On Love"), owning an identity ("Young and Dangerous"), the irony of dissatisfaction ("The End"), and the desire to belong ("Don't Let Me Down").
"Can you brave the worst of my love? / Be the ones who testify, not the ones who've given up? / If you wait till stars align, you miss the cry / For history does not bend or ever break towards you and I." – "The Raconteur"
"If you're tired, love, rest your head / If you're lonely, dear, we'll be your friend / And when life goes down and all you know / Is torn from us and feeling low." – "Hang On Love"
"They said that we were dangerous / Yeah, they said that we were told / And they said that we would break our necks / If we yell to sing another song / So come on." – "Young and Dangerous"
"We beg for love, but all for none / We praise the light and curse the sun." – "The End"
"I've been trying / To keep all the weight off / You and I both know / You're just fighting / This time just stay where you are and let me be yours." – "Don't Let Me Down"
Through all the jumping around and party rockin' I've done during The Wedding's performances, I'm glad there are tracks like "Mors Tua Nos Vita" in the middle of the album that allow listeners to enjoy the gorgeous vocal capabilities of The Matt's, Adam, Cody, and Trevor. Plus, though Latin is a dead language, it still has a resonance that remains heavy. The title of this track translates to "your life is the death of us" and reflects scriptural evidence of Christ so well.
"Come all you dead / Let your heart break / Come all you dead / Let your heart break / Oh, my God, how bright the sun, it falls on us / Mors Tua Nos Vita." – "Mors Tua Nos Vita"
If you kept up with the band over the last couple years since Polarity, "Heartbreak In Melody" is a familiar track to you, from The Distance EP. Simply put, the song conveys playing music as an addiction:
"No silence could heal the soul / I won't give in, I won't let it go / I just can't get enough / Heartbreak in melody / It's such a tragedy / It's how we live it up, you know we can't get, get enough / Heartbreak in melody / You know it's killing me / That's how we live it up, you know we can't get, get enough." – "Heartbreak In Melody"
Overall: I know I spend a lot of time on lyrics, but I hope that helps you understand how fantastic this album is in every aspect, composition included. This band is successful because of their originality, high energy, and writing capabilities, and No Direction is a standard testament of that. The Wedding is the #1 reason I pride myself in being from Arkansas. The effort they've put into creating something for a large amount of people to enjoy as a result is proof that The Wedding means business. Do the noble thing and catch it on iTunes or pick up a hard copy where major releases are sold. It's totally worth your money.
RIYL: Relient K, Letter Kills, Number One Gun, Anberlin, Blindside, The Almost, Spoken, and House of Heroes.