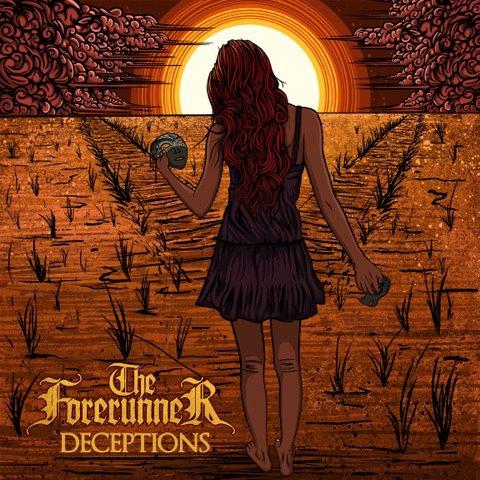 Artist: The Forerunner
Title: Deceptions
Label: Red Cord Records
Release Date: 4/24/12
Reviewer: Taylor C.
Tracklisting:
Courage & Faith
Crimson Stain
Excuses
To Those Who Walked Away
3/12/09 (The Day I Lost My Dad)
Constant Battle
Freedom
We Are Not The Enemy
I Surrender
Offering
Have you recently had a conversation about the monotony in metalcore nowadays? Well, other than looking for better conversations (or a better conversation partner), you need to check out The Forerunner. As time goes on, it is growing increasingly difficult to distinguish one metalcore/hardcore band from another. The vocals, the drums, the riffs, and the breakdowns all sound the same because the vast majority of bands seem to be generic clones (clowns?) of their predecessors. Honestly, I'm not a big metalcore fan; however, there is something about The Forerunner that doesn't turn me away, and there is something about the album Deceptions that proves that metalcore/hardcore can still be entertaining, uplifting and enjoyable. In short, this album surprised me.
The Forerunner is a five-piece metalcore/hardcore outfit that spawned in the city of Las Vegas and was recently signed to Red Cord Records in 2011 (making this their label debut). Deceptions is not a perfect album by any means, but I hope to do it justice by pointing out both the positive and negative factors for potential fans.
Starting with the positives, the first and most significant aspect that I noticed about Deceptions was the pure energy that radiates from every song. I don't care if it is country music or death metal, if an artist is passionate about what they do, it reflects in the music and makes it all the more listenable. Secondly, the variety and enunciation of the band's two vocalists is insanely refreshing. With a wide range of throaty highs, bellowing lows, hardcore-punk yells, gang vocals and choir bits, there is never a dull vocal moment in the entire album. There is also an equal amount of musical diversity that individualizes every track. The drums are great, the breakdowns are used carefully, the riffs are catchy, the solos are impressive, and the songs themselves range from moments of head-banging battle anthems to chilling pieces that are more placid in tone and pace.
The negative parts of the album (what few there are) may or may not be considered negative depending on the individual listener. Personally, I found some of the lyrics to be cliché. The more Christian albums I listen to, the more I realize that most writers, at some point, give in to the temptation to use common phrases like "broken chains" or being "slaves to the world." It may be a personal pet-peeve of mine, but well-known phrases are always going to make the lyrics a bit stale. Secondly, getting dangerously close to sounding like filler, the song "3/12/09" ends with nearly two minutes of random guitar and ambient sounds while someone talks. The words spoken are especially emotional and heart-wrenching if you know the story behind them, but after listening to the album several times, I found myself skipping it. Lastly, I'm not a big fan of cleans if they don't bring anything special to the music; as a result, some of the singing parts of Deceptions, while not necessarily hurting the album, often seem out of place to me.
Another positive part of this release that I think is worth mentioning is the final track, "Offering." This is a five minute instrumental that listeners, depending on their taste, may or may not enjoy. It contains some beautiful acoustic guitar-work mixed with piano and drums, all of which repeats and slowly escalates in tempo before fading out. Eventually, after about a minute of silence, you might have the everlasting crap scared out of you by a fun, chugging hidden track that ends the album on the same energetic note that it began with.
Overall: Clocked at a perfect time of 39 minutes, Deceptions is a great release for fans of metalcore/hardcore. While playing a type of music that is infamous for its monotony, The Forerunner manages to use their amazing talent to form a sound that is both characteristic and unique to the genre. I haven't enjoyed this type of metal in a long time. Buy it on iTunes here.
RIYL: Call To Preserve, Debtor, For Today, Gideon, Jawbone, MyChildren MyBride, Onward to Olympas, Saving Grace, Sleeping Giant, and any other hardcore/metalcore bands.