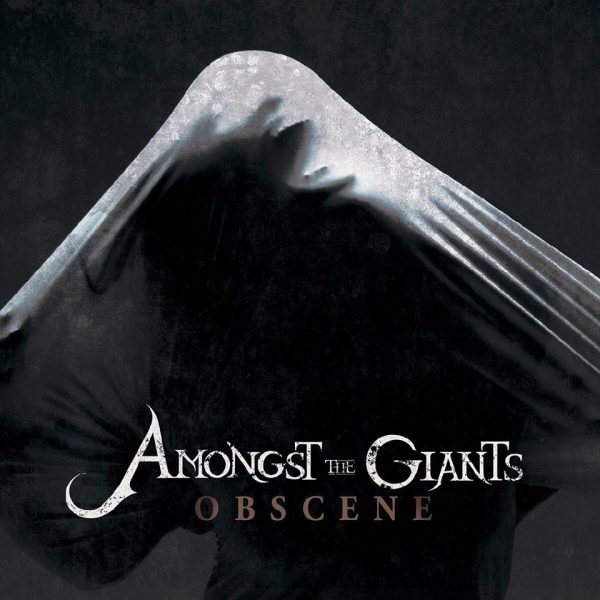 A while ago, I remember hearing a small snippet of a track from a band I would later find out was Amongst the Giants; just a few seconds in length really, but based solely on that, I already had high expectations of what was to come and was eager to hear more. Then, in April, that "more" came in the form of the bands first single, "Lost In Translation" and my expectations rose even higher. So, when the time came, and it was announced that the debut album, "Obscene" would have a November 16th release date, it really felt far away. But, as it often does, patience would has its rewards.
From beginning to end, "Obscene" walks the line of hard rock and metalcore, more often than not, lending itself to the latter. Metalcore has long been a genre with a large fanbase, but over the past few years fans seem to have begun to grow impatient with much of what is released today, and understandably so. While the genre is loved for its sound and style, it isn't uncommon to hear it said that it can often be redundant, predictable, or feel as though it's been written/performed apathetically, with less and less standing out these days. Breakdowns? Whiny clean vocals? Chug chug? Yep…unfortunately, there are fewer and fewer bands out there today who seem to stand out, break the mold, or make quality metalcore; Amongst the Giants, however, is certainly one that does.
"Obscene" is an album that is a breath of fresh air in a scene that could really use it. With vocals that I'd stack up against just about anyone out there today (both screamed and clean), inventive, well-executed riffs, and some pretty crazy leads, I pity those who sleep on this.
The opener for the album, "Hollow" is a great song to kick things off with. It sets the pace well and features just about everything there is to love about the band's sound. The clean vocals compliment the screams perfectly and evade the higher pitched, nasally whine prevalent many bands today. These are some really great vocals and fill the track with the feeling of frustration that comes with striving for living better and being held back by human weakness; something we can all identify with.
"Lost in Translation" and "Too Late" are tracks many of us may already be familiar with, since they were the band's first singles and they certainly shine, but choosing which tracks to use as singles off of this album must have been a pretty challenging task, with so many great cuts to choose from. No matter where you find yourself on this album, it feels like you're always thinking to yourself, "Oh awesome, this part again!". And I say "again" because you will most certainly find "Obscene" on repeat for some time.
One of my favorite tracks, "The Judge", deals with the hypocrisy of the "holier than thou", judgmental lifestyle. If you don't immediately see out of control pits in the back of your mind in the closing line of the song ("Who are you to judge me?), you have the wrong song on.
The album's title track, "Obscene" features a guest spot by labelmate Zahna, whose vocals are just a perfect fit here. On my first listen to the album, my ears just perked up when it came on because of the sharpness of the scream and the flow of it. The guitarwork is especially enjoyable here as well, making "Obscene" one of the stand out tracks of the album.
I honestly can't find anything to dislike about this release. If I had to offer anything remotely in that vein, it would be to say that whether in the recording or mixing process (more likely mixing) the guitar tone sometimes is a little more produced and not as raw as I typically like, making it feel a little restrained. Even that though, is reaching a bit, in my opinion.
In so many reviews out there, most of us who write them will often make comparisons to other bands out there in the same genre. With these guys, there are a number of bands I can hear at various times, but none of them stand out as being a real "these guys sound like (insert band here)". They're certainly their own beast, though if forced, I can hear parts and sounds similar to bands such as Oh Sleeper, Inhale Exhale, August Burns Red, etc. But in general, for the hard rock, metal, metalcore fans out there, this is one album that will absolutely not let you down. If you were to look across the majority of my reviews, you'd note how rarely I give perfect scores, and that's because when I do, I really want it to mean something and not give them out lightly. Amongst the Giants however, have forced my hand here with an incredible debut album. I'm really eager to see what the future holds for these guys. Something tells me they're just getting started.