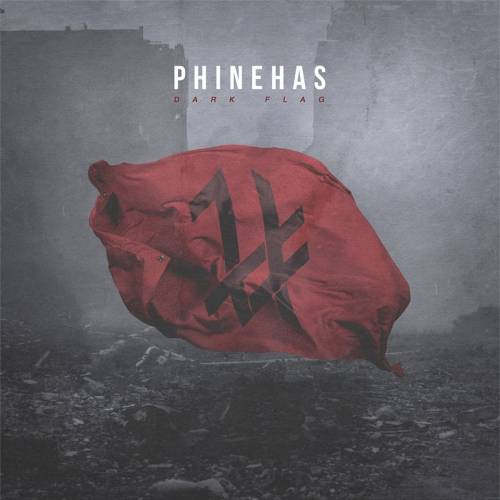 You probably didn't realize it, but Phinehas has been around for nearly 18 years. Although they only rose from obscurity in 2011 with their debut album Thegodmachine, Phinehas has now put out another reason why they are becoming the giants in the genre.
Freshly signed to Solid State Records, the California metal band puts out their most technical and stunning release to date. Dark Flag is a concept album that doesn't necessarily tell a story, but follows a theme of struggle in a violent and oppressing regime. The album doesn't take its time with a long drawn out intro filled with ambient sound effects. The title track kicks off the LP with adrenaline and flash. Vocalist Sean McCulloch screams, "I looked into darkness too long, now it stares back."
With this first track, there are two things immediately apparent to the listener. Firstly, the production is crisp and perfect for the style. The mixing is well done too; there are no vocals or instruments that get lost in the mix, or sound muddy. Secondly, if the band can keep up this quality of music throughout the rest of the album, we're looking at an album that will soon be up on the same level as the greatest in Christian metal.
No song on the album is predictable. There's no over-reliance on redundant breakdowns, and almost as importantly, the guitar solos and shredding aren't placed in the songs just to put them in there; they sound like they belong there, and advance the track into greatness.
Phinehas has also achieved the ability to have impressive clean vocals with considerable range without falling into any whiny or annoying territories. One of the most inviting parts of Phinehas throughout their discography is that McCulloch's screams can be understood without looking at lyric sheets. There's something to be said to be able to hear throat shattering screams and still understand the words, rather than a gurgled mess.
The emotional level of the album is deep and profound. While the album is dark, it's not typical in its words. There is endless imagery and a quality of writing that showcases a truly talented lyricist. Examples – "When light can't reach into shadow, how can we be found? When light can't speak into me, it's trapped in-between hell and myself." – Dark Flag. "If all it takes is a voice to lead, rise up Moses and teach me to speak. If all it takes is a mustard seed, I'll trade my heart to move a mountain in me." – Break the Earth.
A War that Never Ends breaks the album up in a slow and ambient fashion. The song speaks of families in North Korea living in poverty and terrible conditions while their leaders profit from it. It's a popular theme in the album, however it hits harder here because of how it's delivered. The addition of Haste the Day's Jimmy Ryan on Communion for Ravens adds further anger and emotional depth with his aggressive high pitched screams.
Meaningless Names is intensely sad song of a person jailed for life in the oppressive state. The track explodes into the words, "I am waiting to die among a swarm of flies. Every day is a lifetime in chains, every day. Hold fast to hope of another day. Hold fast it can't last forever. The meaningless names of far off places. I have to believe something better awaits. I have to believe. I have to believe."
What Phinehas has crafted here is a masterpiece; a masterpiece the metal world has been waiting for. The rollercoaster of emotions and feelings throughout the album on top of some of the most impressive musicianship from all members places this album as a crowning achievement.
RIYL: August Burns Red, Silent Planet, Inhale Exhale