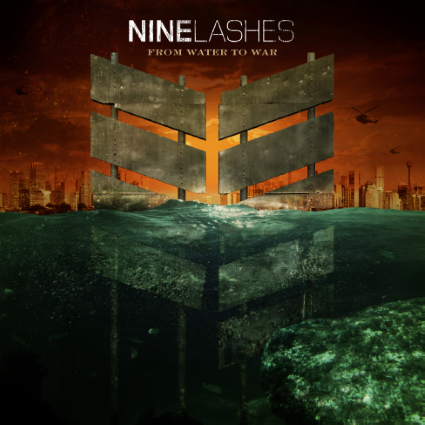 Artist: Nine Lashes
Album: From Water to War
Label: Tooth and Nail Records
Release Date: 01.21.14
Reviewer: Lee Brown
Track Listing: 
Never Back Down

Break the World
Where I Belong
Lights We Burn
Surrender
Fear and Shadows
Die in the Dark
Light it Up
Love Me Know
Cover Your Own
When I first heard of Nine Lashes (prior to their last album), I was excited because they seemed like a band that would combine all the right elements of RED, Thousand Foot Krutch, and Since October in a new and exciting way. The band had the right look, the right initial buzz, and the right branding in place to make a big splash. What I found, unfortunately, was an experience that adhered to the lowest common denominator of each of these bands in overly predictable ways and rapidly just became noise to me. Thus, I was left unsatisfied and quickly let their music move into the obscurity of my overly crowded iTunes library, never to be seen or heard from again.
So, when From Water to War was announced, I was less than enthusiastic to dive back in to what the band had to offer. Even worse, my initial listen to "Never Back Down" seemed to reinforce that the band was still just a knock-off of RED and TFK, perhaps with just the slightest hint of Family Force 5 thrown in to the mix. However, as the album began to unfold and after multiple listens I was pleased to find growth and expansion into new sounds that were more than capable of delight and that deserved more than one listen.
As the experience unfolded, I found that From Water to War, though still holding a slight RED sound as an initial framework, was an evolution that incorporated much more diverse influences (which seem to include Fall Out Boy, The Classic Crime, and maybe even mixing in Tenth Avenue North or the new Newsboys) and slight but meaningful embellishments (such as some EDM thrown in). More importantly, I found that after repeated listens to the new album, I was finally a fan. Though the experience is still sometimes a slave to (what I perceive to be) its influences, From Water to War is a solid album that had me excited to come back for more.
Album Breakdown: The album begins with "Never Back Down." As mentioned, this song is so close to RED in effect that it would be easy to mistake one for the other. The song itself is serviceable as an anthem and has a great message to it. It brings a nice even keel in terms of power and aggression, but is also still definitively in the "radio friendly" category. The message of the track is about not backing down from the darkness that surrounds. Again, it feels like a RED song from start to finish.
"Break the World" follows the initial sound established in "Never Back Down," but also slowly begins to work in some of the more diverse sounds (specifically the EDM flourishes) that take the album away from too much of a RED comparison. From a flow perspective, coupling these two songs provides a nice way to ease from one sound to another in an organic way. "Break the World" focuses in on breaking away from the world around and into the light of Christ.
"Where I Belong" continues the descent away from the hard rock meets grungy piano sound and into a more distinctly dance/EDM influenced pop-punk sound that begins to permeate the majority of the record. "Where I Belong" is a dance/ballad that focuses on Christ's redemption moving from where we fall to "where we belong" in Him. The electronic flourishes then bleed nicely into "Lights We Burn," which marries the rock and pop-punk elements together into what could be called a masculine version of Icon For Hire's sound. The song focuses on the "lights we burn" for others and how they often leave us cold.
"Surrender" is the first song that cleanly ventures into more of the traditional ballad to God and would meet the Tenth Avenue North/Newsboys comparison above. This is a soft-rock radio friendly track that brings a quiet but perceptible passion for God with it. I found this to be one of the strongest tracks on the album. It is the type of song that fits in my "Love songs to God" playlist so well. But, don't just take my word for it:
"Fear and Shadows" follows strongly with another pop-punk anthemic track that explores the aspect of seeking God through the shadowlands of this world. In terms of quality, "Fear and Shadows" builds off of "Surrender" and furthers the intensity back towards a more (slightly) hard rock sound. It certainly is another highlight track on the album, however the comparisons to (sorry… once again) RED's softer ballad songs is undeniably strong. Though the vocalization is different, the meter and pattern is very strikingly similar.
"Die in the Dark" follows the darkness/shadow imagery into a more cleanly hard rock track focused on being lost in the mire and needing God to "save me, (it) feels like I'm falling apart." Sonically, "Die in the Dark" returns to the sound of the first track and includes a breakdown that could easily be pulled from any RED track. Overall, "Die in the Dark" is a pretty engaging song and it has a great "reaching out to God" feel about it.
Following the imagery pattern, "Light it Up" provides a nice turn from the darkness focused on in the previous set of tracks. Moving from that darkness, "Light it Up" works as another anthemic track that will likely be a great live song. In terms of musical pattern, it adhere's more closely to TFK's stylings and focuses heavily on the drum beat that sets the tone across the track before launching into some heavier screams.
"Love Me Now" begins with a piano ballad feel before breaking into the most heavily EDM/pop influenced track on the album. The phrase "could you love me now, are you out there?" becomes the backbone of the theme/message of the track as it reaches out to God in broken submission. It is also nice that the band points directly to Jesus Christ as the one who breaks through the mire in a very catchy moment that will draw the listener in.
The album closes with "Cover Your Own." Thematically the track does its job of closing the album's lyrical threads and musical stylings into its apex point. The vocal stylings on this track are engaging, the questioning fits the tone of the track, and the musical depth is nicely balanced. "Cover Your Own" is a strong track and, as such, it leaves the album on a hight point.
Musicianship: Nine Lashes is a talented band. They have a good core sound about them and they show skill on the guitars and the drums alike. Where I fault them (as you can see clearly above) is in those areas where I feel they are a slave to their influences. Most notable among these seems to be RED, where several tracks feel like they would fit on any of the last three RED albums with little problem (save for the vocal differences). Though, in my opinion, this album is a great improvement over their last album, I would love to see the band form more of a distinct sound on their next effort.
Lyrical/Spiritual Content: The lyrics, though vague in places, are fitting with the themes and tones the band is going for. There is a nice progression into darkness and a nice jarring exit from it (with "Light it Up). The album engagingly addresses the problems of the world without sounding "emo" or distraught. Underlying each track is a hope clearly found only in Jesus Christ.
Lasting Value: As I mentioned, Nine Lashes' previous (T&N debut) effort quickly found its way into obscurity for me. Though I was excited for the band and their sound, it never landed with me the way I anticipated it would. With From Water to War I found a much more engaging experience that, though still defined by its influences, is enjoyable and grows on you with each play through. Though I am not in the future to say for sure, this album feels as though it will stick around quite a bit longer in my playlists.
Overall:  Nine Lashes brings some new and diverse sounds to their sophomore Tooth and Nail effort. On the whole, From Water to War is a solid rock album that moves between harder and lighter moment and makes comfortable use of some EDM embellishments. In terms of musicianship and overall enjoyableness, this is clearly a step in the right direction. However, the album does still feel like it is too much a slave to its (perceived) influences throughout. I am excited more than ever for where Nine Lashes as a band is headed, I simply hope they distinguish themselves a little more with their next project.
RIYL: RED, Thousand Foot Krutch, Fallout Boy, The Classic Crime, Since October, Skillet