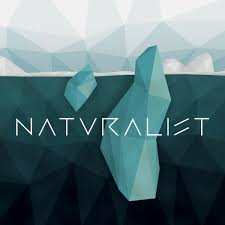 Artist: Naturalist
Title: Naturalist EP
Label: unsigned
Release Date: 06/14
Reviewer: Scott Swan
Tracklisting:
Stay

Prophets
I Was Happy Here
July 10th
Today, I was thinking about what music means to me. This gift that God has placed in our lives that is sometimes difficult to fully understand. It's often my therapist, my sounding board, and a source of inspiration. It's also my way of relating to another human's feelings and pain, a way to connect to a songwriter and walk in their shoes for a bit. When this happens, it's a beautiful thing. You just get a deeper understanding, in a way that simply reading a newspaper article or listening to an interview could never portray. This brings me to the debut EP released from the Oklahoma band, Naturalist. As they scream out songs dealing with love, faith, and tragedy, they so neatly set an atmosphere that creates this place that is full of internal reflection and emotional release.
This first tune "Stay" is a perfect example of this. A gentle groove started by the opening drum beat and relaxed guitars that create a somber, mournful mood. When lead vocalist Ashton Prescott come in with the vocals, you can really feel the pain in screams. It's a very reflective, solemn track dealing with losing love and all those connected emotions. These guys are not unfamiliar with loss, in May of last year their hometown of Moore, Oklahoma was basically destroyed by an EF5 tornado. Which seems to intensify their anguish in what the are going through here, but at the same time reaching out for that very love to be their anchor and hope.
Up next is "Prophets." Speaking some tough words to preachers and ministers who are only in it for the profit. "A nickel for forgiveness but a penny for your thoughts./I am my grandfather's only one. I am my grandfather's only son./The words Jesus preach us echo down my spine./I wonder if the world can hear his words." Pounding drums, chugging guitars, and mixing tempos set the music here. Then, a calming comes when the above line is sung, not screamed. I would be interested to hear the guys expound on some the lyrics is this tune, not sure, but it's almost like they have someone very specific in mind while belting this one out.
"I Was Happy Here," is not exactly a perky, pick me up. I desolate sounding tune, in which you find the songwriter reaching out for purpose and especially for love. The band does create some nice bass driven grooves during the softer portions of the song, which I found quite pleasing. You can hear the hurt and searching in the vocals, with the idea that the current mess was more self inflicted than anything.
This "groove underneath the screaming" is continued on the finally track of this EP, "July 10." This is a song that seems very personal to the guys. It focuses on police brutality. There are even a few news clips interwoven in the song regarding specific incidents. I have a lot respect for cops as a whole, and some of the language is hard for me to take. But, it's apparently a topic that really hits home for this band. Maybe they knew somebody that was beaten; a family member, friend, other loved one. If it happened to me, I might feel the same venom expressed here as well, I don't know. But either way, it's a awful thing to happen to anyone. Not a subject I have put much thought into, but maybe I will now.
Overall: I really enjoyed the musical backdrop that often provided an interesting contrast between the lyrics and rhythm. I wish lyrically there were a few more answers, but hey, maybe that's were they are right now, searching for them. The guitar work was fantastic on this record, I found myself wanting it to be more out front. Maybe it's a production thing, but I was yearning to hear that groove that seems to be constantly in the background to be more prominent. Nonetheless, I believe this EP to be a thought provoking post hardcore effort, that brings a lot of emotion and musical promise. By the way, you will be able see these guys out on tour this summer with Embers and Ashes starting July 11.
RIYL: Oceanspeak, Attalus, Everything in Slow Motion