Album Review :
Martin Smith - God's Great Dance Floor Step 01
By Jonathan Andre in Reviews | Comments closed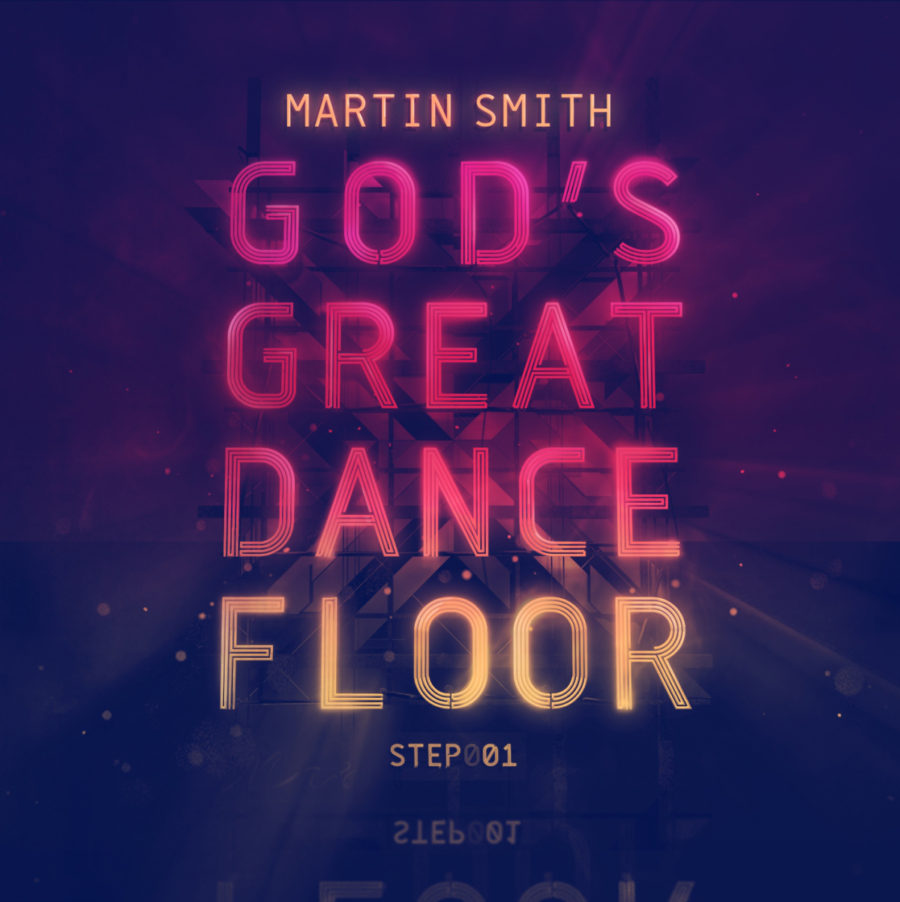 Artist: Martin Smith
Title: God's Great Dance Floor Step 01
Label: Integrity Music
Release Date: 4/23/13
Reviewer: Jonathan Andre
Tracklisting:
Awake My Soul
Fire Never Sleeps
Back to the Start (God's Great Dance Floor)
Waiting Here For You
You Carry Me
Safe in Your Arms
Onward Christian Soldiers
Jesus of Nazareth
Catch Every Teardrop
Shepherd Boy
Delirious? are one of my favourite worship bands. Ever. Period. Even though they are currently retired after playing their last concert as a band at the end of 2009, their songs like 'History Maker', 'Did You Feel the Mountains Tremble', 'Majesty', 'Rain Down', 'Deeper', 'My Soul Sings' and 'My Glorious' are still some of my favourite worship melodies of all time, with lead singer Martin Smith, guitarist Stu G. and the rest of the band delivering some of the most celebrated, respected, revered and covered songs, ever since they released their first album The Cutting Edge: 1 & 2 in 1994. While it was an amicable decision to split up the band (with Stu G. now currently involved in One Sonic Society, drummer Stewart Smith running his own graphics company, and keyboardist Tim Jupp a conference coordinator, helping out at the annual Big Church Day Out's in Britain); their absence from the music industry have certainly been felt since their departure late last decade. Therefore, upon hearing that Martin Smith was about to embark on his own solo career after writing a bunch of songs led me to be intrigued to say the least. Not that I think that the band split up because Martin wanted a solo career (quite the opposite I reckon), in a similar way to Peter Furler- solo artist and previously the lead singer of Newsboys, I'm sure that Martin's continual music writing after the band split was a growing factor into pursuing a music career again. Now releasing his first set of 2 EP's as a collection of 10 songs (the first 2 EP's of 4 songs each plus 2 new recordings) in the U.S. on iTunes after releasing his 4 EPs titled God's Great Dance Floor Vol. 1, 2, 3, 4 to download on his website throughout 2012-13; Martin's first digital album feels like Delirious? never left, as we soak into the poignant song writing and heartfelt messages delivered to the listener through these upbeat and mellow tracks of reflection. From the upbeat 'Awake My Soul' to the ever-hopeful 'Waiting Here For You' (made famous by Christy Nockels on Passion: Here For You) and the popular 'Fire Never Sleeps' (covered by both Jesus Culture and Audio Adrenaline on Live from New York and Kings and Queens respectively); God's Great Dance Floor Step 01 is sure to relay the crucial message of joy and dancing as we delve into Christ and can't help but rejoice and let out a shout of praise, dancing before the Lord in reverence and awe. One of my favourite worship albums released this year (although most of the tracks were recorded in years previous), Martin's presence within the April 2013 album lineup (as both a solo artist and as the face of Delirious?) is sure to bring in fans of both Martin's solo work and fans of the British band, perhaps, the best British worship band ever! Full of enthusiasm, life, hope and comfort; these 10 songs are certain to remind us that '…You are everything You've promised, Your faithfulness is true, we're desperate for Your presence, all we need is You…' ('Waiting Here For You').
'Fire Never Sleeps', recently covered on Audio Adrenaline's Kings and Queens, is one of my favourite songs on the 10 track album, and certainly one of Martin's best songs I've ever heard since 'Majesty' back in 2004 on the Delirious? album World Service. Not your average worship song, Martin delivers a powerful vocal performance coupled with strong electric guitars a la Stu G.; and a kick drum reminding me of the hard-hitting power of Stew Smith (Delirious? drummer) to undertone the song musically as we hear him declare and compare God's coming presence to like a fire rushing through and burning everything within its path. A great metaphor that reminds us that God's all-consuming presence is what we Christians ought to desire more of as we delve more into relationship with Christ; we are introduced to an honest portrayal of love, worship, abandoned surrender and heartfelt praise as Martin reminds us all that the love that Christ abundantly gives never sleeps, always giving, assisting, loving and encouraging anyone who welcomes the Lord's presence in. Martin's poignant cry in the bridge '…purify my heart, purify my heart, spirit fall on us, Spirit fall on us…' is one of my favourite parts of the song as we are given a glimpse into a worshipful rock anthem that gives us hope that God never gives up on us; and that the ashes in our lives are just an opportunity for God to make something beautiful out of them. Well done Martin for one of the standout tracks on God's Great Dance Floor: Step 01!
'Waiting Here For You', 'Back to the Start' and 'Awake my Soul' are some of my other favourites on the album (I guess there's no coincidence that these four, alongside 'Fire Never Sleeps', are the first four songs on God's Great Dance Floor Step 01), and along with 'Fire Never Sleeps', are certain to anchor the album musically and lyrically as Martin gives us some of the most comforting yet equally challenging worship melodies to ever be written, recorded and performed throughout these last few years. Originally sung at Passion 2011 by another one of my favourite worship artists Christy Nockels, 'Waiting Here For You' has been impacting listeners around the world with its honest portrayal of surrender, patience and the issue of waiting on the Lord as we are confronting with the poignant lyrics against the riveting piano riffs. Starting off the song with the well-known piano riff melody heard ever so often on Christy Nockels' version, Martin never strays melodically from the version we know and love as we hear the rousing anthem being performed by the artist who wrote it. A song about waiting and soaking in the Lord's presence, Martin's version is just as poignant, emotional and encouraging as Christy's version, just as how 'Fire Never Sleeps' is equally as enjoyable as the Kevin Max led version.
'Back to the Start', with a chorus and bridge of 'God's Great Dance Floor' added at the end of the song, encourages us to come back to the reason and motivation of all our choices and decisions- our relationship with Christ. A sombre melody that gradually alters the musical mood from reflective to worshipful dance; Martin declares out the words '…I'm coming back to the start, to the start, I'm coming back to You…', giving us a sense of leaving behind everything that clutters as the reason behind everything is being understood. The accompanying music video shot in Colombia during 2012 certainly enhances the enjoyableness of the song, and with Martin's daughter Ella starring in the video (and also singing backing vocals too), I will certainly be peaked with intrigue if Ella follows in her father's footsteps and becomes a worship artist herself. As we continue to enjoy the theme (at least throughout these first four tracks) of how we surrender our lives to God as we discover and reignite our passion for Him and His kingdom; 'Awake My Soul' shows us Martin's acoustic/folk side with a melody full of acoustics, hand claps, gang vocals, and an infectious and easy-to-know melody that anyone can remember. In a similar lyrical theme to Chris Tomlin's 'Awake My Soul', Martin encourages our eyes and ears to be opened and astute as we come alive to the things of God as we live each day with Him dwelling within us. With 'Awake My Soul' being a great choice for first track on the album; these four songs that start off Martin's first iTunes release remind listeners that '…it doesn't matter where you come from or what you've done…everyone is invited to the party. It's all about grace…' Well done Martin for these four songs and some of my personal favourites out of all of Martin's solo music.
While the remainder 6 songs are lesser known to me personally (with the jovial 'Jesus of Nazareth' and the poignant 'Shepherd Boy' recorded specifically for this album project); Martin's infectious personality and enthusiastic heart cannot be denied throughout the album, as I start to some of the most personal songs Martin has ever written throughout his song-writing career. 'You Carry Me' is a light acoustical melody about God carrying us in His arms through the difficult trials in our lives, yet as we look into the inspiration behind the song, and how it was (and still is) '…a song of comfort for a friend whose husband died…', the song's poignant meaning becomes even more pronounced, as the melody becomes a rousing anthem for the broken as they collectively cry out to the Lord to carry them during the moments when they know they can't make it on their own. The piano filled bridge where Martin declares God to be lifted up is one of my favourite parts of the song, and listening to it in light of its theme and story behind it gives me great respect for this emotional song. 'Safe in Your Arms' is based upon Psalm 23, complete with light acoustics and a powerful vocal towards the bridge as Martin proclaims '…hallelujah…and my heart overflows, forever I'll love You…' and brings about a moment of exaltation, peace and comfort as we realise that Christ never lets us go no matter the circumstance; while 'Catch Every Teardrop', inspired by Psalm 56 where David cries out to God for mercy, evokes moments of horror and pain from Martin as he reminisces and draws upon the car crash he had during 1997, just before his decision to do Delirious? with his bandmates full time. The vulnerability and total reliance on God as shown through his testimony expressed in interviews numerous times is evidently expressed through this humble and hopeful song. I'm sure listeners; myself included; will use this song as an impetus to make our moments count, understanding that even in the most broken of situations; redemption can come as we press deeper into the Word of God. Martin's two brand-new recordings in 'Shepherd Boy' and 'Jesus of Nazareth are also album highlights, with the former recently recorded by Chris Tomlin on Burning Lights and sung from the POV of King David (verses) and from the Lord (choruses) as we see Chris develop a worship song where we collectively and individually sing out to Christ in reverence and worship; and the latter being a 3 minute acoustic country-pop melody with Martin exclaiming that we born of Jesus, a song of thankfulness and praise to the King. A great collection of both old and newer songs to bring listeners into both individual and collective worship; well done Martin for both 'Shepherd Boy' and 'Jesus of Nazareth', both different musically, yet each reminding us of Jesus, the reason for our firm foundation of faith!
Overall: Martin Smith's debut album full of songs from his EPs as well as newly recorded tunes is a great alternative to any fans of Delirious? out there (me included!). I'm sure everyone has heard of Delirious? at one time or another- songs like 'History Maker', 'Did You Feel the Mountains Tremble' and 'I Could Sing of Your Love Forever' are sure to be hits in years to come. Martin's solo material is just as good as the albums attributed to his former band, and whilst many may listen to this and reminisce about the 'good old days' (I'm sure I have done that every so often), this new album from Martin gives us a glimpse into something new, fresh, different, yet equally familiar and enjoyable at the same time. Fans of Delirious? are sure to buy this album in a heartbeat, as well as other listeners who enjoy modern worship music from artists like Chris Tomlin, Tim Hughes and Jesus Culture. With another instalment of God's Great Dance Floor coming in October 2013; Martin's new journey as a solo artist is sure to encourage listeners from around the world, every one of them eager with anticipation as they feel like Delirious? never left! With Martin reminding each of us that '…[God's] worried most about [our hearts]…if that's in a good place, he'll use it… at church, in stadiums, wherever he will. All you want to do is be someone of influence, but it doesn't have to be on a global stage. It never did…', our confidence in Christ as we 'paint the town red' is sure to grow, as our passion and purpose become clearer with Christ within us every step of the way. Well done Martin for one of my favourite worship albums of 2013!
RIYL: Chris Tomlin, Kari Jobe, Tim Hughes, Jesus Culture, Delirious?
Buy the Album: iTunes/Amazon mp3