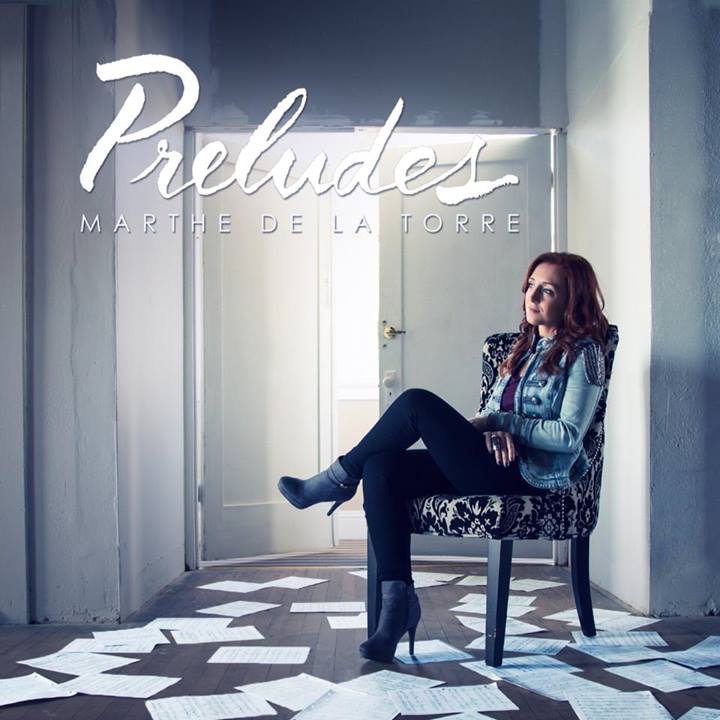 Artist: Marthe De La Torre
Title: Preludes
Label: independent
Release Date: 9/20/13
Reviewer: Jonathan Andre
Tracklisting:
Trust In You (feat. Butta P.)
Only You are Holy
Never Let Me Go
Your Love is Crazy
Glorious
Hallelujah
Greatest Sacrifice (feat. Edward Rivera)
Amen
Lær Meg Å Kjenne
Just like how Everfound is the story of four brothers from Russia that migrated to America with their families during the 1990s to start a new life, eventually leading to the brothers starting a band together; Norwegian worship leader Marthe De La Torre also shows us that the music artists that we enjoy and listen to don't necessarily have to be from America to be good. With 2013 arguably being the year of new artists (just from looking to see many different releases from artists that haven't been releasing anything up until this year); Marthe's Norwegian heritage is firmly planted and shown through these 9 tracks. Originally from Oslo, Norway; it was Marthe's love for music that led her to leave her home country in 2006 and come to Los Angeles to study music at the Musicians Institute of Hollywood. What has resulted from her time in the States are these 9 songs. While they're not 10 or 11 or 12 tracks on the album (the 'standard' quota given to artists and bands nowadays); it is a bold declaration to only deliver 9, thereby hopefully declaring there to be no 'filler tracks' in an album. Listening to this album, it does pay off; with songs like 'Only You are Holy', 'Hallelujah' and 'Never Let Me Go' being my personal highlights. Sounding vocally similar to singer/songwriter Natalie Grant; Marthe's passion runs through each track, even incorporating a Norwegian-only melody as track 9. With her popularity gaining because of her exposure on New Release Tuesday (a premier Christian news and review website) with herself being one of the 'New Artists of the Month'; Preludes is a great album if you enjoy worship and love to check out something new from indie artists. With a great amount of synths and powerful vocals throughout each track to provide musical backdrops on each melody; this Norwegian artist reminds us of how '…the most pure and genuine form of worship will be a mere reflection of the worship that will take place when, one day, we stand in front of God's throne. Our words, worship, and praise to God are a foreshadowing of what lies ahead, they are "Preludes" of things to come…'
Both 'Only You are Holy' and 'Hallelujah' are two of Marthe's current singles released on noisetrade before the album release date; and both are two of my favourite highlights on the album. Poles apart musically, 'Only You are Holy' is primarily a synth driven song full of keyboards, light acoustics and powerful drum strikes and beats as Marthe delivers a powerful anthem about us declaring to God that He is holy above everything else. The repetitious chorus of how we as Christians collectively cry out that '…only You are holy…only You deserve the glory…' is something we all need to ponder about, making sure that as we sing out these songs and words, we mean them entirely. As the song continues to crescendo musically to form a powerful anthem in the bridge with Marthe powerfully proclaiming amidst all the overlapping instruments that '…You give us breath and life everyday, You are the truth, the life and the way, there is no other like You God, surrender we sing hallowed be Your name…'; I myself (and hopefully other listeners) am able to just sit back and delve deeper into God's presence. Arguably the best part of the song, the bridge sets up the rest of the songs on the EP, both in deep poignant lyrically content as well as musically stretching and moving out of the box when it comes to musical ingenuity. 'Hallelujah' on the other hand is very much a ballad, and even with the use of synths and powerful keyboards, we are able to hear a subdued song musically, yet equally powerful lyrically- with Marthe presenting a worship melody through and through. As we hear the chorus pound out to the lyrics of how we sing '…hallelujah, to the One and Only, Jesus You are holy…', complete with looping percussion beats and hand clicks; Marthe's enthusiastic and passionate voice a la Natalie Grant (when she becomes passionate in her songs like 'The Real Me' and 'Our Hope Endures') is a treasured and enjoyable part of the song, a melody that'll hopefully be in churches around the country and the globe in weeks and months to come!
While not covers of Paul Baloche's 'Glorious' or Carman's 'Amen'; Marthe's two songs of the same name are great models of powerful worship, each with a different focus musically, with 'Glorious' providing us with a synth and drum sound while 'Amen' dyelivers with keyboards, pianos and Marthe's powerful vocal. With 'Amen' being a complete re-imaging of the Lord's Prayer put to song (the only other song about the Lord's Prayer that I'm aware of is 'The Prayer Anthem' by Carman); the layered vocals and light synth, together with the prominent piano in the foreground create an eerily haunting yet profoundly emotional and encouraging melody that brings and draws in people deeper into the song. As Marthe repetitiously cries out 'Amen' together with the powerful lyric line '…Father, hallowed be Your name, Your kingdom come, Your will be done, on Earth as it is in heaven…', we are able to immerse ourselves in the biblical truth presented through the verse in Matthew. Possibly even leapfrogging 'The Prayer Anthem' by Carman to be my favourite version of the Lord's Prayer in song; 'Amen' is the slower reflective melody, compared to the more riveting, upbeat and synth driven power ballad, 'Glorious'. Starting it off with a repetitious piano hook mashed together with synths; Marthe declares that she is in awe of God's presence and that in all the Earth, God be glorified. With layered vocals and a powerful declaratory voice reminiscent to Natalie Grant (in her earlier material a la Deeper Life); Marthe proclaims one of the most poignant lyric lines in the whole album, that '…all the heavens, all the earth, will bow down and cry Your worth, all creation shouts Your greatness God, glorious…' There is a time when every creature and every human in every period in history will declare God to be their King, and that will be a marvellous and saddening thing (for all those who still don't profess God to be their Saviour when Jesus comes back). Regardless of the sobering moment of when Christ comes to take His children away, 'Glorious' is a chance for us to declare alongside Marthe, shouting out praises to our God and King. A well written song that could possibly be another radio single sometime in the future, Marthe's poignant delivery of both 'Amen' and 'Glorious' further highlights these songs on Preludes, alongside 'Hallelujah' and 'Only You are Holy'.
Throughout the rest of the album, Marthe offers up a wide range of musical genres to appeal to a wide range of listeners, from duets and synth prominent anthems, to even a Norwegian-only track to end the worship experience which is Preludes. With a light keyboard emphasis on 'Never Let Me Go' (alongside synths of course); Marthe starts to speak out biblical truths, reminding everyone that listens that '…Lord I rest in Your arms, as Your truth defends my heart, crafted with a perfect love, You know me, Your holy presence in this place is closer than the air I breathe, I'm secured in Your embrace, You hold me…'; a moment of clarity as we realise that God will never let us go, no matter how bad our situations become. As Marthe leads the song from a light synth and keyboard musical backdrop towards a grandiose moment of exclamation and declaration, we are hopefully able to collectively declare alongside Marthe of God's faithfulness to us throughout our lives up til now, and then forever until He returns. Providing to us an acoustic layered vocal moment on 'Your Love is Crazy', a song that declares God's love to be indeed crazy, something that is given to us undeservingly but freely given anyway; Marthe's true unique and different moments come across in the two duets on the album, as well as her Norwegian only track. Starting off the album with 'Trust in You', a duet with Rhema Soul singer Butta P.; this 90's sounding track full of keyboards and unique electronic sounds is something that no artist within the CCM radio friendly industry has ever tried for a while (in fact, since the Avalon remix album O2: Remixed), thereby making this song and the album as a whole something unique to be released at this time period of 2013. With Marthe and Butta P. providing great harmonies as we are met with a message of trusting in the Lord, even in the moments of our weakness and difficulties; the encouragement reaches its height in the powerful words of how '…I trust that You are stronger, You give faith to believe, You are so much greater, Your love will conquer me…'
Also providing a stirring synth prominent powerful anthem with worship artist Edward Rivera on 'Greatest Sacrifice', providing a theme of hope, thankfulness and expectation as we declare individually and collectively that '…You made a way, for us to be with You…' (also using the electric guitar to deliver riffs that pay homage to 90s and 80s music); it is the Norwegian only track that has given myself interest in international artists. While I don't understand the song at all in the original language, the song still is a great one to end the album with, reminding us of Marthe's heritage as a Norwegian worship leader. With the title of the song being 'Lær Meg Å Kjenne', Marthe delivers to us a song that translates into a message of gratitude and thankfulness unto God that '…I know that what I own are borrowed goods, and everything is yours…' (English Translation). A famous opera melody, we are able to declare alongside Marthe that God is good, and that even though we may not understand the Norwegian song, we still know that God knows no language barriers. A perfect way to just reflect in His presence or to just sing our own song to God; Marthe's vocal delivery in both English and Norwegian is to be commended as we are presented Preludes, arguably my favourite album by an independent artist in 2013.
Overall: Preludes is a great reminder of the pre to what is to come- when we're standing face to face next to Jesus, declaring His marvellousness and worth, forever and ever. The uniqueness about this album extends to both the artist and the music. While she does speak in a somewhat American accent since she's been in the country since 2006, she does still has a slight Norwegian accent that still shines through (even in the singing), and that works very well for the album, and also as listeners become interested in her music and her as an artist. With a synth music background in virtually every song, the album does its best to cater to the musical needs of younger generations. To mix in electronic music with worship is genius, and while Marthe's not the most popular artist currently (and quite right so, she's indie and just released her first album), but I'm sure after her exposure on NRT and as people listen to her album, she'll become much more of a household name. From her two singles 'Hallelujah' and 'Only You are Holy'; to 'Never Let Me Go' and 'Glorious'; we are presented with 9 worship tracks that'll hopefully revolutionise the worship music industry just like how Bethel and David Crowder have done in years gone past. Well done Marthe for such a poignant, enjoyable and unique album that stretches our understandings on what worship music and electronic can sound like when they are married together.
RIYL: Natalie Grant, Hillsong UNITED, Kerrie Roberts, Bethel Music
Buy the Album: iTunes/Amazon mp3