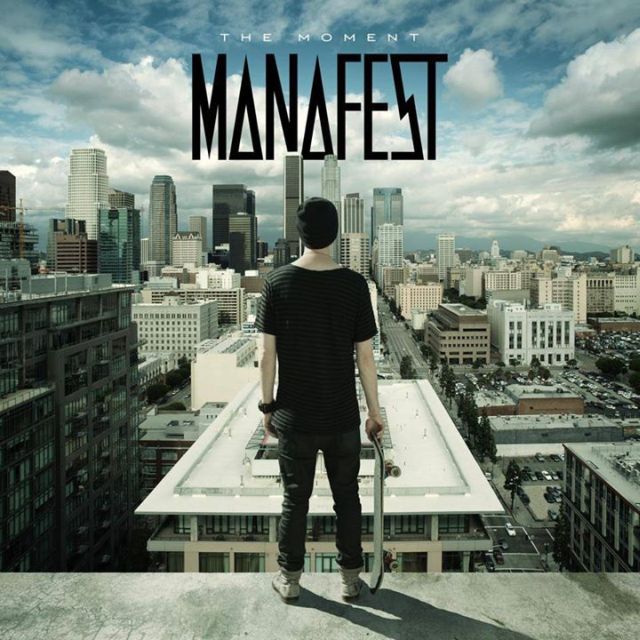 Artist: Manafest
Album: The Moment
Label: Independent (distributed by BEC/Tooth and Nail)
Release Date: 08.05.14
Reviewer: Lee Brown
Track Listing: 
The Moment
Edge of My Life
Criminal
Cage
Love Wide Open
Light
Diamonds (Ft Trevor McNevan of Thousand Foot Krutch)
Paradise
Bull in a China Shop
Startup Kid
My Way
Thrill of It All
Manafest holds a special place in my heart. When I first started writing for IVM, in a season where I was also simultaneously finishing my Master's degree and becoming a first time father, it was KJ-52's Dangerous and Manafest's Fighter that became my first assignments. Thus, in a season that was way WAY too busy (sort of like now), I found myself immersed in the challenging and uplifting message Fighter brought to the table. Fast forward to August of last year, and Manafest followed that career-defining album up (musically, as he did a book version of Fighter in-between, as well) with The Moment.
Fast forward again to April of 2015 and Chris Greenwood (Manafest) and I chatted for a second time about his life, music, and upcoming plans. What I found from this great Canada-to-Ohio phone call was that Chris himself is facing a season of busyness after becoming a first-time father while still trying to occasionally tour and produce a new hip-hop album. However, this also brought to light the fact that IVM had somehow missed reviewing his 2014 album. Which brings us to today as I seek to remedy this error.
The Moment feels like a successor to Fighter in a number of ways that extend far beyond the fact that it is next in line. Stylistically, The Moment and Fighter are cut from much the same cloth. This is saying quite a bit when it comes to a man who is able to produce a wide range of rock to rap sounds. Visually, both albums have a similar feel in terms of cover work (though The Moment was handled by Ryan Clark of Demon Hunter and Fighter by Chris' wife). As one would expect, there are some thematic similarities, as well. And, of course, Trevor from TFK shows up on both, as usual.
Where I found Fighter to be intensely focused around one binding theme, however, The Moment feels a little more diverse and scattered. In some ways, this release from such a tightly bound concept allows The Moment to weave tracks like "Diamonds," which was inspired by the writings of Brian "Head" Welch, and "Startup Kid," which tells a tale that echoes Greenwood's own beginnings, to find a home on the same album.
On the other side, however, this lack of intense focus also works against the final product, especially in comparison. Where Fighter felt like a unified experience, The Moment feels much more "of the moment" and, thereby, less cohesive. This is not to say that this is a bad album. It simply follows a career high album that still steals a bit of the focus and shine.
Where The Moment shines most is in standout tracks like the aforementioned "Diamonds," which features an obligatory, yet no less incredible appearance by Trevor from Thousand Foot Krutch. "Diamonds" also features one of Manafest's most interesting music videos (and that's saying a lot from a man who has more music videos in the wild than most).

Other album highlights include the opening title track, which feels like a strong follow to Fighter and yet also brings something new to the table. This is followed by "Edge of My Life," which has a very interesting cadence to it and features uplifting lyrics set to a soft, yet uptempo track.
For me, however, the real star of the album is "Criminal." As we discussed in our chat, right as I asked Chris whether "Criminal" could take "Smooth Criminal" in a song battle (he saw MJ winning), "Criminal" has one of the most faith-forward messages Manafest has ever released. The track is very on-the-nose about the trajectory of society to where being a person of faith is being seen increasingly as an inconvenience and burden upon society. Add to the fact that Chris hits some really incredible falsetto and the track becomes the most engaging lyrical and sonic experience of the album.
"Paradise" and "Thrill of It All" also sit as classic Manafest rock tracks that captivate. "Paradise" brings an extremely catchy hook with strong lyrics that focus on how relational love is a paradise that keeps us strong through trials. It is a very romantic track that also parallels God's love in great ways. "Thrill of It All" is also a very catchy track that proves a wise choice as a closing track. The rap flavor on the track seems to be a nice bit of preparation for Manafest's next album, which will be purely hip-hop. It also reminds fans who joined during his last couple albums (which were more rock in nature) just how adept Chris Greenwood is at delivering flow.
The Moment also has some less memorable fare, as well. "Startup Kid," for example is a fitting enough song, but hasn't proved to be one I'm going to come back to intentionally after this review. On a side note, something about that song reminds me of Audio Adrenaline (1.0)'s "Jesus and the California Kid." Others, like "My Way," are really fun tracks while they're playing, but after they're over they don't really resonate beyond that moment.
Musicianship: As always, Manafest is a standout act. There is a reason he has not only survived but thrived in both the hip-hop and Rock (and a blend of both) genres. The Moment brings a nice overall package with great hooks and engaging rock.
Lyrics/Spiritual Atmosphere: Never one to shy away from truth, Manafest continues to write uplifting fight music. His propensity for hip-hop also brings some dynamic play between lightly rap-styled-verse and rock hooks. "Criminal" in particular brings some of the most faith-focused lyrics Greenwood has ever produced, while "Paradise" is a love letter that eschews the sappy and focuses on fighting together against the fallen nature of this world.
Lasting Value: Where The Moment falls short for me is in the lasting impact I see it having. Given the several months distance this album already has from release, I still worry that Fighter will forever overshadow this release, at least for me. While a few individual tracks, such as the ones mentioned a few times above, are sure to draw me back time and time again, I don't see myself longing for the experience in its entirety.
Overall: Manafest brings a good follow up to 2012's excellent Fighter. With The Moment Chris Greenwood continues to blur the lines of rock with hip-hop elements and produces some excellent tracks in "Criminal," "Paradise," "Edge of My Life," and others. Fans of Manafest will find an engaging album that continues his propensity towards engaging and uplifting lyrics sure to inspire on the one hand and provide great work-out music on the other. If you're like us and missed this one when it came out late last year, this is certainly an album worth checking out, even if it sits in the shadow of 2012's amazing offering in Fighter.