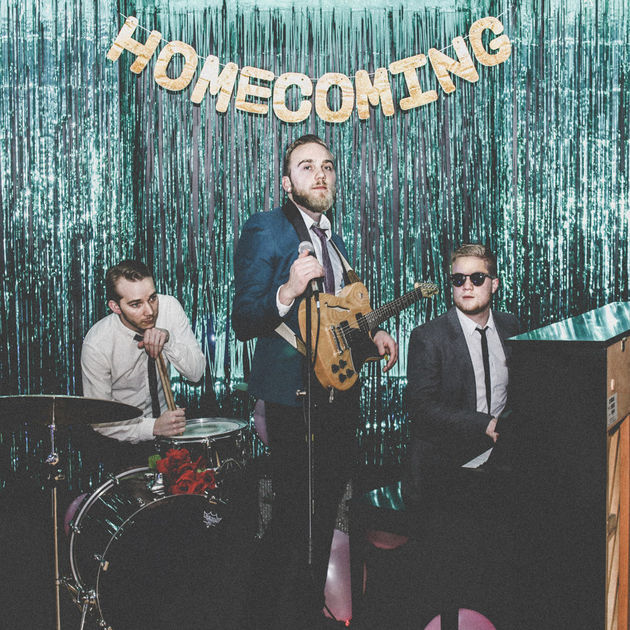 LEDGES is an infectious rock trio based out of Akron, Ohio. Stylistically, the group blends elements of 80s dance with an alt-rock foundation. Throw in traces of post-hardcore and cinematic song structures and the end result is equal parts compelling and hard to classify.
"Homecoming" is the band's first proper album (as a follow-up to 2014's "Indian Summer" EP), and it's an ambitious and satisfying release with a diverse set of songs. Tracks like Indian Summer and Teenage Daydream have a stronger pop sensibility (due in no small part to the use of synthesizers), while New York shows a heavier side of the band with its almost-screamed, gritty chorus that is beautifully raw. Nonetheless, the album still feels cohesive; there's an overarching lyrical concept of shattered relationships and the search for redemption in the midst of that pain.
One of the band's most apparent strengths is their ability to mix in piano parts without sacrificing bravado. Homecoming's tracks are more akin to the late Gracer or perhaps Attalus to some degree; you won't find any Copeland or Coldplay comparisons here.
Intro kicks things off with a brief instrumental involving an arpeggiated synth line that definitely suits the album cover; there's a slow dance vibe present, though the it's over pretty quickly and momentum shifts into "All Right", which in many ways ties closely to "Please Come Home" to bookend the album. It takes only a few seconds before the song kicks into full gear: groovy bass, catchy riffs, and passionate vocals are all in attendance.
Nights is a hazy track that continues the energy of its predecessor, this time adding in more reverb and synths which weave together a powerful ambiance. It's one of the most progressive tracks on the album, with segments that borrow from shoegaze, jazz, and electronic.
Nothing to Say is the first track where piano is front and center. Overall, it's an upbeat, somewhat nostalgic, track which borrows from classic rock. While the vocal verse pattern does vaguely remind me of Ventura Highway, the overall composition is assuredly much different. The album feels partitioned in such a way that tracks with similar styles are grouped together, and the middle of the album is full of the dancier, upbeat tracks.
Teenage Daydream was one of the band's singles, and it's no mystery why. While it's not my favorite track by any measure, Killers-esque synth lines, a falsetto chorus, and a more straightforward song structure definitely make this track fairly accessible. The bridge tones things down a bit, resorting to a simple piano base before quickly building back up to a cinematic close.
The Ocean is another track that feels like an instant hit; it's a strong ballad that evokes some CCM comparisons. Corey Kilgannon's guest vocals are a welcome addition; his baritone adds some great variety to the song and strangely adds to the song's propensity for mass appeal. All things considered, The Ocean is definitely a poppy track but it embraces its identity well.
"Our love is like the seasons. We fall apart but we will grow back," vocalist Andy Hoffman laments on Snow. The easiest way I could describe the track is to relate it to Author's discography: there's a post-rock vibe paired with a fair amount of intensity and technicality that makes for a pretty interesting listening experience.
While Snow showcases the somber sides of LEDGES, Indian Summer is a highlight track which returns us to the high energy and dance vibes seen only a few tracks earlier. The mix of 80's influences with a strong alternative foundation warrant few comparisons, save Paramore's After Laughter. Despite the song's positive facade, lyrics continue to address relational brokenness and hints of anger.
Despite the changing mood of the songs, Homecoming doesn't falter. With that said, the last several tracks of the album truly are my favorite. New York is explosive, pairing some of the lightest and heaviest elements on the album. The chorus is incredible and the outro is fantastic. It would be easy to overlook that Virginia is shorter than two and a half minutes long with the amount of ground it covers. Much like New York, it has a great emotional build. Please Come Home caps off the album, tying the lyrical narrative together: the protagonist has resorted to seeking pleasure in drugs and alcohol but realizes his need for redemption.
Simply put, "Homecoming" is a powerful album with a huge feeling to it. It's part arena rock, part indie, part ballad, and part pop, though all of these descriptions feel lacking in and of themselves. Though the songs are diverse, they never feel out of place – and the lyrical narrative only strengthens this unity. I've always appreciated groups who take risks and LEDGES certainly hasn't played it safe here. While there's a definite pop sensibility on many of the tracks, there's also an obvious respect for the medium itself, making "Homecoming" an album capable of appealing to the masses and enthusiasts alike.
For fans of: Author, Motherfolk, From Indian Lakes, U2