Album Review :
House of Heroes - Hark! The House of Heroes Sing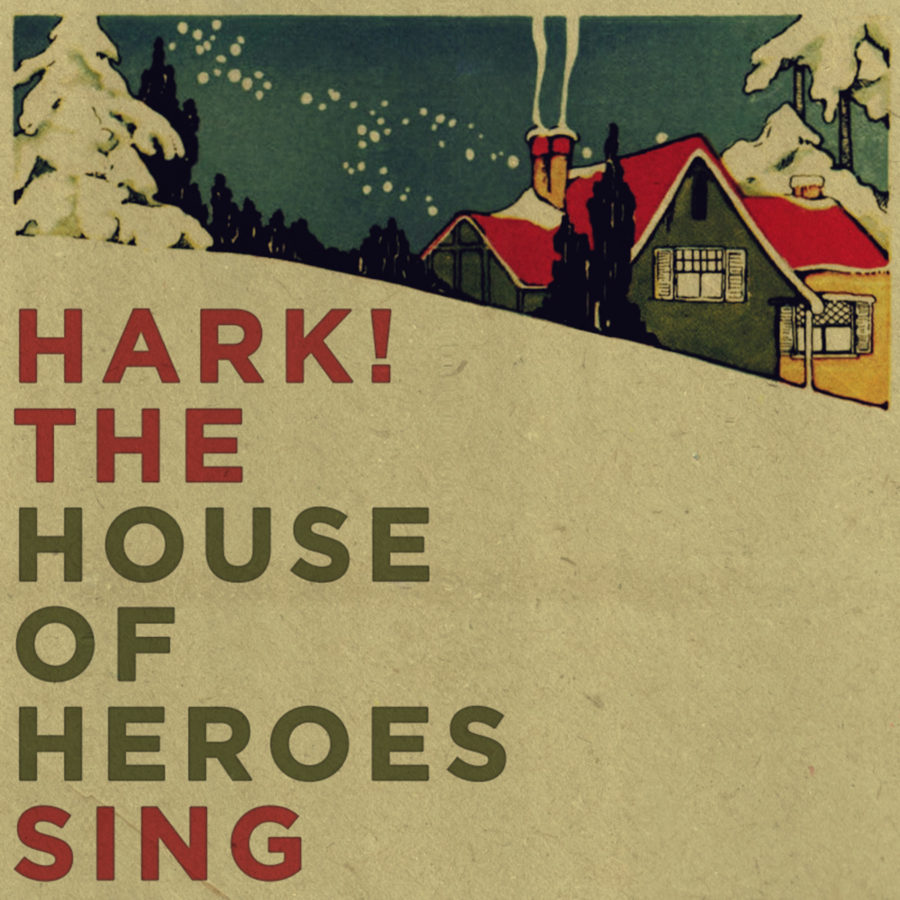 Artist: House of Heroes
Album: Hark! The House of Heroes Sing
Label:Independent
Release Date: 11/4/14
Reviewer: Ian Zandi
Track Listing: 
God Rest Ye Merry Gentlemen/Joy to the World
Oh Holy Night
Christmas Morning
Following their wonderful Smoke EP a few months ago, House of Heroes has gifted us with Hark! The House of Heroes Sing. Despite the title, this 3.5 tracked EP does not include a cover of the song "Hark the Herald Angels Sing". This short but savory Christmas offering was created as a stretch goal during the funding period of their upcoming full-length concept album. It is also assuming that the band will be releasing a similar EP this spring of some acoustic songs. They reached the stretch goal for that as well. (Unfortunately, they did not make it to the $60k mark to make a Punk Rock EP. Maybe someday….).
The EP opens up with a melody of "God Rest Ye Merry Gentlemen" and "Joy to the World". The first half is ambient and only includes few instruments. "God Rest Ye Merry Gentlemen" has always been one of my favorite Christmas songs (not necessarily for the lyrical content, just the tune of the carol). Personally, I would preferred that this song got its own track instead of being lumped with another song in a Pitch Perfect fashion. Fortunately, I am not the band's producer as my preconceived notions were wrong. The two songs work perfectly in contrast. While "God Rest" is the quieter sibling, "Joy to the World" is the loud and flashy brother. The attention is brought on some Queen-esque guitars that close the song out in a small solo.
"Oh Holy Night" is one of the most overdone carols in the history of Christmas songs, vocalist Tim Skipper doesn't overdo the parts as most tend to do to this classic. The infamous "Ohhhhhh night DIVINEEEEEEEEEEEEEE" is where most people (and reindeer) seem to hit it sour. Skipper skips right over that problems by playing it cool.  Instead, the band brings us a relaxed and textured variation. Harmonizing is definitely the biggest standout on this song (no other modern band can compare to that in my opinion).
Last but certainly not least, House of Heroes presented their first original Christmas song "Christmas Morning". Drawing some retro and experimentation influences, the track primarily features a keyboard and acoustic guitar riff that echoes off of the melody that our beloved heroes sing (harmonizing instrumentation is one of my favorite things in a song. Naturally, this earns some love from me). Following suit from the throwback instruments, this song is nostalgic lyrically. The premise of the song centers around the yearning feeling to have the joy and feelings of being "a kid on Christmas morning". The naivety of being a kid again entails that we can really, truly, believe that anything is possible, whether it be Santa Claus, Jesus, or just the goodwill of mankind. Biblically, the faith of a child is regarded as a powerful force.  Unfortunately, we lose touch with these things the older we get. This song will definitely get added to my Christmas rotation playlist (of which I proudly named Christmas Jams….and Preserves).
Overall: Adding to their winning streak, House of Heroes brings us a new Christmas EP that is on par to their previous holiday installations. Though the band's recent work has shown that they are starting to venture into the experimental side of things, I was a little disappointed that the cover songs were not shaken up just a little bit more. Holiday songs really need to stand out in order not to get us sick of hearing the same songs that are covered in crowded shopping mall elevators (see Relient K, Jars of Clay, Brian Seltzer, Harry Connick Jr., etc. ).
RIYL: Relient k, Beatles, Queen, Christmas Music, Eggnog