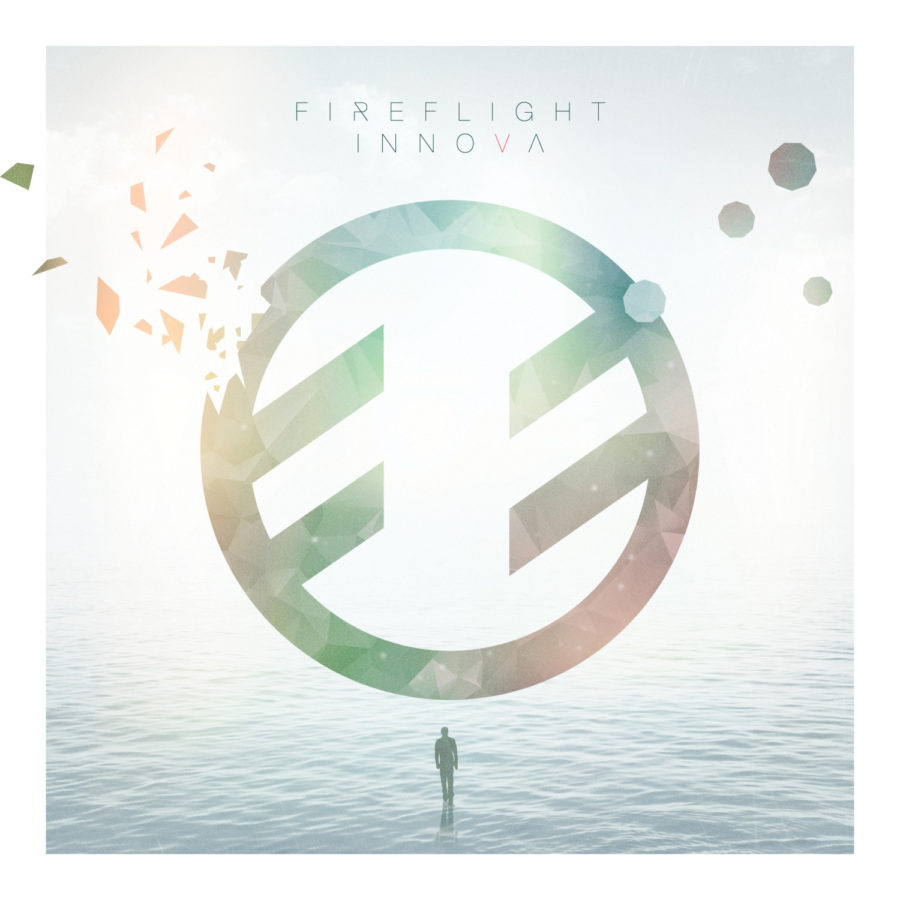 Artist: Fireflight
Album: INNOVA
Label: Independent
Release Date: 05.05.15
Reviewer: Lee Brown
Track Listing: 
Keep Fighting
Lightning
I've Got the Power
Here and Now
Safety (Feat. Stephen Christian of Anberlin)
Resuscitate
The Fallout
Easy to Break
We are Alive
Out of My Head
This is Our Time
Light Inside
At one point in life my entire musical journey could be best described by a desire to find a female-fronted band that loved Jesus and rocked as hard as the male-voiced options I regularly bathed my soul in. This was a time when male-voiced hard-rock done in Jesus' name was anomalous enough for most, and female Christian singers were expected to keep the status quo of the Amy Grants that preceded them. Apparently, I was not alone in this desire, however, as a wealth of female-led rock bands who were not strictly "CCM" in sound began to emerge. Near the end of this boom, Fireflight began their public career, standing tall and shamelessly rocking as hard as bands like Skillet, TFK, or even Flyleaf.
In the years since, the band has released four albums and toured relentlessly enough to build a legion of devoted followers. It would be these same loyalists who would push Fireflight to over 13 Million views on Vevo, a list of number one singles, position on the Billboard Top 100, six Dove nominations, and one Grammy nod. INNOVA, then, marks the band's fifth album, landing in their fifteenth year as a band (which is why 5.5.15 was chosen as the release date).
INNOVA is a latin term meaning 'renew,' and the word seems very fitting to where the band finds themselves. Having moved away from their major label production, Fireflight engendered renewed enthusiasm from fans as they reached 125% of their PledgeMusic campaign goal. They have also had to renew their faith and focus as they faced a season of "pain, uncertainty, and frustration." Even their sound itself also has some renewed elements to it, as they have taken what has worked well in the past and forged ahead with renewed vision.
Fans of the band will find that "renew" is a fitting word all around for INNOVA. While it maintains the heart and soul of what has made Fireflight work so well, it also forges ahead in new and interesting directions. INNOVA is more revolution than evolution, musically. While it maintains the hard rock edge, especially on the already released hit single "Resuscitate," it is also not afraid to mix in upbeat electro-pop elements. The result is a sound that is akin to a more rock version of Katy Perry, with a little Imagine Dragons thrown in for good measure.
The allusion to Perry is strongest on "Lightning," which hits many of the same thematic beats as her "Roar" or "Firework" songs with a heavy dose of empowerment and believing in oneself. Even the imagery of "Lightning" v.s. "Firework" is on the nose. However, this does not mean that Fireflight has simply become "the Christian version of…" While there are some similarities here and there, the band has managed to blaze a new trail and yet stay true to who they are, musically.
Thus, songs that sound more "classical" to the band's modus operandi ("Resuscitate") sit alongside pop-rock-infused anthems like "I've Got the Power" dynamically. In this, the listener really does take an excellently crafted musical journey that is overwhelmingly uplifting, while still admitting how fragile life can be.
In terms of flow, the first three songs ("Keep Fighting," "Lightning," and "I've Got the Power") are mostly upbeat, empowering songs that leave the listener feeling an inner warmth and strength. "Here and Now," "Safety" and "Resuscitate" keep this core, but also admit more of the problems life brings. "The Fallout" and "Easy to Break," provide the most honest look at the pain the band brings to this album. From there, "We are Alive" through "Light Inside" bring a blending of the two themes, but restore the overwhelming sense of inner strength and hope.
Musically, the ballad "Easy to Break" may be the most touching piece found on the album. It is raw and exposed in a very real and endearing way. "Safety" will be a fan favorite in part due to the excellent appearance by Anberlin's Stephen Christian. "Keep Fighting," "Lightning," "I've Got the Power," and "This is Our Time" forge the backbone of the uplifting electro-pop styled, high energy tracks most will be drawn back to for repeat plays. And, of course, "Resuscitate" sits as the stalwart "classic" of the album.
Personally, as I listened to the album multiple times over a period of a couple weeks, I found an interesting attraction about this album. Notably, while I was listening to the album I was completely entrenched and in amazement of what I was hearing parade before my ear drums. However, when I was not immediately listening to the album, I did not have an overwhelming sense that I needed to be. Having experienced the album for a bit now, I find that certain tracks (like "Lightening") will be stuck in my head randomly, but it is the more touching ballads, especially "Easy to Break" and "Light Inside," that really draw me back.
Musicianship: INNOVA is a bit of a change for the band. That said, the pop-heavy elements are handled with great precision. From start to finish, INNOVA feels fresh and well executed. The album is well-balanced and flows well from the high-energy blowouts to the soft and tender moments.
Lyrics/Spiritual Atmosphere: The songs presented are heavy on empowerment, encouragement, and a sense of being different from the darkness of this world. Yet, there is something about them that feels a little on the nose to another female pop/rock act. In truth, the lyrics to many of the songs remind me a little much of the few Katy Perry songs I've heard. Somehow certain elements seem almost as if they wrote their own songs after having just listened to hers.
I think the band has a great message with INNOVA. And, while it feels similar to Perry's, the result seems very different. Though there is little direct call-out to Christianity, it does feel as if Fireflight is actually pointing their listeners to a real and true hope and not simply empty self-empowerment. In this regard, "Light Inside" is a far cry from the hopeless self-empowerment of a song like "roar."
Lasting Value: As stated, while listening to INNOVA, I felt very immersed and really enjoyed what I was hearing. When I put the album down, however, I didn't feel as strong an urge to dive back in as I often do. So, there was a mixed feeling for me on the lasting value. On the one hand, the album is excellent, energetic, and catchy. On the other, when I didn't feel the pressure to listen to it to prepare for the review, I would often find myself going back to other albums. Were it possible, I think I'd do a 3.5 for this one. It is really solid, yet I was mixed on its ability to draw me back  repeatedly. This may be one of those albums that becomes a sleeper favorite for me, but at the moment I merely find myself enjoying it when it comes up.
Overall: Fireflight has established themselves as a force to be reckoned with. Their fifth album INNOVA excites with high-octane songs balanced with wonderfully intimate ballads. Fans of the band will notice a shift to some more dance-inducing electro-pop stylings, but everything that has made the band shine is certainly there. In this, INNOVA is more of a revolution than evolution of style.
Tracks like "Lightning" and "Resuscitate" are sure to do well (one already has) on radio rotation, while "Easy to Break" and "Light Inside" provide the tender intimacy that really draw you in. INNOVA is a solid album. For fans of the band it is a no-brainer, simply with the caution of the style change, and those who are investing for the first time will not be disappointed.
RIYL: Skillet, Flyleaf, Katy Perry, Imagine Dragons