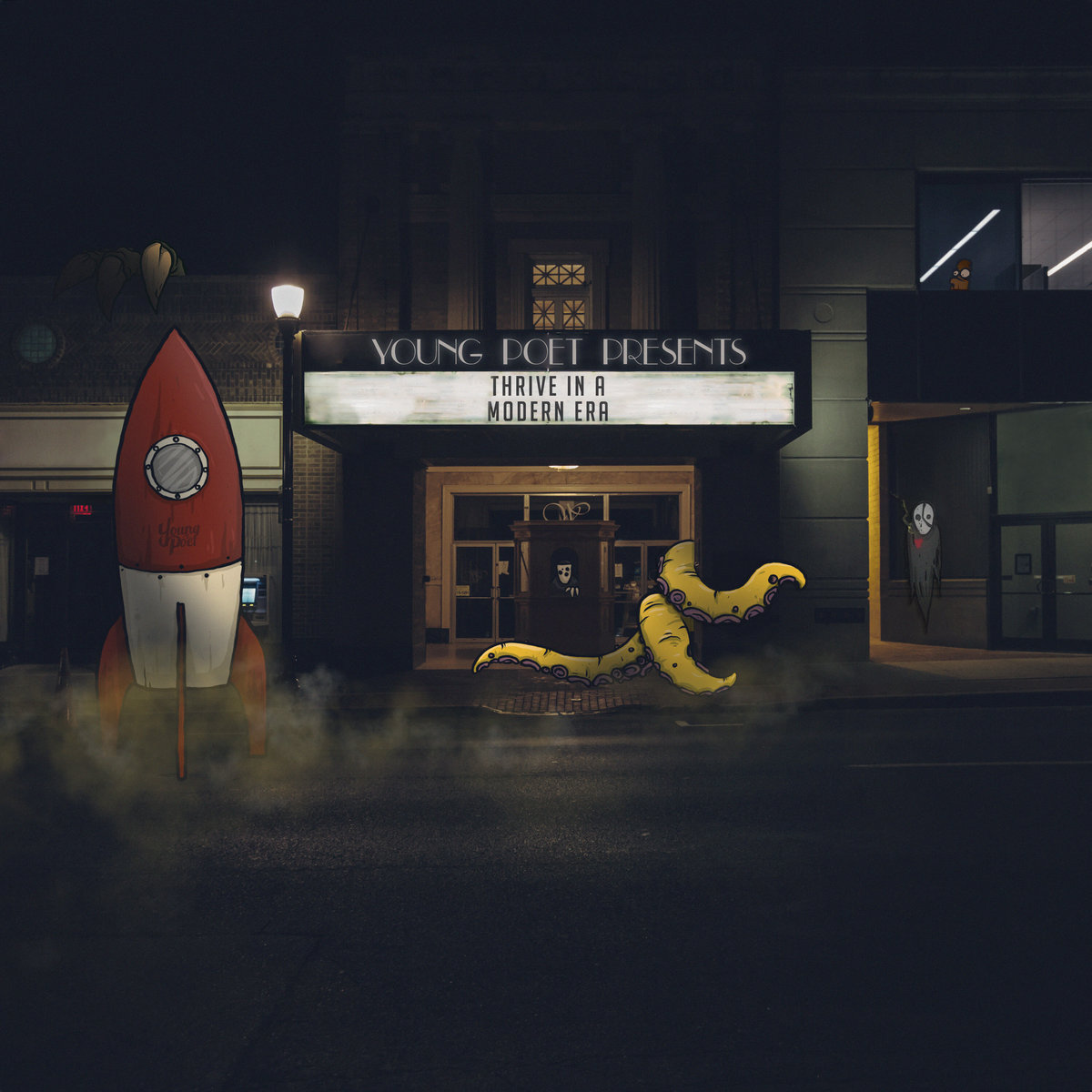 Punk rock and pizza are similar in more ways than one. While the two can complement each other quite well, music – like food – requires a recipe. Unfortunately, Young Poet's Thrive in a Modern Era tastes more like a dubious experiment than a well-made pizza pie.
Opening song "Alizaren," catches me completely by surprise with the spoken word akin to Being As An Ocean or Listener. I thought this was pop punk? Once "Better Hearts" comes on, I find out that it is … at least, for the most part, in retrospect. Like many of the songs on the album, this track switches between pop punk and easycore. There is nothing wrong in itself about this, but I wonder if this genre-blending lends itself to some inconsistency? In this particular case, the lead guitar that comes in at 1:51 just feels out of place and unnecessary. "Thriving" suffers from a similar problem, having a pre-chorus that almost sounds like the chorus and a chorus that falls short of its potential.
If I could pin down the two main problems with Thrive in a Modern Era, I would include the use of auto-tune and the song structures. Regarding the former, I think the effect should be saved for radio rappers and their ilk. Regarding the latter, on numerous songs I found myself distracted by the structure (for instance, "Meaningless to You" wears out its welcome with the song length), something that should appear "natural" even though it is crafted with careful intent.
That being said, the record does have its qualities. Generally, the choruses are catchy, which is essential for pop punk. Specifically, "Over My Dead Body" boasts some fast and tasty drums as well as clever lyrics like "I'm a walking dictionary of genre-bending clichés. / You're a negative apothecary / what with the false hope you're selling." This is easily the best song on the album.
I think Thrive… could have been better had the recipe been simplified. Scrap the auto-tune, simplify the structures, and perhaps remove a few breakdowns. There is nothing wrong with pepperoni; there is nothing wrong with plain pop punk.