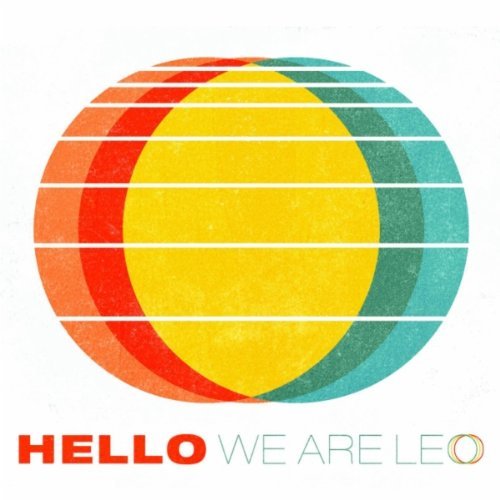 Band: We Are Leo
Album: Hello Ep
Label: Skies Fall Records
Release Date: August 30th 2011
Reviewed by: Brandon Jones
Buy Digitally: Amazon / iTunes
I am really digging this We Are Leo album. I didn't think I would but sometimes people need to look past their own bias and the "inner critic" to just enjoy a good ole' simple pop/rock radio song. I find it quite entertaining. Reminds me of All Time Low, Mercy Mercedes, Runner Runner, The Maine along with "Christian" bands like Eleventyseven, Stellar Kart, and Hawk Nelson. Great poppy radio friendly music, perfect for a hot end of summer day and fitting for the beginning of fall. Mix in a little splash of dance beats and electro elements including some nice synths on a couple tracks and you have the perfect album to amp you up out of the doldrums.
Album starts out with the breezy opener "Supernova Sunrise" that breaks into full on guitar mode during the Chorus, turning into a nice little Pop-Punk song. Just a tad bit of auto-tune and synths but not too overbearing where it would overwhelm the listener with annoyance. I am definitely getting a little All Time Low type vibe from this song, which musically isn't such a bad thing. Lyrically the song is about "searching" yet finding meaning in the "sunrise" and starting anew.
Welcome to redemption
I'm finally catching on
Making sense of my existence
I found where I belong, and one minute ago
I was lonely in an ordinary world, but everything is changing
"Heartbeats" is the second track on the album. It starts out with some keys/synths, dance beat, and slight auto-tune with the backing of a great (unknown) female singer who sounds a bit like Katy Perry for some reason. It's a pretty upbeat song with a definite dance beat and the driving synths keep you movin', singing along. I'm not usually big into the more "Pop" side of these types of bands, but I dig this song and it's simple yet hope filled lyrics.
Spinning circles with my headphones on
'Cause I'm addicted to the hope inside my heart
Like a brand new song
And If you listen to your heartbeat
There's a color of love that you'll see
A little spark and you'll come alive
Make ya shine so bright tonight
"Oxygen" is the third track on the album and one of my favorites. Yes there is a NFG song by the same name but this is completely different 😉 This song has a total 80's new wave type flair (during chorus) to it mixed with modern pop-rock. It's in this song that I hear some strange combination of Peter Gabriel meets Hawk Nelson meets Runner Runner (but much better). The song although sugary sweet, has a very hope driven message of keeping your head up in times of desperation, hopelessness, loss, and pain.
Are you trapped inside a world with no oxygen?
Where all the things they say to you keep you locked in
Is the air a toxic poison in your room?
Where you hold your breath just to make it through
I can see it in your eyes: you're dying here
I can feel it in your smile: you've been crying, Dear
Don't give up
When you're lost I will come find you
So hold on tight and just breathe in
I will be your oxygen
Inside a hurricane of love, loss and pain
Under a bulletproof window in the rain
I want to tell you all the words you need to hear
And when you cry I'll be the one to dry tears
"Seventeen" is track 4 and is a little more subdued, a ballad if you will. There are some brief "strings" that accent the song alongside the guitars, drums, and bass. A song about the longing for youth and love. Some might say this borders on the "Cheese" factor but I like it. It's like a Bryan Adams song set to Pop-Punk with a ballad sensitivity.
Do you believe that the canvas can be painted twice, painted white?
Wash away the guilt and shame and take my hand, steal my pain away
And I find rest inside your arms from all the memories, Do you believe?
We were only seventeen
We made such a mess of everything
Our souvenirs are broken dreams and
Photographs of you and me
When we were only Seventeen
The 5th track on this ep is the song "Colors". Some more synth driven pop-punk like material with a ballad like feel to it. Simply put, it's an innocent song about youthful love.
You light the dark with your words when you say that you love me
And I can feel you in my heart and see you in the sky above me
And with beautiful strums that will shine when all the stars have burned out
You wrote my name on your hand

"Live 4 Love" is up next (Track 6) and it's another dance beat barn stormer. Driven by synths and that steady electro dance beat. Remember Eleventyseven's "Adventures in Eville" album? Similar style to that but even better (in my opinion). Lyrically the song builds upon 1st Corinthians 13:4-13, at least I think it does and that happens to be one of my favorite verses in the Bible.
I wear my heart on my sleeve, I still believe
If we have love, we have everything
Always hope for the best, love trusts, love protects
It's what we need
Track 7 "Remember You" is basically an electro-instrumental. A mood enhancer and perfect bridge to the final track on the album…….
The final song on the ep is "I'm With You" which is another electro type song with a heavy 80's dance beat/new wave flavor alongside electro drums a slight touch of auto-tune and synths. Like I said up above, I am not usually into this more "poppy" auto-tuned synth stuff, but there is just something extra special about We Are Leo that allows me to make an exception :). Lyrically, the song could be deciphered many different ways and it's up to the individual to decide how to interpret it. I just see it as a love song.
Overall:
In typical "Christian Market" fashion, this band is being promoted as a pop-rock group with the names of artists/bands being dropped in their bio, everyone from Jon Foreman (Switchfoot) to Skillet, House of Heroes, and Family Force 5. Even the Acquire the Fire and Lifelight Fest events get name dropped. Right there will tell you who or what this band is being promoted as and to whom. Come on people, this is a band with a great message but must we do the same old same old in terms of promotions among the "Christian" crowd? Bands with great messages need to be heard beyond just the confines of CCM, am I right? The great thing about We Are Leo is that they have an easily accessible sound and are on a brand new label started by Ben Kasica (Ex-Guitarist for Skillet) called "Skies Fall Records". I just see We Are Leo more as a Pop-Punk band with Electronica influences than a typical pop-rock band. That word "pop-rock" can bring up all kinds of horrid images that i'd rather not comment on for fear of wounding our readers ears, lol. Anyway, what I am saying is that We Are Leo are an insanely talented group of individuals with a sound that would please listeners of almost any age, especially the younger age bracket. The young teenage girl inside me is screaming in excitement when I spin this album and it's not because of some odd identity crisis I may be experiencing 😉 I very much enjoy all 8 tracks on "Hello" and would recommend this album even to my most fearsome of enemies. This is one high quality release and a perfect first album for Skies Fall Records. A great introduction by any means. You might be wondering why I am giving out another "8" to a "Pop" type album, well let me tell you kids sometimes you just need to leave your bias at home and keep it at bay before you cast judgments on a band or album. Letting what critics, magazines, or even internet jockeys say in their bedrooms while they are home alone should never fuel your purchasing habits. Let it influence you, but never let their words (or mine) persuade you from making the ultimate choice. Simply put, We Are Leo "Hello" (Ep) is just an all around great end of summer album and perfectly fitting for the beginning of fall (and for you school kids-the beginning of another year). There is always potential in a band after they release their "label debut" to take it "up a notch" and I feel that We Are Leo will do that and so much more on subsequent releases through Skies Fall Records. Definitely pick this one up. Score: 8/10
Recommended for Fans of: All Time Low, Mercy Mercedes, The Maine, Runner Runner, Mayday Parade, Eleventyseven, Hawk Nelson, Stellar Kart.