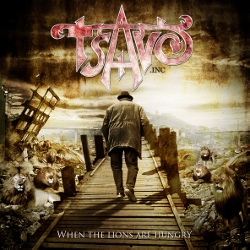 Artist: Tsavo Inc.
Title: When The Lions Are Hungry
Label: Metal For A Dark World
Release Date: 7/25/12
Reviewer: Taylor C.
Tracklisting:
Welcome to Tsavo
Tsavo
When The Lions Are Hungry
Unborn
Reborn
Humanity
Take Me Out Of This Prison
The Solution
Immununodeficiency
Savana
Tsavo (Bonus Track 2003 Demo)
Unborn (Bonus Track 2003 Demo)
Humanity (Bonus Track 2003 Demo)
Let's jump right in, yeah? Tsavo Inc. is a progressive thrash metal band that has been around since the 90's, but, after a years of concerts and a couple of EPs, has finally released their debut album, When The Lions Are Hungry. Initially, I didn't know anything about the outfit, but after some arduous investigating (a Google search), I found a statement from the band's label, Metal For A Dark World, that gives a little insight into the history of Tsavo Inc.'s career. Instead of paraphrasing, I'll just plop the statement right here like a sack of potatoes for your own enjoyment:
"Hailing from Goiania, Brazil, Tsavo Inc. was formed by Rinaldo Macedo on guitars in 1995. The band played several concerts in Brazil, and recorded a demo titled 'Thrash Metal Attack' as well as recorded a split album with another band that was titled 'Fast Food Thrash Metal.' The band decided to take a break in 2003. In 2004, Rinaldo became a member of the thrash band Arnion, who toured and also released a demo in 2006 titled 'Refuge,' then a full-length album titled 'Fall Like Rain,' which was picked up for a re-release along with the demo by Retroactive Records. Arnion broke up in 2008.
"After the split of Arnion, Rinaldo decided to revive Tsavo Inc. Rinaldo, along with Regis Melo started the band back up and asked Cleiton Magno, the lead singer of another great Brazilian thrash band called Disaffection (who have also released an album titled 'Begin The Revolution' on Bombworks Records), to join in on vocals. Julio Macaco rounded out the band on bass and the band started playing live shows and recently came out of the studio with their first full length album, 'When The Lions Are Hungry' recorded and ready to shop to labels. As a bonus, the album will be released along with their 1995 demo!!
"Tsavo Inc. takes their musical influences from bands such as Exodus, Slayer, Whiplash, Kreator and Destruction, but also have a modern 2000s sound that is all their own."
Now that that's eaten, let's jump right in again, yeah? (Wait 30 minutes, though.)
When The Lions Are Hungry opens with a short instrumental song (an atmospheric, plucking and plodding guitar track) that eventually welcomes the listener to the second song, "Tsavo." "Tsavo" sets the album in motion with its energetic and distorted metal riffs, hardcore-punk yells, and guitar solos backed by a chugging bass. The next song, "When The Lions Are Hungry," contains all of the energy of the previous track, but trades thrash for slow-stomping groove and compliments it with vocals ranging from black metal snarls to throaty screams. The riffs in this song, like most of the album, are melodic and heavy and support sweeping guitar solos and the vocalist's wide range of styles. Speaking of the vocalist, one of the main things setting this band apart is just that—the vocals. Roaring and snarling one second, yelling and shouting another, he keeps you on your toes. Unfortunately, with such a varying repertoire, he increases the odds of tapping into something annoying (but I'll get to that later).
The songs on this album aren't very distinguishable, but that might be my fault, as I don't listen to this type of music often. Nevertheless, I have to admit that there isn't a sour track here. Songs like "Unborn" and "Reborn" feature some awesome drumming, unpredictable song structures, gang vocals, excellent breakdowns, and guitar solos amidst machinegun drums. Other thrash-meets-groove tracks like "Humanity" feature some distorted, electronic vocals, impressive screams, and low-tuned rug-a-chug-chugging; "Take Me Out Of This Prison" is a unique but skip-worthy spoken word prayer set to metal; and "Immununodeficiency," my favorite track, has ringing and clattering percussion, quick melodic riffs, wild guitar solos, and a pulsing energy that zaps the song to life. The album ends like it began, with "Savana," another instrumental with soft, atmospheric guitars which build into a melodious solo—concluding the album on an abrupt but satisfying note.
You can see by the tracklisting that the album comes with an additional three songs from the band's early work. These are just rawer demos of songs already heard, but are still worth listening to. Like I mentioned earlier, the only negative thing I have to say about this album is that, despite (and maybe because of) its range of styles, I didn't like some of the vocals. The lung-filled screams were great (and somewhat reminiscent of Living Sacrifice), but the fluctuating, throaty hollers were a little too goofy for me. But don't take my word for it; you can listen for yourself at the bottom of the page. If you like what you hear, I suggest supporting these guys and buying the album.
Overall: Thrash and groove meet hardcore punk in Tsavo Inc.'s When The Lions Are Hungry. This is a decent album that stands its ground against a lot of the "mediocore" bands out there today, creating something special by progressively mixing genres and building upwards. The vocals are a little iffy at times, but the riffs are catchy, the breakdowns are used sparingly, the guitar solos are intricate, and the album held my attention till the very end. If you crave some solid metal in the form of chugging groove peppered with the energy of thrash and punk, check these guys out. You won't find anything necessarily new, but you'll be too busy head-banging to care.