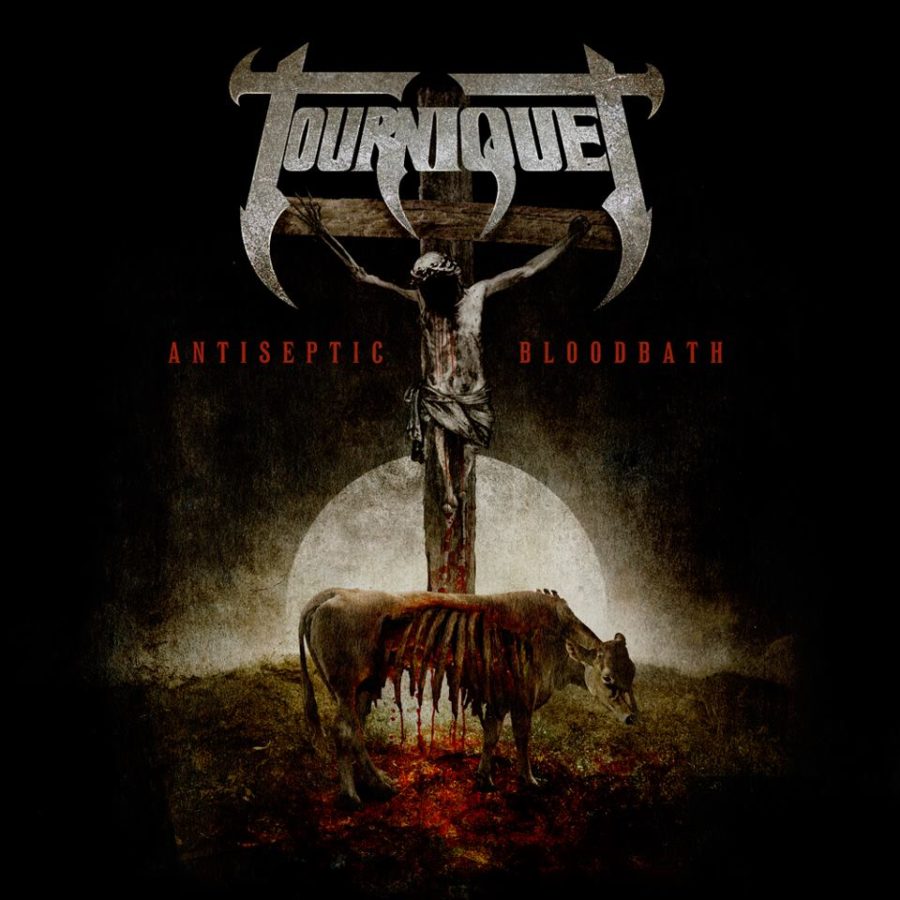 Artist: Tourniquet
Title: Antiseptic Bloodbath
Label: Pathogenic Records
Release Date: 8/15/12
Reviewer: Taylor C.
Tracklisting:
Chart of the Elements (Lincchostbllis)
Antiseptic Bloodbath
The Maiden Who Slept in the Glass Coffin
Chamunda Temple Stampede
Flowering Cadaver
86 Bullets
Duplicitous Endeavor
Lost language of the Andamans
Carried Away On Uncertain Wings
Fed By Ravens, Eaten By Vultures
An Englishman wearing a monocle once told me: "Good things come to those who wait; tally-ho-jolly-wot-wot." This age-old adage was not true of the bus we eventually boarded, but it does hold some water when it comes to Tourniquet. It's been 23 years since Kirkpatrick and his troop first entered the metal arena, and almost ten years since they released their 2003 album, Where Moth And Dust Destroy. The band has been dormant for a while (even years after the announcement of a new album), but they have finally awakened and set free the behemoth Antiseptic Bloodbath.
You know those albums that have that ONE long song that combines an assortment of different musical ingredients to form something epic?—Antiseptic Bloodbath has ten of them. Give or take, the average track clocks in at about 6 minutes; and due to such a wide variety of instruments, vocal styles, and musical elements, each song is distinctive from the others, but still manages to thread common themes in order to make the album whole. Because of their individuality, I could dissect each song, but, for the sake of not boring you, I'll try to generalize. (Does anyone even read this deep into a music review?—Hello? Send Help.)
Let me regurgitate some facts. The primary elements holding this album's framework together include: influences from classical music, hard rock, speed, thrash, neoclassical, heavy, technical death and progressive metal; guest musicians like Marty Friedman (Megadeth), Karl Sanders (Nile), Pat Travers, Bruce Franklin (Trouble) and Santiago Dobles (Aghora); cellos, trumpets, violins, and basic orchestral textures; and, naturally, the members of Tourniquet themselves: Ted Kirkpatrick, Luke Easter and Aaron Guerra. Kirkpatrick, the mastermind, organizes all of these ingredients to create ten tracks that consist of blistering percussion, perfectly-placed breakdowns, sweeping arpeggiation, beautiful melodies, amazing guitar solos and countless riffs that would have your grandma headbanging along.
While, admittedly, the album is amazing, I don't think it's entirely free from criticism. When listening for the first time, I was excited about the unusual vocal variety (Easter and Guerra create a range from fast screams to haunting cleans to whispering, almost black-metal, hisses); however, I imagine that some listeners will find them difficult to swallow. Glancing through a few iTunes reviews will give that much away.
The only problem I, personally, had with the album was with some of the lyrics. I say "some" because, generally speaking, I liked them. Through whimsical creativity, they borrow from Biblical and modern events to shed light on the problems of overconfidence, human depravity and animal cruelty. Tourniquet isn't as explicit as, say, Cattle Decapitation (a secular band with a similar message), but they still pack a tough punch with animal-centered tracks like "Fed By Ravens, Eaten By Vultures" and "86 Bullets." Tourniquet reminds Christians that we have a Biblical duty to protect and care for animals. It's as simple as that.
Back to the problem. As mentioned, I love the passion that the band has for both Christianity and animal rights, but in songs like "Antiseptic Bloodbath," I think they fail to mix the two. The first half of the song concerns Jesus on the cross, while the second half awkwardly jumps to animals in a slaughterhouse. This lyrically portrays the album art, but are they trying to compare Christ to hamburgers or what? It seems like a very blurry allegory that never comes into focus. Also, there are a lot of clichés, forced end-rhymes, and one inconsistent metaphor that compares salvation to the story of Snow White. According to the lyrics, the sinner is Snow White asleep in her coffin, Christ is The Prince, and the vocalist invites the sinner to "open up the door." Well, it's been a while since I cracked open my copy of The Grimm's Fairy Tales, but Snow White couldn't open up the door because she was asleep. (Theological debate, anyone?) These are just minor details, though, and hardly subtract from the brilliance of the entire album.
Overall: After nine years of silence, Tourniquet treats their listeners with the finest array of metal anyone could ask for. Fans will have different opinions concerning the lyrics and the vocals—but, musically, most will agree that Antiseptic Bloodbath is a bizarrely beautiful masterpiece. Combining their thrashy and progressive neoclassical sound with the talents of several guest musicians, Tourniquet will satisfy both old and new fans alike. It's hard to say anything about this album because it's so good. (I give it a 4.99999). If you don't have it, go get it. If you do have it, run to the mirror and give yourself a congratulatory wink. You are a winner.
RIYL: Believer, The Crucified, Deliverance, Megadeth, Mortification, Saint, Seventh Angel, Templar, Ultimatum, Vengeance Rising, or good music.