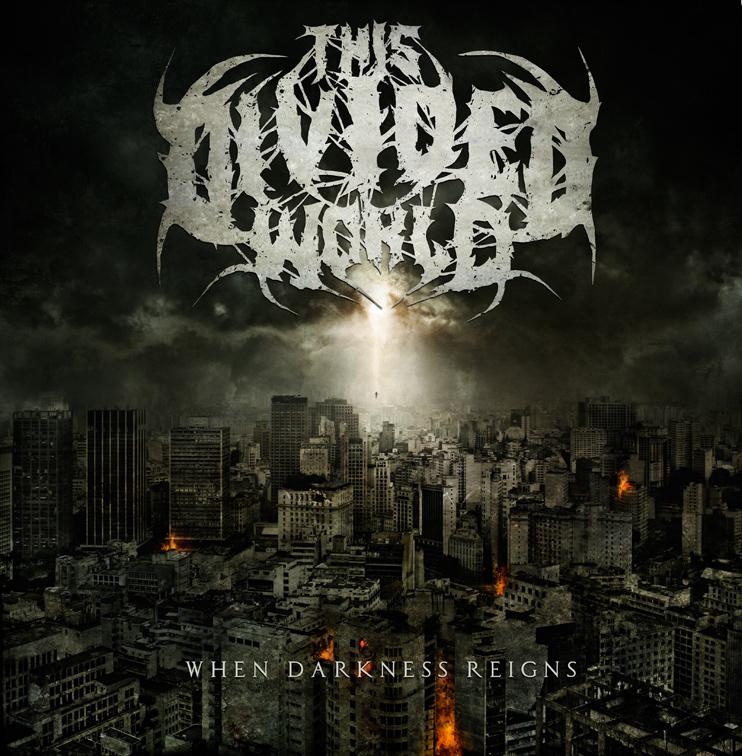 Artist: This Divided World
Title: When Darkness Reigns
Label: Independent
Release Date: September 29, 2012
Reviewer: Taylor C.
Tracklisting:
The East and The West
Falling Stars
In Her Heart
Unconditional
The Doorway
War Exists
When Darkness Reigns
Redeemed
Compromise
Vessels
Lies of Grandeur
My deathcore days are over. That's all there is to it. In my opinion, the genre is an old dog who can't learn any new tricks because there aren't any new tricks to learn; however, I can still tell when someone gets it right, and I am always impressed when a band doesn't give up on its genre. When Darkness Reigns is the debut album of This Divided World, and, at this point, fans of deathcore should go ahead and download it. (Go ahead, no one reads anymore anyway.) Hailing from The Empire State, This Divided World is a two-man metal project with Mark Young on vocals and Micah Brill on everything else; and, to be honest, they accomplish with two members what a lot of bands wish they could accomplish with five or six.
To begin with, the main quibbles I have are actually with the genre itself. Like most deathcore releases, every song has (or simply is) a breakdown that just throbs throughout. Here, the perennial chugging is crunchy, energetic, and kindly asks you to stop what you're doing, pull out your air-guitar and headbang along. Nevertheless, it's a daunting task to make 34 minutes of almost pure breakdowns into something memorable or unique. Save for a few songs like "Redeemed," most tracks are undistinguishable from the others. Also, while we're on the subject, I think the band uses too many soundbite/quotes here and there (one track, for example, is nothing but a quote set to some footsteps and raindrops).
But that's the negatives, and no one cares about those. On to the positives.
For a debut album from an unsigned band, When Darkness Reigns has great production and has been mixed and mastered to excellence—making the music that much more listenable. Nothing is drowned out, nothing is too loud, and everything, while still holding the gritty sound of metal, emerges crisp and clean. For me, though, the highlight of the release is the vocals. Ranging from deep lows and rumbling squeals to harsh screams and the occasionally shrieking high, Young is great at enunciating lyrics, expressing emotion and displaying his assortment of vocal styles. And while the previous section might have suggested that the album is musically bland, Brill himself throws a few curve balls to make it special. Along with the rumbling breakdowns, several tracks take a turn for the melodic: like in "Redeemed" where the song morphs into a metalcore anthem that is reminiscent of For Today. Furthermore, some songs will detach themselves from the core and stick mainly with the death side of the genre, while others, like "The East and The West," implement some shrilly riffs that give off a subtle black metal vibe. The drums are also impressive here, often firing like a machine gun on tracks like "Compromise" and "Unconditional." Seeing how it's a two man band, however, I don't know if the drums are real or not—but I don't care. They sound good and that's all that matters, right?
Overall: When Darkness Reigns is an impressive and well-produced release that should excite anyone who considers themselves a deathcore fan. The vocals have a great range, the riffs are solid, and there are enough breakdowns to make you sick (take that as you will). There isn't anything profound or inventive here, but, for a two-man deathcore debut, This Divided World delivers an album they should be proud of. Download it for free or listen to the stream below and see what you think.
RIYL: Common Yet Forbidden, Crimson Armada, For Today, Impending Doom, Saving Grace, Suicide Silence, The Acacia Strain, Whitechapel, With Blood Comes Cleansing
(If decimals were allowed, rating would be a 3.5)