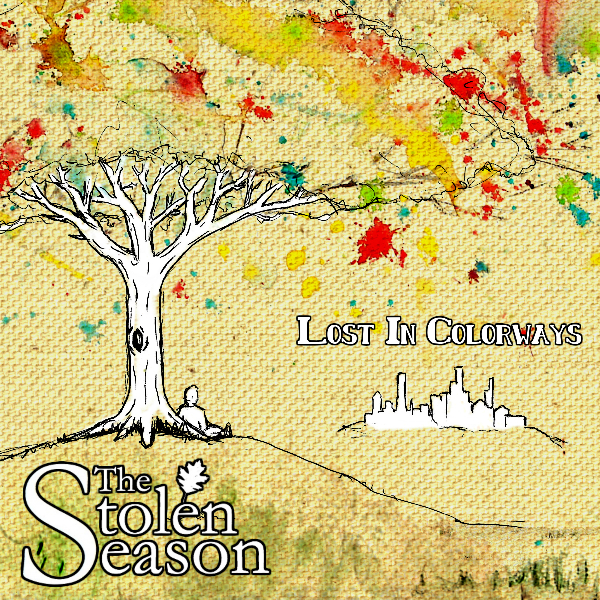 Artist: The Stolen Season
Album: Lost in Colorways
Label: None
Release Date: September 10, 2011
Reviewed by: Cimarron Hatch
Buy The Album: iTunes / Bandcamp

Tracklisting:
1.   Looking Everywhere
2.   Land of Promises
3.   Great American Tragedy
4.   City Street Lights
5.   Bricks
6.   Believe In It
7.   Drawn
8.   Reason and Rhyme
9.   Letting Go
10. You
11. Here Tonight
12. Rescue
13. Only One
14. Sing Out Loud
The Stolen Season is a new up-and-coming indie/alternative rock band based out of Denton, TX. They released their full length debut album, Lost in Colorways, in early September 2011 and have since been playing shows around Texas to promote it. The band consists of five guys, identified only by their first names, with JP on lead vocals and guitar, Seth on lead guitar, Andrew on guitar and background vocals, Ryan on bass, and Bryan on Drums and background vocals.
The Stolen Season also leads worship at their church in Corinth, TX every Sunday night, and all five members play in separate worship bands around the Dallas/Ft. Worth, TX area. They are all very involved in their churches and communities.
The first song from Lost in Colorways is called "Looking Everywhere." It is a song just over 6 minutes in length about looking everywhere for God and wondering where you are going to find Him. To me, "Looking Everywhere" is much too long to be the first song of an album, and doesn't really grab a listener's attention very well either. The next track, "Land of Promises," is a cool song with an interesting sounding guitar riff in it; kind of almost a bluesy style of guitar. The album continues through the song "Great American Tragedy" to the band's first single, and also what is, in my opinion, the best song of the album, "City Street Lights." This song could be considered a rock anthem about enjoying time spent with someone and not knowing where you would be without them.
The fifth song of the album, "Bricks," reminds me of a lot of 90's Christian music from bands like Caedmon's Call or Big Tent Revival, as do a number of other songs on the album. Next is another standout track from the album, "Believe In It." It is a good worship song with relevant lyrics. "You say that / There's hope / For me yet. / And all I have / Is to believe in it." "Believe In It" leads into a 35 second song about how life is like a painting. The album moves forward with the songs "Reason and Rhyme," "Letting Go," and "You." I really liked the song "You" because it has a cool rhythm pattern and good lyrics.
The final four songs on Lost in Colorways are not quite as memorable as they could be. There just seems to be something missing. "Here Tonight" feels like it drones on a little bit too much in its 5 minute length, and "Rescue" is the same way but has good lyrics to redeem it. "Only One" is a better upbeat song that isn't as forgettable because it keeps you awake. The closing song "Sing It Out" is a good song with a nice piano intro and piano throughout which keeps it from being a melancholy song.
Overall: This is a pretty good album even though it is lacking in some areas, such as lyrics, because most of the lyrics are pretty clichéd. It was difficult for me to get into this album because each song is about 5 minutes on average and tended to lose my interest. However, the instrumentation on the songs is good and really shows a lot of talent. I think that The Stolen Season does a great job of showcasing their hearts for God and commitments to Him on this album. I hope to see more music from this band in the near future, and I hope that they will gain a larger fanbase around the country.