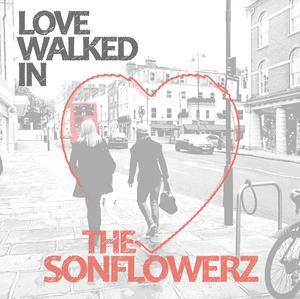 Artist: The Sonflowerz
Title: Love Walked In EP
Label: independent
Release Date: 9/10/13
Reviewer: Jonathan Andre
Tracklisting:
Little Lies
Love Walked In
Offering My Life
Speechless
We Depend on You
My Adoration [2013 Version]
Since discovering The Sonflowerz back in 2011 with their hit song 'By Faith', these two sisters from Colorado have been one of my favourite worship artists throughout these past two years. Delivering acoustic-worship melodies and songs for the church, Elissa Leander Tipps and Becca Leander Nicholson have given listeners (myself included) worship music that is uniquely different than the other commercialised radio promoted songs. Independent throughout their whole career since they started back in 2002 with You Remain, Elissa and Becca's great harmonies and soothingly passionate vocals are the highlights in every song they sing, delivering quite a number of radio hits over the years, from 'Edge of My Seat', 'Legacy' and 'My Adoration', to 'By Faith', 'How Great You Are' (featuring Desperation Band founding member Jared Anderson) and 'Made to Shine', to name a few. Having shared the stage throughout their music career with many prominent bands from Third Day and needtobreathe to BarlowGirl; these 2 British-Americans that make up one of my favourite independent bands ever, are now back with another album, this time funded through kickstarter. Releasing Love Walked In EP on September 10th, Becca and Elissa have called upon their fans to contribute through the online fund-raising service to make sure their album, tour (Made to Shine tour for teenage girls) and devotional book (again for teenage girls) are funded by the end of August. Reminding us through these 6 songs that when Christ (and His love) come and invade our hearts, we'll never be the same as before; we are given a range of musical styles, from the acoustically driven title track to the string-heavy 'Offering My Life' and the new recording of the 2008 radio hit, 'My Adoration'. With Elissa's vocals reminding me so much of Alyssa Barlow of BarlowGirl, fans of contemporary worship artists like Meredith Andrews and Chris Tomlin (as well as BarlowGirl) will certainly be eager to listen to and investigate Love Walked In EP.
Releasing their first brand new music video of their title track to youtube since their previous video for the radio hit 'Legacy'; 'Love Walked In' is personally one of my favourite songs on the 6 song EP, and certain to be a fan favourite amongst many fans of the band in weeks and months to come. Starting off the song with a riveting piano and cello musical accompaniment; Elissa reminds listeners that we cannot go anywhere without the Lord our God following us and pursuing us with hope, grace, love and affection. Presenting a metaphor about how a '…house will never be the same, ever since the day love walked in…', us too will forever be changed when Christ comes to live and dwell within us- the outlook upon our lives starts to move from bleak to fortunate, our hope becomes real and secure, and our love travels from conditional and striving to unconditional and renewing. Presented in an acoustical frame with acoustic guitars, light percussion and harmonious vocals between lead singer Elissa and backing vocalist Becca; the song manages to balance reflective worship and radio CCM nicely with this melody that could sit well both in the worship segment of radio as well as daytime CCM radio too. While not necessarily the most pop or rock song that has been delivered, the somewhat quiet nature and tranquil mood the song possesses serves as a great asset for it, as we are able to reflect upon areas of our own lives that we need to open up for love to come and permeate the spot that needs remoulding and changing. Well done to both Elissa and Becca for delivering a poignant track about freedom and what happens when love comes to change a home (or person) forever!
Love Walked In EP gives us great reminders of God's promises to us throughout these 6 tracks, and while I may have hoped and wanted the duo just to add a few more songs and release a full-length album instead of an EP, the collection of these songs are certainly some of my favourite reflective worship melodies of mine recently. One of my favourite songs on the EP alongside 'Love Walked In'; 'Speechless' provides us with a great vertical worship song fit for the church. Presented with a light electric guitar presence, this song with the theme reminiscent of Steven Curtis Chapman's 'Speechless' (again another song that can be fit for the church to declare on a Sunday morning) reminds us that it ought to be the presence and beauty of Christ and His love flowing through us that leaves us speechless before God (and nothing else). As Elissa starts off the song with a poignant yet also confronting first verse, reminding us that '…I could have riches, I could have more than kings, it doesn't mean anything without You…'; I myself have been challenged by this sister duo as I look into my own life and see if I have placed anything higher than God at certain points in my life. With this song supposed to be a call to action and a hopeful encouragement as we move from being worldly focused to just being focused on Him; we are able to rest in the knowledge that '…You give me wings to soar above what I never imagined, You light a way in the darkness, You make it happen…' Well done to both Becca and Elissa as they deliver one of my favourite songs on the album, and one that'll hopefully provide some motivation to chase after God, the only one who'll ever make us speechless before Him for the rest of our lives here on Earth!
Throughout the rest of the EP, both Elissa and Becca deliver to us great harmonies with an acoustic and organic touch as the EP caters towards listeners who enjoy more of a reflective music atmosphere. 'Offering My Life' is a strings prominent prayer to God as we offer our whole lives down at the feet of Christ with Elissa delivering the hopeful and inspiring words of how '… I'm a living sacrifice, giving up my rights to You, and all I have is Yours…' As we are reminded of how freeing it can be to lay everything that worries or stresses us down at Jesus's feet; we are able to rest fully in His presence, knowing that all we are called to do is not to strive, but rather to just receive His love for us. While only 3:17 in length; this song is certain to be a highlight in the Sonflowerz's live shows in the future. Also unveiling to us an acoustically musically faster version of the 2008 radio hit 'My Adoration' (this time with more acoustics and percussion to 'modernise' the track a little) as a bonus track, as well as the similarly themed 'We Depend on You', again also a prayer to God as we offer our lives and declare our dependence on Him through the powerful bridge of how '…You're the morning light, our hope remains in Your love…'; it is the first song on the EP, and perhaps the most relatable to teenagers and young adults (especially females); that is a personal highlight of mine (which even I can relate to!).
Starting off the EP with 'Little Lies', we are met with a light electric guitar presence and a noticeable bass line to start off the song as Elissa unveils confronting lyrics that teenagers and young adults around the world can hopefully be inspired and motivated from. Everyone, whether male or female, has similar thoughts, of whether we '…lie awake sometimes, fighting thoughts of failure, hating what you look like…' Being someone within the ages of 13-30 can be a trying time, as we try to figure out our lives, hopefully with God with us, yet sometimes the world can be with us if we're not too careful. The title of the song can give away so much, and 'Little Lies' speaks about how we can, unintentionally, hear the voice of the devil (or ourselves) and take it to heart, responding by believing into it and not realising who we truly are in Christ. While also having a great beat and an anthemic presence, we are urged by Elissa to come into the light, where Christ's love, hope, encouragement and words of identity are enough for us to bloom, flower and sprout out from the moments of criticism in the past. Another one of my favourite songs; The Sonflowerz are able to continue to secure myself as an avid fan of theirs, with 'Little Lies' fast becoming my favourite song on Love Walked In EP, closely followed by 'Speechless' and the title track. Well done girls for such a powerful and freedom affirming song of worship and praise!
Overall: With Elissa's vocals reminding me so much of the vocals of Alyssa Barlow of BarlowGirl, it's nice to hear some more girl-only bands coming together to make great music (I can't think of many girl only bands out there currently, other than The Sonflowerz, 1 Girl Nation and ZoeGirl…yes they have reunited for a lullaby album to be released sometime in 2013/14). While still indie, it is their heart for worship and easy to enjoy melodies full of powerful lyrics and great harmonies that has always led myself to respect this sister duo. While part of me can't wait for them to be signed (if or when it happens), I am still somewhat reserved at that possibility (look at the artists on Come and Live- they are primarily indie and are still great). The Sonflowerz are a band certain to be enjoyed by listeners who love great acoustic worship bands, like Rend Collective Experiment; or if you are a fan of female worship artists like Meredith Andrews. With their new album Love Walked In EP a perfect gift for a female family member (or a male, if they enjoy reflective music), Love Walked In EP is my favourite EP of the year, and favourite EP since The Digital Age's Rehearsals EP in 2012. Well done to both Elissa and Becca for a nearly flawless EP (the only drawback is that it's an EP, not an album), that reminds us of our identity in Christ when we open the doors of our hearts and let love walk in!
RIYL: Chris Tomlin, BarlowGirl, Rend Collective Experiment, Meredith Andrews
Buy the Album: iTunes/Amazon mp3